4 days from
$ 695
per person
Limited to 10 people per Group
The 4-day Classic Inca Trail is a hiking route that runs through part of the 'qhapac ñan', ancient Inca trails that were built by the Incas. A part of this route was the one that communicated Cusco with Machu Picchu. Today there are 43 kilometers of these roads enabled by the Peruvian State for the famous route of the 'Inca Trail', from km 89 of the railway to Aguas Calientes to Intipunku, the ancient gateway to Machu Picchu used by the Incas. The route can only be done with an authorized tour which includes camping, porters equipment, cook equipment, tour guide, entrance fees and more.
Tour details
Duration: 4 days.
Includes: 3 nights camping, meals (3 breakfasts, 3 lunches and 3 dinners), porters, full transportation, guide, entrance fees, camping equipment (tents, thin mat) and more.
Not included: sleeping bag, trekking pole.
Payment: easy with any credit or debit card.
Confirmation: immediate.
Safety: complies with all health protocols.
Entrance: Machu Picchu Solo.
Group: from 4 to 16 people maximum.
Dare to do the famous Inca Trail!
Itinerary
The tour begins in the city of Cusco with the tourist pick up. At km 82 the hike of approximately 43 kilometers begins until arriving in 3 days at Machu Picchu.
Get to know our rates with special discounts and go ahead and live the best adventure in Cusco and all of Peru.
Availability
Are there still spaces available to enhance the Inca Trail? Remember that you must buy the tour 6 or 7 months in advance. The fact is that there are many tourists who request this famous hiking route.
Frequent questions
Do you have questions about the Inca Trail? Know the questions that tourists ask the most before going on the hiking route.
If you also have doubts, then write us your questions that we will gladly answer you.
Note: This first day is normally hot during the dry season (May to September), therefore it is recommended to wear light clothing, as well as a good sunscreen and a good cap or hat.
Summary
Difficulty
Total distance
43 kilometers. (26.72 miles).
Maximum altitude
Open Warmihuañusca (4,200 masl).
Minimum altitude
Aguas Calientes (2,160 masl).
Maximum temperature
Machu Picchu (from 20ºC. To 26ºC.).
Minimum temperature
Open Warmihuañusca (from 0ºC to 8ºC).
Itinerary

Day 1

Cusco |

Huayllabamba

Pick up from the hotel, departure by bus from Cusco at km 82, walk, lunch in Tarayoc, dinner and overnight in Huayllabamba after 13 km. walking.

Day 2

Huayllabamba |

Pacaymayo

Breakfast, walk through the 'Abra Warmihuañusca', lunch in Pacaymayu, dinner and overnight in Chaquicocha camp after 11 km. walking.

Day 3

Pacaymayo |

Wiñayhuayna

Breakfast, walk, lunch in Chaquicocha, dinner and overnight in Wiñayhuayna camp after 16 kilometers of walking.

Day 4

Wiñaywayna |

Macchu Picchu

Breakfast, 3-hour walk to Intipunku, guided visit in Machu Picchu, return by bus and train to the city of Cusco. That day they only walk 3 km.
Detailed map of the Inca Trail 4 Days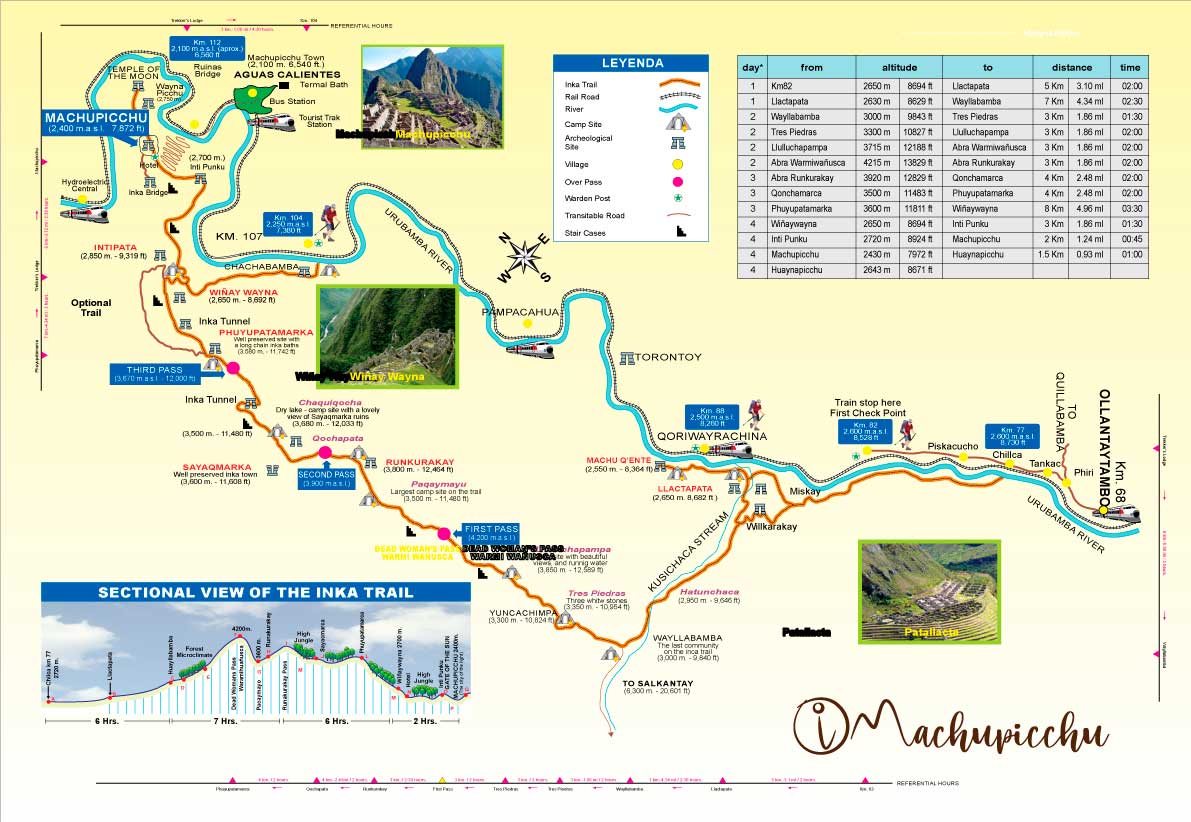 Route to follow
---
Detailed itinerary of the Inca Trail
The Inca Trail lasts 4 days. Definitely the first two are the most difficult as they include climbing routes through Andean mountains. The last two descend through tropical landscapes that are easy to navigate. Know every detail of the 4 days that the tour lasts.
Day 1
Cusco – Km 82 |
Huayllabamba
Early in the morning, we will pick you up at your hotel and then go on a private bus to Piscacucho located at kilometer 82 (2,800 m / 9,186 ft). On the way we will pass through the Sacred Valley of the Incas, through the towns of Urubamba and Ollantaytambo, here we will make a small stop so that you can visit the local market and buy some supplies for the walk.
Then we will continue our journey to Piscacucho. Upon our arrival at Piscacucho Km. 82 we will pass through the control, to begin with the walk on the banks of the Urubamba River
. In this first section of the Inca trail, we will visit the small community of Miskay (2,800 m / 9,186 ft). Later we will begin to ascend towards a small plateau, where we will be able to enjoy an extraordinary Andean landscape and an Inca construction known as Patallacta, located at 2,750 m / 9,022 ft. After having walked for about 2 hours we will arrive at our first camp located in the Huayllabamba area at 3,000 m / 9,842 ft where we will have our first camp.
Day 2
Huayllabamba – Pacaymayu |
Chaquicocha
On this day we will have a great challenge: we will ascend towards the Warmihuañusca pass
. To start we will have a refreshing breakfast. Then we will start our walk towards the Ayapata valley which will take 1 hour to reach this sector. This sector is known for having a high Andean valley microclimate. Then we will pass through a narrow path full of vegetation, passing over a small bridge that will take us through a cloud forest, with an unparalleled beauty. Finally we will reach the highest point, the Warmihuañusca pass, a name in Quechua that means "When the woman dies". This point has a height of 4,200 m / 13,779 ft. Then we will descend through a winding valley until we reach a point where we will stop for lunch. During this journey it is possible to observe various types of birds. We follow the route until we reach the Pacaymayu River Valley (3,600 m / 11,811 ft), where we will have our dinner and overnight camp.
Day 3
Pacaymayo |
Wiñayhuayna
For many visitors this is one of the longest days, but at the same time one of the most beautiful. After a nutritious breakfast we will start our walk ascending a steep path. We will pass through a second pass where the impressive archaeological remains of Runkuracay (3,800 m / 12,467 ft) are found, which takes its name from its unique half-circle shape.
Then we will ascend towards the Yanacocha lagoon (black lagoon) and we will continue until we reach Sayaqmarca (3,600 m / 11,811 ft), called "The dominant town", where we will appreciate interesting Inca ruins
. Then we continue uphill until we reach the third and last pass, where we will see the town of Phuyupatamarca (3,665 m / 12,024 ft), "Town above the clouds", which is undoubtedly one of the most original citadels along the Inca Trail. It is located on the edge of a ravine. After visiting this site we will descend around 2,000 cobbled stairs until we reach the Wiñaywayna citadel (2,700 m / 8,858 ft), which means "Forever young", the name derives thanks to the typical orchids that can be found throughout the year. After exploring each corner of Wiñaywayna, we will go to our last camp, which is located a few meters from the place. This will be the night in which we say goodbye to our porters or excursion staff, therefore at night there will be a small appreciation party.
Day 4
Wiñaywayna – Machu Picchu |
Cusco
On this last day we will get up very early to then have breakfast and continue with our walk. After three hours of walking, we will arrive at the Intipunku or Puerta del Sol area (2,490 m / 8,169 ft). A small complex of small buildings that apparently appear to have been used as a control. It is an excellent opportunity to take panoramic photos of the citadel of Machu Picchu. If the traveler has started the walk very early, he will arrive just for sunrise, this is perhaps the best place and time to contemplate the majestic splendor of Machu Picchu, the Lost City of the Incas. Then we will descend to visit the Inca citadel of Machu Picchu. We will have a guided tour of approximately 2 hours. We will also have free time so that you can enjoy this wonder of the world independently you can visit Huayna Picchu (it is not included in the tour).
Then we will go down by bus to Aguas Calientes (2,160 m / 7,087 ft) where you can visit the thermal baths of the town (the 10 Soles entrance is not included in the tour)
.
Finally we will return to Cusco by bus and train.
Frequent questions
These are the questions that tourists interested in the Inca Trail ask themselves. Send us your questions to info@machupicchuterra.com.
1) Can the tour be canceled after purchase?

No. The Peruvian authorities in charge of managing the income to the Inca Trail do not allow cancellations after the purchase.

2) Can I change the tour date after purchase?

No. Changes of dates are not available by order of the Ministry of Culture of Peru.

3) Are there age limits?

Although there is no age limit to do the Inca Trail, the visit of people between 8 to 65 years old is recommended.

4) Is there a vegetarian or vegan option on the tour?

Yes. If you want a vegetarian option, you can request it at info@machupicchuterra.com.

5) Are there bathrooms during the Inca Trail?

Yes. In each campsite along the Inca Trail there are toilets.

6) Is the Inca Trail open all year round?

The Inca Trail is open all year round except for February (because of the constant rains).

7) When is the best time to do the tour?

According to tourism specialists, the dry season months are the best to do the Inca Trail (May, June, July and August).

8) Can I add a visit to the Huayna Picchu mountain to the tour?

Yes. For an extra cost of $ 65 you can add a visit to Huayna Picchu during your tour of Machu Picchu.

9) Can I do the Inca Trail on my own?

No. The Inca Trail is a route protected by the Peruvian State so it is only allowed to go with an all-inclusive tour.

10) Can I go on a private tour?

Yes. The tour also offers a private option. You can request more information at info@machupicchuterra.com.