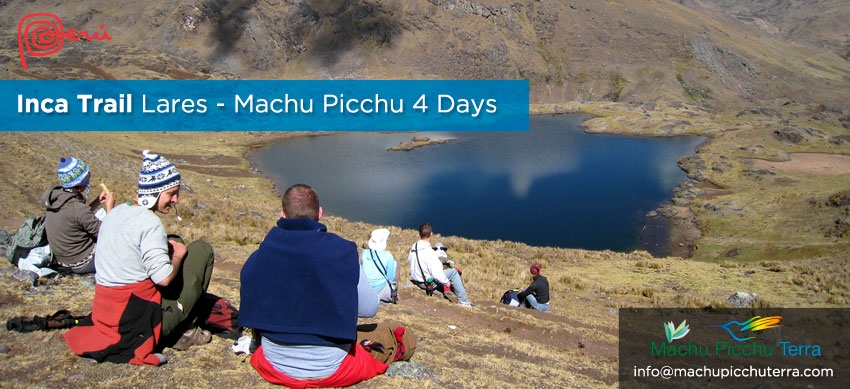 ---
Price Lares Trek + Machu Picchu per person:
Download Tour

            USD $ 715     USD $ 675
---
Tour Summary
The geography of the Cusco region comprises a complex surface, from warm valleys to the dazzling snow. Today various walks are made to meet these wonders, using mostly roads used by the ancient inhabitants of the Andes who dominated without difficulty the rugged geography.
The tour program, 4 days Lares trek to Machu Picchu is an excellent way to see the Andean landscape, with valleys, rivers, crystal-clear lagoons, waterfalls, forests queuñas and know the way of life in the Andes. In addition to hiking in the Andes, the program connects with a visit to one of the Wonders of the World Machu Picchu.
This road was formerly used by the Inca culture; they used these roads to transport food and to carry messages to different people. At that time only had domestic camelids the most used were the Llama and Alpaca. Flame is used for transport but could only carry 20 kilos and Alpaca is used for clothing and food. In these valleys you can still see people who follow the customs of their ancestors. During the course of this route we will see medicinal thermal baths, lakes, mountain ranges, cloud forests, rivers, mountains and variety of birds and plants. The highest point of this hike is the Abra de C'asa Pasa (4,500 m / 14,763 ft), will be an unforgettable adventure.
Altitude during the travel
Climate
Cusco

Capital: 3350 msnm (Cusco)
Low: 2000 msnm (Aguas Calientes)
High: 4500 msnm (C'asa Pasa)

Semi-tropical, hot and humid days and cold nights with constant rain throughout the year
Low: Between -5 °C – 11 ºC Cusco (June)
High: Between 20 ºC – 26 °C Machu Picchu (June)
Rains: November to April


5.0 (+ 100). Testimonials of customers.
Recomendation:
It is necessary the acclimatization in Cusco, one or two days before starting the journey. For a good acclimatization is necessary to rest as much as possible, eat little, drink plenty of fluids; especially coca tea, that has healing and digestive properties. A proper acclimatization, avoid being affected by the "soroche" or altitude sickness, which can cause numerous health discomfort.
---
---
Difficulty
Acclimatization
1 – 2 Days in Cusco
Total Distance
37 km / 23 miles
Itinerary
Day 01: Cusco – Calca – Lares – Wacahuasi
06:00 hrs. Pick up from Hotel
06:15 hrs. Departure: Cusco – Lares
10:15 hrs. Visit the termo-medicinal baths
13:00 hrs. Lunch
14:00 hrs. Hike to Wacahuasi, 3 hrs. approx.
17:00 hrs. Camp
19:00 hrs. Dinner and Overnight

Day 02: Wacahuasi – Punta Toro
05:30 hrs. Breakfast
06:30 hrs. Hike to Punta Toro, 8-10 hrs. approx.
16:00 hrs. Camp
19:00 hrs. Dinner and Overnight

Day 03: Punta Toro – Yanahuara – Ollantaytambo – Aguas Calientes
07:00 hrs. Breakfast
08:30 hrs. Hike to Yanahuara, 30-40 min.
12:00 hrs. Lunch and visit to Ollantaytambo
12:58 hrs. Departure by train to Machu Picchu Pueblo
14:24 hrs. Arrival, accommodation in Hotel and Overnight

Day 04: Aguas Calientes – Machu Picchu – Cusco
04:30 hrs. Breakfast
05:30 hrs. Climb in bus, Aguas Calientes – Machu Picchu (30 min.)
07:00 hrs. Guided tour of 02 hours
09:00 hrs. Free time
Optional: Climb to Huayna Picchu, visit the Temple of the Moon, the Inca Bridge
14:30 hrs. Hike: Machu Picchu – Aguas Calientes (1 hour 30 minutes approx.).
Optional: Return by bus, Machu Picchu – Aguas Calientes 30 min.
16:22 hrs. Return by train, Aguas Calientes – Ollantaytambo
18:05 hrs. Transfer in bus, Ollantaytambo – Cusco
Detailed Itinerary
Day 01 Cusco (3,300 m) – Calca (2,925 m) – Lares (3,100m) – Wacahuasi (3,750 m)

Early in the morning we will pick you up at your hotel at 05:30 hrs. and travel for 1 hour towards the Sacred Valley of the Incas we will stop at the lookout to take panoramic photos of the Valley and the guide will give a brief explanation place, then we continue to the village of Calca, where we will make a short stop and a visit to the characteristic local market where local products are sold. After we will take the transport about 2 hours to the village of Lares (3,100 m / 10,170 ft) in this place we will welcome our road team (chef, carrier) before the walk have the option to put a certain weight mules and then go to the medicinal thermal baths of Lares (3,250 m / 10,662 ft) and enjoy a relaxing bath, the temperature ranges from 28 ° C to 34 ° C.
Then we will begin our adventure, walking by andean land flat for about two hours for better acclimatization to the bridge of Vilcabamba where our team awaits us with lunch, after enjoying lunch we'll have a little break and continue for 3 hours to the village of Wacahuasi (3,750 m / 12,303 ft) during the trek find children from nearby villages using their traditional costumes to welcome us is a great opportunity to support and share good times with them. Wacahuasi is the place of our first day of camp, in this camp the night will be colder recommend wearing warm clothes for the evenings, then we have the teatime, ideal moment for sharing experiences of the day. Later we enjoy dinner and finally stop over.
| | |
| --- | --- |
| Service Includes: | Not Included: |
| | |
Day 02 Wacahuasi – Punta Toro

This day is one of the most exciting days, after breakfast early in the morning we start our trek where we see beautiful lakes, ridges and glaciers; worth mentioning is the longest day and arduous trek. The first tranche of the trek will be for 4 hours until the highest point during the tour we will stop to observe native animals of this area such as llamas and alpacas, the villagers use these animals for their daily lives; Alpaca is used in the production of their clothing, the fur of this animal has the nolina a chemical that repels water and is also used as food; meanwhile, the flame is used as cargo transport. The guide will give a brief description of these animals and so you can differentiate them. These animals were sacred to the Incas, sometimes they were sacrificed in honor of their gods. We may also see birds of the area as the Cara Cara a bird of prey.
Upon arriving at Abra de C'asa Pasa (4,500 m / 14,763 ft) the highest part of the route, we can see the beautiful lagoon of Auroray Cocha (4,470 m / 14,665 ft) and at this point the guide will explain about the place and the customs of the people who inhabit it. After taking the pictures, we will descend by about 1 hour to the lagoon Auroray Cocha and here our team will waiting us with the lunch. After enjoying lunch, we will continue walking downhill for 4 hours between cloud forests on the road also observe another beautiful lagoon Yura Cocha until we reach our camp Punta Toro (3,100 m / 10,170 ft), arriving the camp we can relax and share anecdotes of this long and arduous day; to end the day we will have dinner. Overnight in the camp.
| | |
| --- | --- |
| Service Includes: | Not Included: |
| | |
Day 03 Punta Toro – Yanahuara – Ollantaytambo (2,850 m) – Aguas Calientes (2,160 m)
This day will be the easiest, we get up a little later and calmly order the belongings, take the breakfast. Then we say goodbye to our trek team and start to descend for 1 hour to the town of Yanahuara (2,850 m / 9,350 ft ), a town that has a mild climate is a provider of food for the city of Cusco. Here we take a shuttle for 15 minutes to the town of Ollantaytambo (2,850 m / 9,350 ft), living Inca town where the Inca architecture is observed with narrow streets. Then we take the train of 12:58 hrs. the journey takes about 2 hours to the village of Aguas Calientes (2,160 m / 7,087 ft) in this town we will enjoy the lunch. Then the guide will take you to the lodge, where you will be informed about some activities you can do at this time and coordinate the dinner.
| | |
| --- | --- |
| Service Includes: | Not Included: |
| | |
Day 04 Aguas Calientes – Machu Picchu (2,490 m) – Cusco
This day will be dedicated to visit only Machu Picchu (2,490 m / 8,169 ft). Machu Picchu Quechua word that translated into Spanish is "Old Mountain", declared one of the seven wonders of the world on July 7 2007. Machu Picchu is a sacred temple that formely the Incas visited and made offerings with their best products to their gods, they could only spend one night in this place; this place was inhabited only by the nobility Inca.
The guide will make a tour of two hours providing information on each of the places visited, once completed this tour guide, can freely visit other places. Before parting the guide will give you instructions on how to get to the town of Aguas Calientes, in this town you will find many restaurants, bars, pubs. It is important to be in time to board the train back are approximately 2 hour trip to Ollantaytambo, there the transportation will be waiting to make his move to the city of Cusco the trip is approximately 1 hour and 30 minutes.
| | |
| --- | --- |
| Service Includes: | Not Included: |
| | |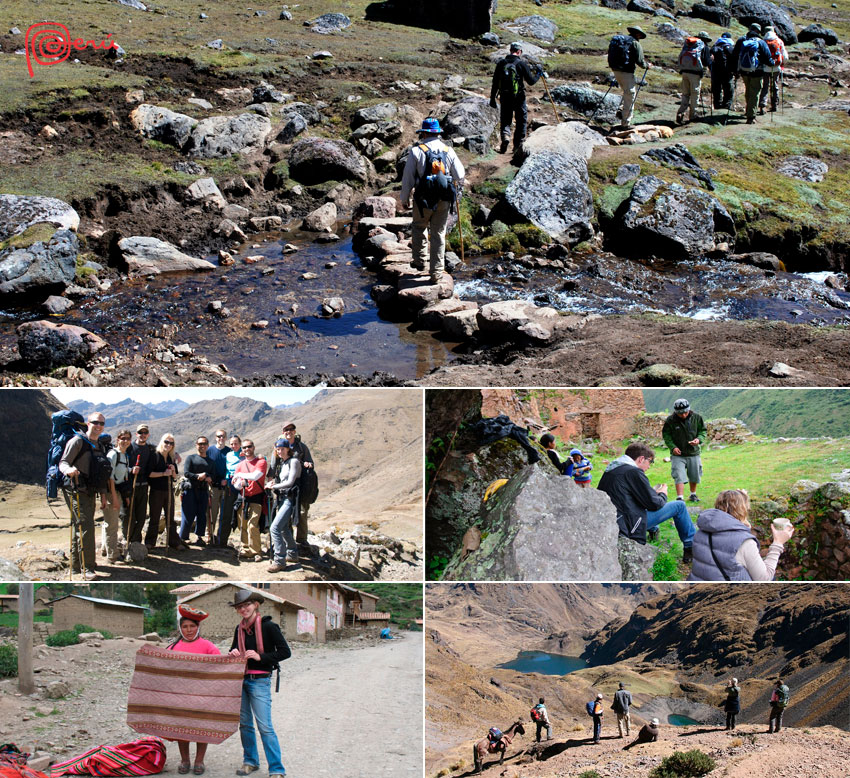 Include:
Briefing where our guide will explain about the walk and give us the maps.
Additional guidance for groups over 9 people.
Experienced cook in treks.
Assistant cook for groups over 9 people.
Horses that carry camping equipment and food.
Food along the way: 3x breakfast, 3x lunch, 3x dinner.

Vegetarian option is free, only inform us in advance, please.

First aid kit.
Oxygen bottle.
Camping equipment: tents and mattresses.
Kitchen equipment: kitchen tent, dining tent, kitchen utensils.
Overnight at Aguas Calientes.
Guided Tour in Machu Picchu about 2 hours.
Train from Aguas Calientes to Ollantaytambo, Expedition Service, hours: 16:22 hrs. or 18:20 hrs. or 21:50 hrs., depending on availability.
Transfer from Ollantaytambo train station to Cusco.
Discounts Offered:
Discount of USD $ 25.00 to students with internacional card – ISIC Card (you must send a copy of the card when you book your tour).
Optional:
Ticket to Huayna Picchu: USD $ 10.00.
1 Extra Horse (14 kg) for assintance with your personal luggage: USD $ 105.00. the extra porter can be shared by 2 people.
Rent an extra horse to ride when tired USD $ 105.00.
Additional mat: USD $ 15.00.
Additional tent: USD $ 25.00.
Sleeping bag: USD $ 18.00 per person.
Baton x 01: USD $ 8.00 per person.
Service Vistadome: USD $ 50.00. Return 13:37 hrs. – 15:48 hrs. – 17:23 hrs., subject to availability.
If you want to extend your stay in Aguas Calientes (the town just below Machu Picchu, contact us for the hotel's prices, please).
Price per person – 2015
| Number of Passengers | Grupe Service (price per person) | Private Service (price per person) |
| --- | --- | --- |
| 2 passengers | USD $ 575 | USD $ 625 |
| 3 passengers | USD $ 545 | USD $ 595 |
| 4 passengers | USD $ 495 | USD $ 555 |
| 5 passengers | USD $ 480 | USD $ 530 |
| + 6 passengers | USD $ 470 | USD $ 520 |
Phone: + 51-84-207064

Cell Phone: + 51-944242767       + 51-998898999
Address: St. Recoleta Angosta 604, Cusco – Perú
Mail: info@machupicchuterra.com