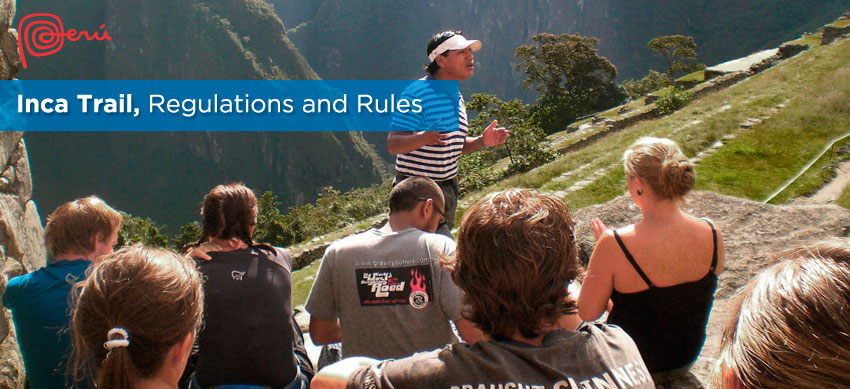 Inca Trail: Regulations & Fees

The Peruvian government keeps introducing more reforms to the Inca Trail in an attempt to reduce the number of trekkers and pre­vent further damage to the trail caused by overcrowding. The most recent regulations state that all Inca Trail hikers must now go with a licensed guide, and no more than 500 hikers are allowed to start the trail per day. All trekkers are required to carry their passport (a copy will not do) and ISIC card with them at all times to show at appropriate checkpoints along the trail. Registered tour agencies also have to pay huge annual fees and taxes, which often in crease annually, and so tour prices have consequently shot up.
Regulations Summary
All hikers must be accompanied by a licensed guide.
Entry fee is $60 for the full trail (or US$. 30 for students under 26 with a valid ISIC card), US$30 for some shorter sections. Which doesn't include the one-day entrance fee to Machu Picchu.
Group size must not exceed 16 visitors.
A maximum of 200 tourists per day will be allowed to embark on the Trail.
Porters are not allowed to carry more than 25 kg.
The trail will be closed for one month each year for maintenance.
Tickets must be bought at the Instituto Nacional del Cultura (INC) office in Cuzco at least 72 hours before the trek, but tour operators will normally handle this for you.
Conservation and Regulation
The National Historical Sanctuary of Machu Picchu is protected by law to conserve its biodiversity as well as the Inca ruins. Machu Picchu comes under intense pressure, with over 300,000 visitors each year. Daily from May to September, an average of 2000 people explore the ruins, of whom 150-200 have hiked the Inca Trail, others the altenative routes, perhaps 50 have come by helicopter and the rest by train.
Compared with many other tourist magnets, the Inca Trail is well maintained. The Peruvians have worked hard at limiting the erosion, litter and other damage caused by its popularity. This is a long-term campaign in which they need and deserve your support: choose an environmentally conscious operator and be careful about handling litter, where you go to the toilet, and the use of poles. Happily, controversial plans to build a cable car and large hotel at Machu Picchu have been widely opposed, and the rules announced in 2000 were being enforced from 2001.
Since you are walking on the Inca Trail or ancient stones, the rule about protecting pole tips makes obvious sense.
No disposable water bottles may be used, to reduce the litter problem.
When visiting ruins, never climb on the stones or put your rucksack anywhere except on the ground.
Other rules prohibit acts of vandalism (such as picking wild flowers, camping in the ruins or making open fires).
---
Before embarking on the adventure by Caminos del Inca is necessary to know certain details needed to enjoy the walk correctly.
---