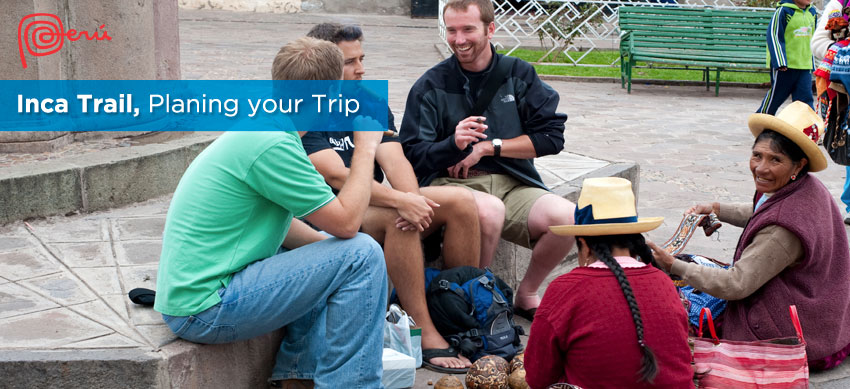 It is important to know which season do the Inca Trail with destination Machu Picchu.
What is the best time of year for an Inca Trail Trip?

The Inca trails start with a journey from Cusco, the old Inca capital, to their various starting points and finish at the lost Inca city of Machu Picchu. Close to the equator (13° south), the sun is always nearly overhead, and at altitude the daily temperature range is extreme. The rainy season lasts from December to March, when visibility is poorer and conditions less pleasant, although plant life is lush and the trail less crowded. Avoid January and February anyway. Remember that rain, mist, snow and thunderstorms can occur at any time of year.
July and August are peak months for numbers and pressure on facilities. Ideally, aim for April to June or September to November for the Classic Inca Trail. However, the Mollepata Trail is possible only from May to late September/early October because heavy snow makes the route dangerous or impassable outside that period. If you are interested in the winter solstice festival (Inti Raymi), re-enactments take place at Saqsaywaman (Cusco) and elsewhere, annually around 24 June; naturally these attract large crowds.
Other factors to consider are:
Include allowing time to learn some Spanish and/or Quechua before your trip
Time to prepare yourself physically for a tough hike reaching altitudes ranging from 2700 to 5000 metres (depending on the route). Booking your departure.
Recent regulations mean that you can no longer hike the Inca Trail independently. The simplest approach is to book in advance a complete package, with or without flights, using brochures and websites for guidance.
Combining it with other activities
For most visitors, the air fare to Peru is a significant sum. If you can spare an extra week or two, it makes sense to combine an Inca Trail holiday with other activities. You are almost certain to start from the ancient Inca capital of Cusco. It is at high altitude (3350 metres, 900 metres higher than Machu Picchu) so your body can begin to acclimatise while you meander around its sights or use it as a base for exploring the Sacred Valley. Further south and bordering Bolivia, Lake Titicaca is the highest navigable water on the planet, and a visit there can be combined with Cusco and hiking the Inca Trail.
If you want to have any tour in particular, should only be contacted and report on the itinerary of your choice. Write us to info@machupicchuterra.com.
Which Inca Trail?
In its heyday, the Inca empire had a road network stretching thousands of miles from Colombia to Chile, and there is good hiking among the Inca trails of Bolivia, for example.
The Classic Trail starts at or near Chilca from railway halts Km 77,82 or 88, and normally takes three or four days. Some books describe this as 'the Inca Trail' as if no other existed, but two other choices are popular. For more of a wilderness experience, start from the village of Mollepata in the south, a tougher, more scenic route lasting five or six days. For those with no time to spare, the Shortest option starts from railway halt Km 104 and takes a single day to hike. (Incidentally, this is sometimes referred to as the Sacred or Royal Trail, but these adjectives are applied to other trails too.) To all of these estimated hiking times, add at least a full day to explore Machu Picchu itself.
Even the Classic Inca Trail (total length around 40 km) is fairly demanding because:
Gradients are generally steep.
The altitude makes you short of breath.
The stones are unyielding to walk on.
The path is often narrow and sometimes edged by a steep drop-off.
On the other hand, Salkantay takes you away from the crowds, around the shoulder of the beautiful mountain Salkantay (6271 metres) along a route with magnificent scenery. Because it joins the Classic route at Wayllabamba, arguably you get the best of both trails. If you are confident of your fitness and can take the time necessary to do it between May and September, it is the recommended choice.
Finally, if pressure on your schedule dictates that you take the Short Inca Trail, don't neglect your fitness or the altitude effects. You face a full day's hiking at altitudes of 2100 to 2700 metres, and if your body is unprepared,you may not enjoy Machu Picchu the next day. Exertion is a major risk factor in altitude sickness, and some people experience symptoms even at this level, especially if unaccustomed to exercise. So you need to be prepared for an Inca Trail Adventure.
---
Planning your trip to the Inca Trail is one of the essential steps to enjoy an unforgettable experience.
---