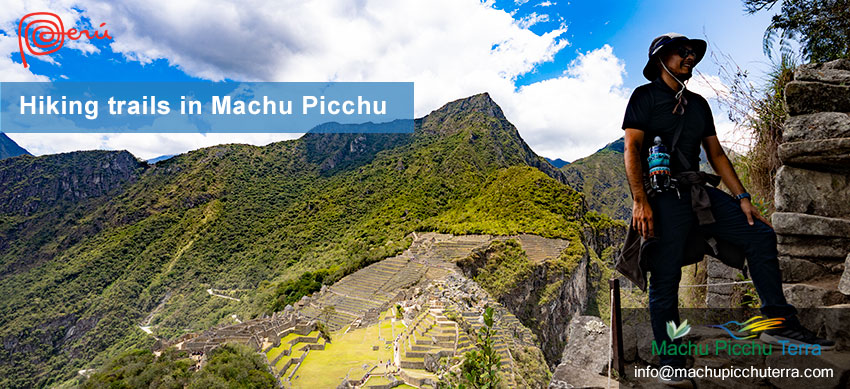 Yes, there are three hiking trails. Knowing Machu Picchu can allow you to do hiking trails. These routes will not be as prolonged as the Inca Trail or the other alternative routes of several days to reach Machu Picchu. The routes that we will talk about now are short and are included in the entrance tickets to Machu Picchu. These routes will allow you to see other perspectives of the archaeological site. Such is the case of Huayna Picchu, which is already quite popular, however, other alternatives such as Huchuy Picchu or Machu Picchu Mountain are not far behind. Join us.
---
What are the hiking trails near Machu Picchu?
The hiking trails near Machu Picchu are not many, however, they are ideal for taking an extra tour after or before visiting the archaeological site; according to the case. . This extra tour allows you to appreciate the nature that surrounds the wonder of the world, as well as not requiring great effort, it will only be enough to have comfortable shoes and a good predisposition to walk for about two more hours, adding the time of the Machu Picchu tour.
These hiking trails were included in the entrance tickets to Machu Picchu. These are new alternatives that were given to satisfy the needs of many tourists who, on some occasions, do not have much time to do long hiking trails or some of them suffer from a disease that prohibits them. The hiking routes near Machu Picchu are short, as we mentioned, they only have a maximum of two hours and anyone can do them with adequate breaks.
The places that can be visited near Machu Picchu, in addition to providing an excellent walk through nature, are closely linked to it. Let's start by pointing out the case of Huayna Picchu, which is quite popular and you can also find the Temple of the Moon and other Inca constructions. Another destination is the small mountain Huchuy Picchu, which is also part of the wonder of the world, a temple or an observatory of the cosmos was probably erected in this place. The third destination that offers an incredible view of the entire sector, is Machu Picchu Mountain, this mountain is the one that surrounds all the aforementioned mountains, it is the largest in the place and therefore the most imposing.
One more point in favor of doing these routes is that it offers contact with nature and you can see various types of orchids that decorate the vast vegetation of this place. In the same way, you can see a great variety of trees and in some cases multicolored birds. It is also possible to find other plants that grow in defiance of nature and develop on stones on the edge of the abyss. Finally, you will appreciate the wonderful Inca construction from another angle and perspective. From the highest mountains, you can see the mysticism that Machu Picchu hides, which stands on the peak of a very high mountain that is bordered by the Urubamba River.
---
How do I buy these tickets?
Entrance tickets to Machu Picchu can be purchased virtually and in person. It will always be recommended to do it virtually because that way you will have the option to better plan your trip. Doing it in person can be more difficult because, for this, you will have to be in Cusco itself and go to the office located in the Inka Palace of Kusikancha, Calle Maruri N. 340. Which is, yes, very close to the Plaza de Armas of Cusco. While online you can do it from the comfort of your home and take into account the possible availability of tickets depending on the date you want to travel or plan your vacation.
Currently, there are 5 types of tickets to enter Machu Picchu. For this article, we must focus on three of them. These three tickets will include the entrance to the Inca citadel plus the exclusive tour of some nearby mountains and Inca trails. The other tickets include only the passage through Machu Picchu and the following one includes a short walk to the Inca Bridge and the postcard photo. If you want to do a bit of walking, you will have different options:
Machu Picchu (Circuit 4) + Huayna Picchu.
Machu Picchu (Circuit 4) + Huchuy Picchu.
Machu Picchu (Circuit 3) + Montaña.
About the circuits of Machu Picchu:
There are also 5 Machu Picchu circuits. These circuits were designed so that visits to Machu Picchu are not crowded and that everyone can enjoy a tour with instructions and explanations of each temple or construction. You can take the photos you want of all the Inca walls and at the same time you can do the tour at your own pace and without having to rush, that is, have a pleasant walk. Regarding tickets, there are discounts for tourists from Bolivia, Ecuador, and Colombia, thanks to the CAN or Andean Community of Nations.
---
Ascent to Huayna Picchu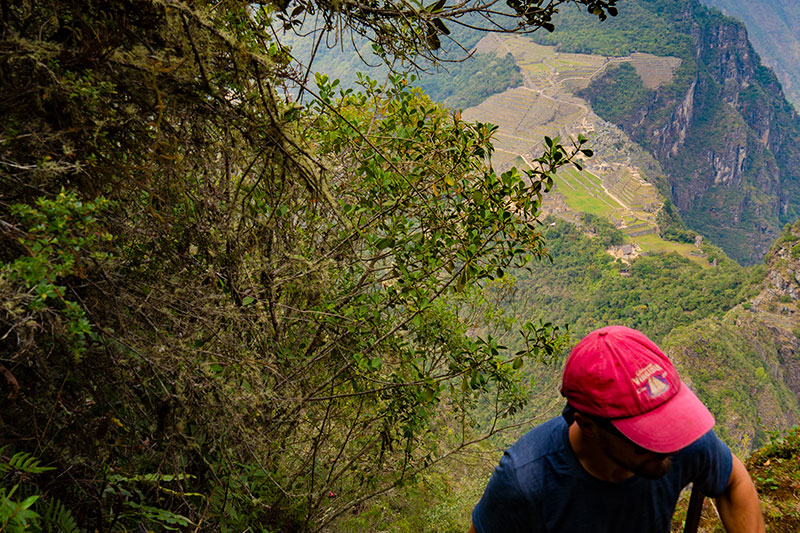 Hike to Huayna Picchu with Machu Picchu in the background
It is probably one of the most popular routes among visitors and lovers of Machu Picchu. Huayna Picchu was the first of the routes that were enabled in which you had to walk a distance on foot. An important factor is that this destination can only be reached on foot, which makes it a more special destination. The approximate walk is two hours on an ascending path.
The ascent of Huayna Picchu is an excellent option, because for many it is the complement of Machu Picchu, that is, if you arrive at Machu Picchu without visiting Huayna Picchu, it is unlikely that you will know the greatness of this Inca legacy. The peak of this mountain has an altitude of 3,082 meters above sea level. This altitude could cause some discomfort if you were not in Cusco before to acclimatize, do not worry, it will be a slight discomfort.
As for the dangers, it is unlikely that anything significant will occur. The difficulty is moderate, not very complicated due to the short distance that is followed. The entire path is marked and there are some handrails to facilitate the balance and passage of all those who dare to do this route. Remember that you cannot forget your camera.
---
Hike to Huchuy Picchu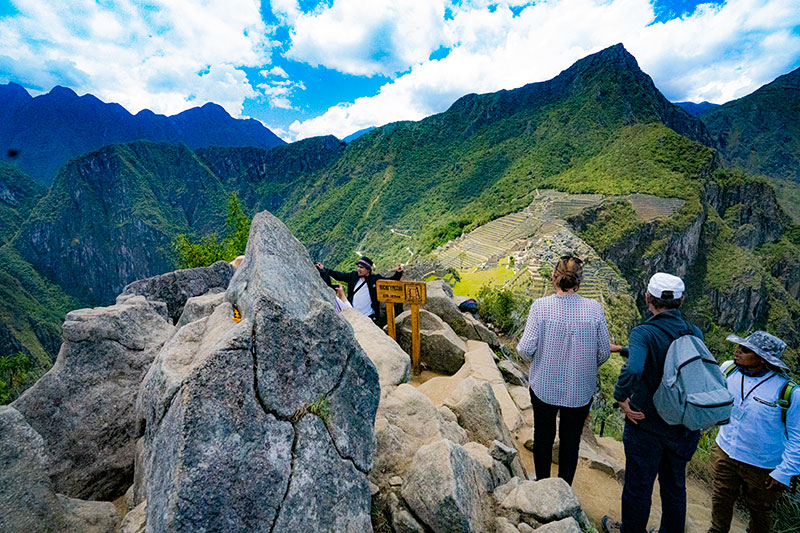 Tourists at the top of Huchuy Picchu
This trail is one of the last to be enabled for a walking tour beyond Machu Picchu. Huchuy Picchu is a small mountain that is located between Huayna Picchu and the archaeological site. It does not have a high altitude, but like the other routes, it allows you to appreciate the entire archaeological site from another angle. Due to its location, it seems to have a direct link with the small pyramid that makes up the Intihuatana area.
The way to get there is simple, the first meters connect with the road that takes you to Huayna Picchu and it was possible to visit both mountains with a single entrance ticket. The walking time is only 1 hour, the path is made up of stairs and some dirt areas. Like the other walking routes, it is completely safe to do.
During this walk it is likely that you will find some plants and orchids, also the presence of birds, although this is unlikely, you always have to be attentive. To do this walk and the others it is advisable to bring a bottle of water and some snacks. Remember that it is penalized to dirty or leave waste in any space within Machu Picchu.
---
Machu Picchu Mountain Hike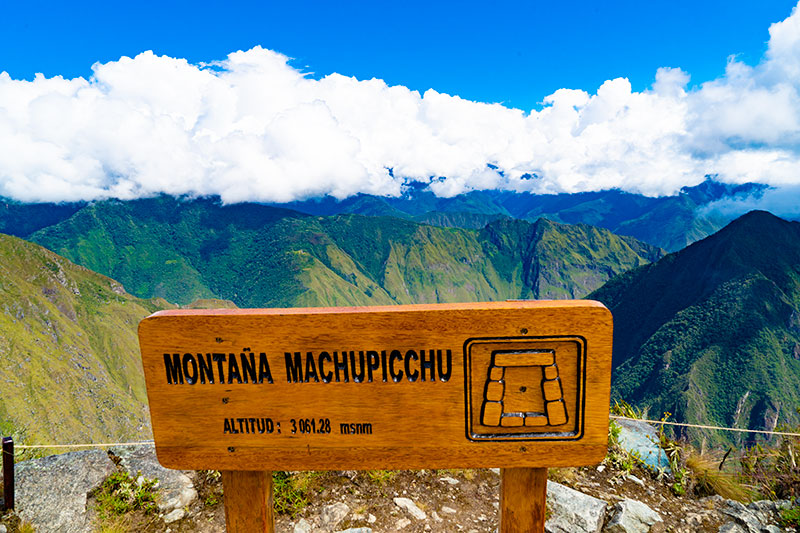 Top of Machu Picchu Mountain
Climbing this mountain is one of the safest adventures you will do and at the same time the most beautiful. You will enter where the Inti Punku is located and you will contemplate all the splendor of the geographical area and of Machu Picchu itself. This mountain is the one that surrounds the entire archaeological site as also the other two mountains, that is, Huayna Picchu and Huchuy Picchu. Symbolically complementing the three stages of human life, but expressed in the mountains since if we translate from Quechua to English we would have that "Machu", "Huayna" and "Huchuy" can be understood as "old/elderly", "young/vigorous", and "child/small", while "Picchu" would be understood as "mountain".
The walking time is approximately two hours and 30 minutes. Once you reach the top of the mountain you will see all the Inca constructions and their harmony with their surroundings. It is that this is one of the main characteristics of Inca architecture. Also, on the walk, it will be possible to appreciate the presence of orchids and other plants. Remember that Machu Picchu is located in a semi-tropical zone, which favors great biodiversity, both in plants, insects, and other animals. Likewise, the chances of rain are high, so taking a waterproof poncho can help you.
Whichever tour you do, you cannot forget your DNI or Passport, since it is an essential document to validate the reservations you have made. Choosing the best ticket will depend a lot on your desire to walk outdoors and be in contact with nature. One recommendation is that you always wear sunscreen, a hat, and mosquito repellent.
By Inca Trail Machu Picchu - Last updated, 11-05-2023
---
Interested in the Inca Trail? Know more about Routes!
---