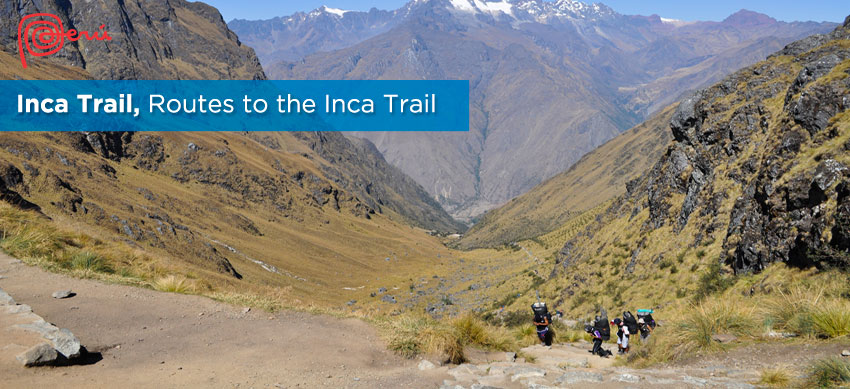 Due to high demand of Traditional Inca Trail, also performed treks by alternate routes. As is well known the path network employing the Incas are spacious accruing from different points of origin.
Classic Inca Trail

Let's face it: the Inca Trail is being loved to death. Overcrowded campsites, ethical issues with porter welfare, the limited availability of trail permits and the rising cost of taking a mandatory guided trek has made lesser-known routes to Machu Picchu look ever more appealing. After all, there were many trails used by the Incas, not just one!
The following alternative routes are not always a method of avoiding the sky-high trekking prices, as many treks link up with the principal trail, where the main goal is get to Machu Picchu. Prices and availability for these alternative routes depend on demand.
Ultimately, prices and availability for the Classic Inca Trail four days inclusive is from 450 to 550 USD, these alternative treks depend upon demand.
The Short Inca Trail
A shorter version of the Inca Trail leaves from Km 104, and gives a good idea of what hiking the Inca Trail is like. You'll be let off the train shortly before Aguas Calientes where the signed trail crosses the river on a footbridge before climbing very steeply for three or four hours to Wiñay Wayna. The average price for the Short Inca Trail two-day trek is USD $ 360 to USD $ 450.
The Lares Valley Trek
This route wanders around the Sacred Valley, trekking between rural Andean villages and past hot springs, lesser-known Inca archaeological sites, lush lagoons and river gorges. You'll finish by taking the train from Ollantaytambo to Aguas Calientes. Although this is more of a cultural trek than a technical trip, the highest mountain pass (4450m) is certainly nothing to sneeze at. An all-inclusive four-day Lares Trek costs USD $ 500 to USD $ 600.
Tour Lares Trek – Machu Picchu
The Salkantay Trek
An even longer, more spectacular approach to Machu Picchu, starts from the village of Mollepata, off the Cuzco-Abancay road. Climbing over 4800m-high passes near the magnificent glacier- clad peak of Salkantay (6271m), this week-long trek joins the classic Inca Trail after three or four days at Wayllabamba, where there is an official checkpoint. An all-inclusive five-day Salkantay Trek costs over $400.
Tour Salkantay Trek – Machu Picchu
The Inka Jungle Trail
There was still one alternative to taking an expensive guided tour to Machu Picchu. The four-day Inka Jungle Trail is a heart-stopping adventure that starts off with a bus ride over the Abra la Raya (4319m), followed by mountain biking downhill to the small jungle village of Santa Maria, where there's a trekking lodge. From Santa Maria, you'll walk through the Amazon jungle to Santa Teresa, camping overnight by some hot springs, then take a crazy cable car across the Rio Urubamba and follow defunct train tracks into Aguas Calientes. If you don't want to book a multisport guided tour from Cuzco (the all-inclusive four-day trip costs around USD $ 300 to USD $ 400), you can save money by going independently, if you don't mind skipping the mountain biking. Note that this route is open even during February, when the Inca Trail is closed for its annual cleanup.
---
Traditional Inca Trail is one of the paths that belongs to Network Inca Trail to Machu Picchu.
---