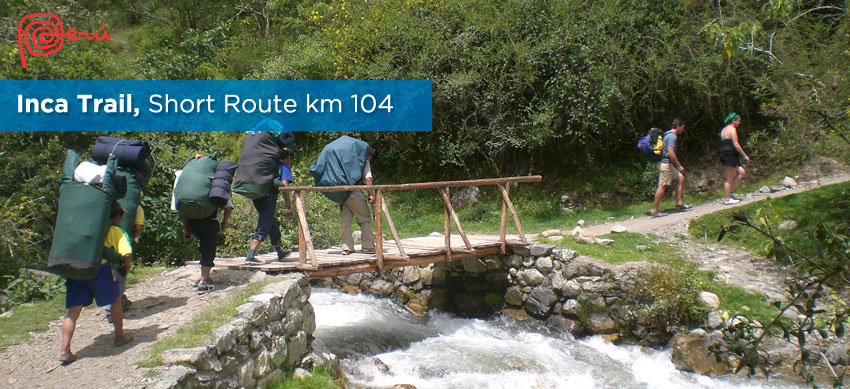 The Shortest Inca Trail: From Km 104
| | |
| --- | --- |
| Difficulty | First section is a steady ascent on a good path; after Wiñaywayna the trail undulates, sometimes steeply. |
| Acclimatization | 1 – 2 Days en Cusco |
| Total Distance | 13 km / 8,08 miles |
| Aproximate Walking Time | Day 02: 6 – 7 hours |
| Maximum Altitude | 2,650 m / 8,69 ft |
| Minimum Altitude | 2,400 m / 7,8 ft |

Summary: A useful route for those with very little time; not to be underestimated
The Shortest Inca Trail begins at Km 104, a halt on the railway from Cusco to Aguas Calientes. The train may not stop unless requested, and will not stop for long anyway, so watch the kilometre posts along the trackside. After you alight, look for the checkpoint to buy or show your trail ticket. Look down from the bridge over the river, keeping an eye open for torrent ducks.
Before you embark on this uphill hike across exposed terrain, make sure you have plenty of drinking water and good sun and wind protection. It will take two to three hours of steady climbing to reach Wiñay Wayna, and a further two hours to reach the entrance booths of Machu Picchu. Most people do not visit the ruins until the following day.
The trail you are following was cleared and constructed only recently. It passes near an original Inca trail that climbs from the newly excavated ruins at Choquesuysuy, but is reserved for workers on the huge hydroelectric project. Once across the river, the trail heads south-west past Chachabamba, with ruined buildings, a fine array of fountains or baths, a shrine and a round reservoir. It probably dates from the late 15th century, and had religious functions, perhaps also guarding access to Machu Picchu. It was uncovered by Paul Fejos' expedition in the 1940s, having been hidden by the jungle.
After Chachabamba, the trail heads south through woodland, then westward, beginning to climb seriously after it crosses a stream and passes under pylons. The ascent is never very steep, but there is hardly any shelter along the way and it can be very hot. The river is below on your right, and you will soon see glimpses of your first destination: first the tin roof of the modern hostel at Wiñay Wayna, then the glorious terraced ruins themselves.
After a further climb, the path mercifully descends into the shady forest that surrounds Wiñaywayna. You reach a beautiful waterfall and soon emerge into the vertiginous terraces. The Wiñaywayna ruins.
By Inca Trail Machu Picchu - Last updated, 08-11-2021
---
Interested in the Inca Trail? Know more about Routes!
---