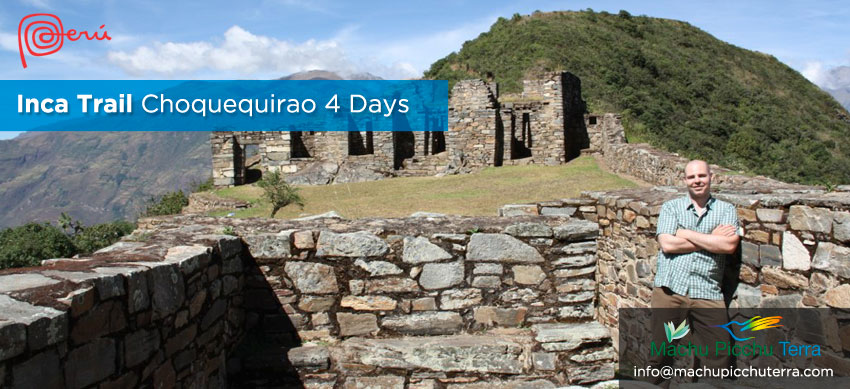 ---
Price Choquequirao Trek per person:
Download Tour

            USD $ 570     USD $ 540
---
Tour Summary
The Choquequiraw circuit is via a winding road built recently by the Peruvian government, the road to Choquequirao from the second day of the tour is regularly demanding, but is rewarded by the captivating scenic beauty and a warm climate belonging to the ecological jungle floor, and above all the charming archaeological park located on a rugged topography, which in the heyday of the Incas was undoubtedly a most important place in political and administrative sense, probably less religious category in front of Machu Picchu..
Altitude during the travel
Climate
Cusco

Capital: 3350 msnm (Cusco)
Low: 1500 msnm (Playa Rosalina)
High: 3000 msnm (Mirador Capuliyoq)

Semi-tropical, hot and humid days and cold nights with constant rain throughout the year
Low: Between 4 °C – 11 ºC Cusco (June)
High: Between 20 ºC – 26 °C Machu Picchu (June)
Rains: November to April


5.0 (+ 100). Testimonials of customers.
Recomendation:
It is necessary the acclimatization in Cusco, one or two days before starting the journey. For a good acclimatization is necessary to rest as much as possible, eat little, drink plenty of fluids; especially coca tea, that has healing and digestive properties. A proper acclimatization, avoid being affected by the "soroche" or altitude sickness, which can cause numerous health discomfort.
---
---
Route Options: Choquequirao – Machu Picchu
Difficulty
Acclimatization
1 – 2 Days in Cusco
Total Distance
45 km / 27,2 miles
Itinerary
Day 01: Cusco – Cachora – Chiquiska
05:30 hrs. Pick up from hotel and transfer in private bus: Cusco – Cachora
10:30 hrs. Arrival to Cachora
11:00 hrs. Lunch
12:30 hrs. Hike: Cachora – La Playa; 4 – 5 hrs. approx.
17:00 hrs. Camp
19:00 hrs. Dinner

Day 02: Chiquika – Marampata
06:00 hrs. Breakfast
06:30 hrs. Hike to Marampata; 6 – 7 hrs. approx.
14:30 hrs. Lunch
16:00 hrs. Free afternoon
18:00 hrs. Dinner and Overnight

Day 03: Marampata – Choquequirao
04:30 hrs. Breakfast
05:00 hrs. Hike to Choquequirao
06:30 hrs. Visit to Choquequirao
08:00 hrs. Free to take pictures
09:00 hrs. Return to Marampata
11:00 hrs. Lunch
12:00 hrs. Return to Chiquisca
15:00 hrs. Overnight

Day 4: Chiquisca – Cachora – Cusco
05:00 hrs. Breakfast
05:30 hrs. Hike to Cachora
11:00 hrs. Lunch
14:00 hrs. Return to Cusco
18:30 hrs. Arrival to Cusco
Detailed Itinerary

Day 01 Cusco – Cachora – Chiquiska

Early in the morning pick up from your hotel and then move to the town of Cachora (2,900 m / 9,514 ft) towards the region of Apurimac (God speaking) during our trip we will pass by towns like Izcuchaca, Limatambo and Curawasi (2,688 m / 8,818 ft). Reaching the small picturesque village of Cachora (2,903 m / 9,524 ft) we will have a hearty breakfast to start our hike. In this first installment we begin our flat walk without difficulty through Andean landscapes up to the Mirador de Capuliyoq (2,995 m / 9,826 ft) from this viewpoint can appreciate a little distant the Inca City of Choquequirao, also the stunning view of the mountains that surround us. Our path continues downhill to Chiquiska spend the night near the river Apurimac.
| | |
| --- | --- |
| Servicio Incluye: | No Incluye: |
| | |
Day 02 Chiquiska – Marampata

This day will be one of the most unforgettable days since we have the longest stretch go down a little until the sector Playa Rosalinda (1,550 m / 5,085 ft) and then climb across the Apurimac river to get to the top, so we need a hearty breakfast, we start our trek very prepared to mid-mountain, reach the hamlet Santa Rosa, where you can taste a little brandy distillery, after this short break we continue the walk. During the journey we will observe the flora own this place including the world's most beautiful flowers, orchids, reaching our second camp Marampata (3,000 m / 9,842 ft), then we will have a typical lunch break and an afternoon of leisure.
| | |
| --- | --- |
| Servicio Incluye: | No Incluye: |
| | |
Day 03 Choquequirao – Santa Rosa – Playa Rosalinda

This day is the most important day, we come to realize our dream of visiting the Cradle of Gold, Choquequirao, walk through the square, its few streets, fountains, terraces which are adorned with stones that are not of this place, as Andean camelids such as llamas and vicuna, after a heartwarming visit, we will return down to cross the river Sector Playa Rosalina (1,550 m / 5,085 ft) where we enjoy our dinner and overnight.
| | |
| --- | --- |
| Servicio Incluye: | No Incluye: |
| | |
Day 04 Chiquiska – Cachora – Cusco

Early in the morning we will take a good breakfast to start the trek to the village of Cachora, here's where we will have a delicious lunch, to finally take the bus back to the Imperial City of Cusco.
| | |
| --- | --- |
| Servicio Incluye: | No Incluye: |
| | |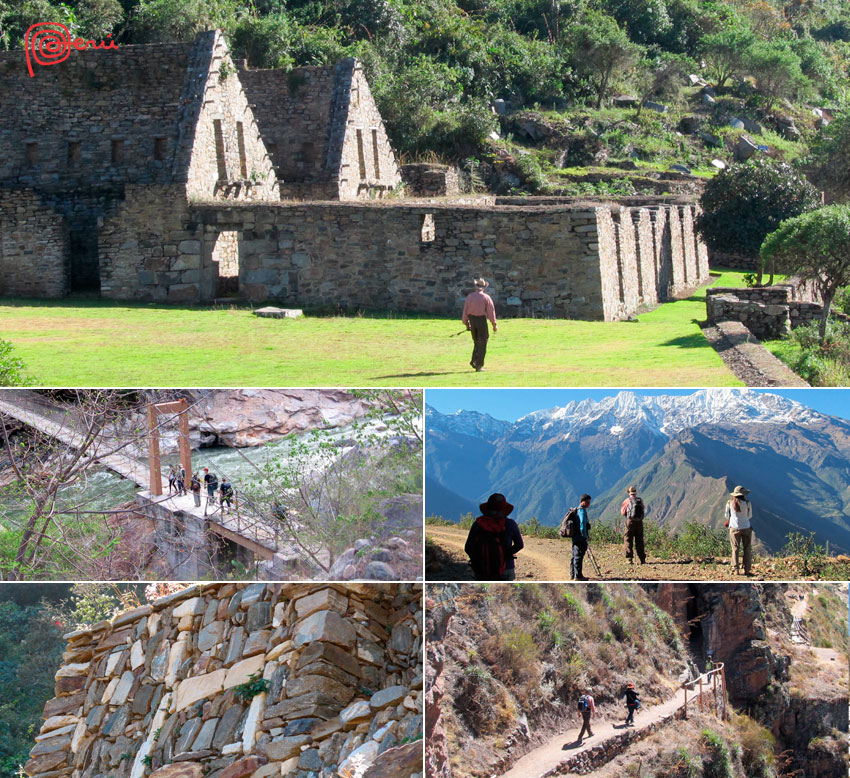 Include:
Briefing where our guide will explain about the walk and give us the maps.
Transfer from hotel in Cusco to the start point of the Choquequirao path.
Professional bilingual tour guide.
Additional guidance for groups over 9 people.
Chef.
Assistant cook for groups over 9 people.
Drover mules loaded with camping equipment and food.
Food during the Choquequirao Trek: 3x breakfast, 4x lunch, 3x dinner.

Vegetarian option is free, only inform us in advance, please.

First Aid Kit, Blood pressure, oxygen bottle.
Camping equipment: tents and mattresses.
Kitchen equipment: kitchen tent, dining tent, kitchen utensil.
Discounts Offered:
Discount of USD $ 25.00 to students with internacional card – ISIC Card (you must send a copy of the card when you book your tour).
Optional:
1 extra horse (14 kg) for assintance with your personal luggage: USD $ 200.00. the extra porter can be shared by 2 people.
Rent an extra horse to ride when tired USD $ 200.00
Additional mats: USD $ 45.00.
Additional tent: USD $ 35.00.
Sleeping bag: USD $ 45.00 per person.
Baton x 01: USD $ 15.00 per person.
Phone: + 51-84-207064

Cell Phone: + 51-944242767       + 51-998898999
Address: Av. Pachacutec 608, Wanchaq – Cusco – Perú
Mail: info@machupicchuterra.com