Learn about the updated payment methods for all our services. Remember that we have internet security methods that keep all your personal data strictly private. With us you can buy 100% safe!
---
Our payment methods
Our payment methods are through modern payment systems on our web platform. Payments can be made online with any credit or debit card such as Visa, MasterCard, American Express, Diners Club or even PayPal.
---
How to buy?
Follow these steps to make your purchase:
Step 1 – Choose the tour of your preference
Go to 'incatrailmachupicchu.org', browse the web and choose the Machu Picchu trek tour that you like the most. After reviewing the information, click on 'Book tour'.
Step 2 – Choose the date and fill in your personal information
Next you must choose the start date of the tour. Remember that spaces are subject to availability. Then you must complete your personal information as well as some details necessary to carry out the tour.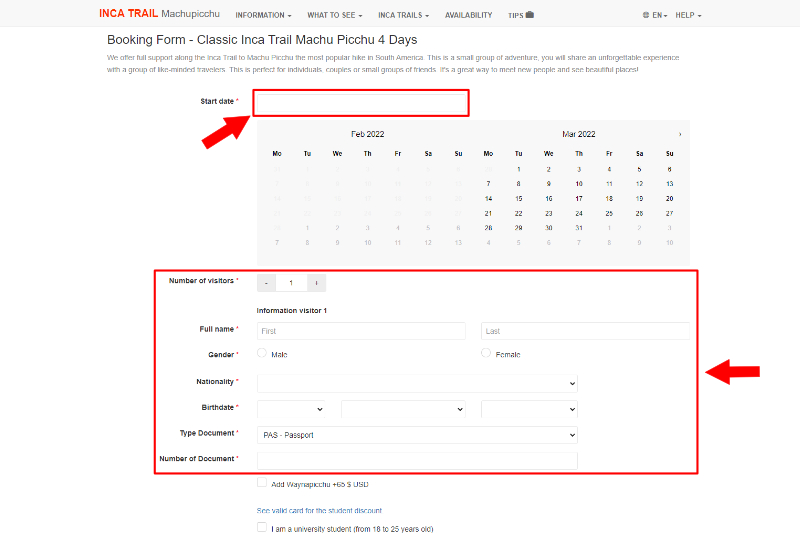 Step 3 – Choose the payment method and make the purchase
After verifying that all the information is correct, you must choose one of the five payment methods that we have: Visa, MasterCard, American Express, Diners Club or PayPal. In the latter case, payment is through a payment link that we will send to your email. In all other cases, payment is immediate.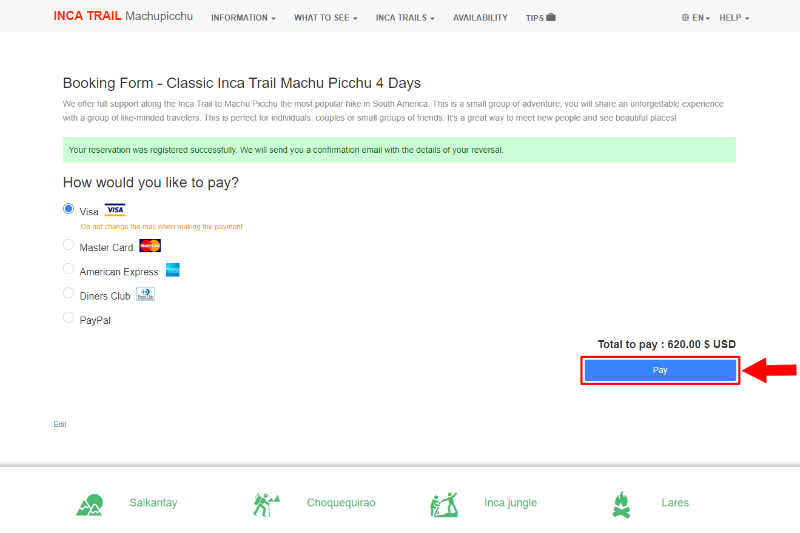 Payment 4 – Receive the confirmation email and that's it
Making the payment is very easy. You will only have to fill in some security details of your credit card and that's it.
After payment is made, you will receive a confirmation email in your email inbox (also check spam).
One day before the tour, the guide will contact you to carry out the 'briefing' in a previously agreed place.
---
Questions and answers
1) Can I pay with Western Union?

No, Wester Union is not one of our currently enabled payment methods.

2) Can I pay in cash on the day of the tour?

No, payment is only made online by sending 100% of the cost of the service.

3) Is it safe to pay my Inca Trail tour online?

Yes, we have online security systems that guarantee the privacy of your data during the economic transaction. Payment is 100% secure.

4) Should I register the name of my hotel?

Yes, the name of the hotel is necessary to provide the pick-up on the day of the tour. If you still do not have a hotel reservation in Cusco, you can send that information later.

5) Can I pay with any type of Visa card?

Yes, we accept all types of Visa credit or debit cards. We also accept MasterCard, American Express and Diners Club cards.

6) Can I be the victim of an internet scam when making the payment?

No. We have an online security system that guarantees a transparent purchase.

7) What happens if there is no availability? Can I make the payment?

No. Si no existe disponibilidad vigente para el tour de su elección, el sistema no le permitirá realizar el pago.

8) Can I make the payment by PayPal?

Yes, PayPal is one of our payment methods. For this we will send you a payment link to your email that you must make as soon as possible.

9) What happens if I do not travel to Peru on the day of the tour? Is there a refund?

No. In case of absence on the day of the tour, no refund is possible.

10) How much time do I have to make my payment?

Payment must be made as soon as possible. Otherwise, your reservation will not be registered, leaving your place free for other tourists who want the tour.
By Inca Trail Machu Picchu - Last updated, 11-02-2022