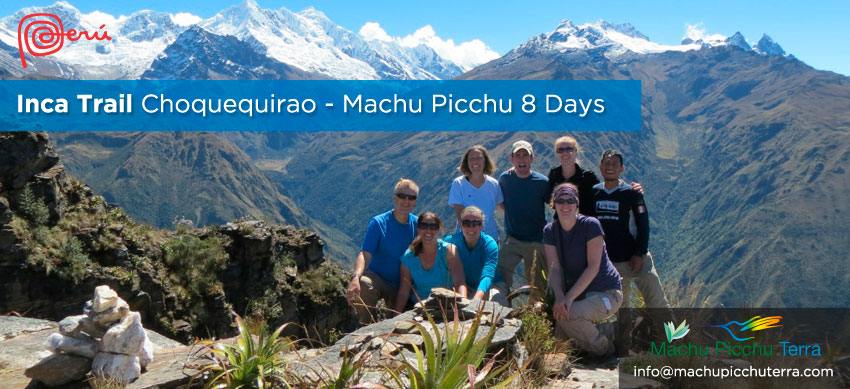 ---
Price Choquequirao Trek + Machu Picchu per person:
Download Tour

                        USD $ 1130
---
Tour Summary
The circuit Choquequiraw to Machu Picchu is done through a remote Inca trail that was used frequently in the time of the Incas to reach the Inca citadel of Machu Picchu, with the villages of Chinchaysuyo the northwestern part of the empire of Tawantinsuyo and continue the path towards antisuyo, exclusively Citadel Choquequiraw which becomes a checkpoint that in the course of time was growing and getting bigger, definitely a place of greater importance in political and administrative sense, probably less religious category against Machu Picchu. But this detail does not detract from the dazzling charm that has this citadel on a rugged topography, located in the ecological level of the jungle, sub tropical climate.
Altitude during the travel
Climate
Cusco

Capital: 3350 msnm (Cusco)
Low: 2000 msnm (Playa Sahuayaco)
High: 5085 msnm (Abra Sacsarayoj)

Semi-tropical, hot and humid days and cold nights with constant rain throughout the year
Low: Between -5 °C to 11 ºC Cusco (June)
High: Between 20 ºC to 26 °C Machu Picchu (June)
Rains: November to April


5.0 (+ 100). Testimonials of customers.
Recomendation:
It is necessary the acclimatization in Cusco, one or two days before starting the journey. For a good acclimatization is necessary to rest as much as possible, eat little, drink plenty of fluids; especially coca tea, that has healing and digestive properties. A proper acclimatization, avoid being affected by the "soroche" or altitude sickness, which can cause numerous health discomfort.
---
---
Route Options: Choquequirao – Machu Picchu
Difficulty
Acclimatization
1 – 2 Days in Cusco
Total Distance
115 km / 71,5 miles
Itinerary
Day 01: Cusco – Cachora – Playa Rosalina
04:00 hrs. Recojo del Hotel
04:15 hrs. Departure in private bus: Cusco – Cachora
11:30 hrs. Arrival to Cachora
12:00 hrs. Lunch
13:00 hrs. Hike: Cachora – Playa Rosalina, 4 – 5 hrs. approx.
17:00 hrs. Camp
19:00 hrs. Dinner

Day 02: Playa Rosalina – Marampata – Choquequirao
05:30 hrs. Breakfast
06:30 hrs. Hike to Marampata, 4 – 5 hrs. approx.
11:30 hrs. Lunch
12:30 hrs. Hike to Choquequirao, 1 hr. 30 min. approx.
14:00 hrs. Visit to Choquequirao
17:00 hrs. Camp
18:00 hrs. Dinner and Overnight

Day 03: Choquequirao – Maizal
06:00 hrs. Breakfast
09:00 hrs. Hike to Rio blanco
12:30 hrs. Lunch
17:00 hrs. Arrival and Camp
19:00 hrs. Dinner and Overnight

Day 04: Maizal – Yanama
06:30 hrs. Breakfast
08:00 hrs. Hike to mines Victoria, ascent
14:00 hrs. Lunch
17:00 hrs. Arrival and Camp
18:00 hrs. Dinner and Overnight

Day 05: Yanama – Totora
06:30 hrs. Breakfast
08:00 hrs. Hike to Totora, descent / ascent
14:00 hrs. Lunch
17:00 hrs. Arrival and Camp
18:00 hrs. Dinner and Overnight

Day 06: Totora – Playa
06:30 hrs. Breakfast
07:30 hrs. Hike to the higher Abra
14:00 hrs. Lunch
17:00 hrs. Arrival and Camp la Playa
18:00 hrs. Dinner and Overnight

Day 07: Playa Sahuayaco – Aguas Calientes
06:30 hrs. Breakfast
08:00 hrs. Hike: Playa Sahuayaco – Llactapata – Hidroeléctrica (16 km / 5 hrs. approx. / flat)
13:00 hrs. Lunch
14:00 hrs. Hike: Hidroeléctrica – Machu Picchu Pueblo (10 km / 3 hrs. approx. / flat)
17:00 hrs. Overnight in Aguas Calientes

Day 08: Machu Picchu – Cusco
04:00 hrs. Breakfast
04:30 hrs. Hike: Aguas Calientes – Machu Picchu (1 hr. 30 min. approx.)
Optional: Climb in bus, Aguas Calientes – Machu Picchu 30 min.
07:00 hrs. Guided tour of 02 hours
09:00 hrs. Free time
Optional: Climb to Huayna Picchu, visit the Temple of the Moon, the Inca Bridge
14:30 hrs. Hike: Machu Picchu – Aguas Calientes (1 hr. 30 min. approx.).
Optional: Return by bus, Machu Picchu – Aguas Calientes 30 min.
16:22 hrs. Return by train, Aguas Calientes – Ollantaytambo
18:05 hrs. Transfer in bus, Ollantaytambo – Cusco
Detailed Itinerary
Day 01 Cusco – Cachora – Coca Masana – Playa Rosalina

To start our tour to Choquequirao very early in the morning we will pick you at your hotel in our private vehicle to move to the town of San Pedro de Cachora for a period of 4 hours.
On the way we will stop to enjoy our breakfast and admire the wonderful and admirable Limatambo Canyon and the amazing Snowy Apu Salkantay then continue our trip to Cachora where we wait our travel gear, horses, horsemen and porters team to take charge of carrying all our camping gear and food needed for the entire trip. Once ready we started our tour with a hike around 3 hours to Capuliyoc (2915 m), and our first beautiful views of the Apurimac valley where we can see in the distance the mountains Padreyoc and Wayna Cachora covered with snow.
Then descend to Cocamasana located 2330 m. where the weather becomes noticeably warmer and the flora and fauna begin to change, it is necessary to carry mosquito repellent. Finally we arrive at Playa Rosalina at 1550 m. which is beside the river Apurimac here is our camp where we spend the first night.
| | |
| --- | --- |
| Service Includes: | Not Included: |
| | |
Day 02 Playa Rosalina – Choquequirao

This day is considered one of the most difficult of the trip, but observe around us is really fantastic combination of forests, clouds and jungle which is then we will understand the grandeur of this place. Early after strengthener breakfast we will begin to climb a steep path lasting approximately 5 hours to Raqaypata next Chunchullumayo River where we will have a late lunch and a break well deserved. Along the way Choquequirao and Machupicchu we will observe many orchids and wild flowers as well as many exotic birds. From Raqaypata to Choquequirao is an excursion of about 2 hours. We will arrive at archaeological site of Choquequirao in time to enjoy the sunset and maybe the opportunity to see condors flying near us. Our camp will only be close to the archaeological site of Choquequirao.
| | |
| --- | --- |
| Service Includes: | Not Included: |
| | |
Day 03 Choquequirao – Maizal

This day we will begin walking uphill to reach the 3,300 m / 10,826 ft. And then descend until White River (1,900 m / 6,233 ft) in the way we will pass through a forest of clouds to reach the archaeological site Pinchiunuyoc, this is a very special archaeological group suddenly appears as well on the way apparently covered with cloud forest a thick layer of moss and vegetation. During the journey we will observe many species of birds, orchids and plantations of the sacred leaf of the coca leaf (2,750 m / 9,022 ft), after exploring this beautiful place will cross the White River and climb into the sector Maizal (3,000 m / 9,842 ft) approximately 3 hours, this is where we spend the night. Perhaps this is one of the best camps during our trip because from here we can watch the 3 valleys and spectacular snow, besides being a good place to relax.
| | |
| --- | --- |
| Service Includes: | Not Included: |
| | |
Day 04 Maizal – Yanama

We leave our camp in Maizal and head towards the Paso San Juan. Again awaits us great hiking. This time, in a beautiful and impressive area, first on the cloud forest and then over Andean Puna, where we find a really good grass known as "icchu". We will rest near the Victoria mines, where the flashes on the stones will reveal the high degree of concentration of minerals and metals existing in the area. On our walk through the Puna we walk on very well preserved Inca Trail, with its classic zigzag shape. Before starting the descent to Yamana; a small settlement in a valley surrounded by mountains; have lunch upon 4,000 m / 13,123 ft with beautiful view of the mountain Choquetakarpo. Dinner at camp and Yamana.
| | |
| --- | --- |
| Service Includes: | Not Included: |
| | |
Day 05 Yanama – Totora

We will continue from Yamana, through the valley to the highest point of our tour, Yamana pass at 4,800 m / 15,748 ft. On the way enjoy a spectacular view of the snowy Sacsarayoc and have the opportunity to see the condors flying. In passing, we may have to walk on snow and descent will be a long walk on lawns. On our way towards the community of Totora we will pass by areas of trees and cross small wooden bridges.
We overnight in Totora, which is about 3,700 m / 12,139 ft.
| | |
| --- | --- |
| Service Includes: | Not Included: |
| | |
Day 06 Totora – Playa

We will descend 200 meters through changing vegetation to a warmer camp in the village of La Playa (2,320 m / 7,611 ft). This tour will take us about 7 hours walking. Along the way we see small waterfalls where we can take a refreshing swim. As the climate and vegetation will change, we will have the opportunity to see a variety of birds and orchids. La Playa is the biggest village on the way. Here we will see plantations of coffee and bananas. Dinner and camp at La Playa.
| | |
| --- | --- |
| Service Includes: | Not Included: |
| | |
Day 07 Playa Sahuayaco – Aguas Calientes

This day will be our last day of walking and we head uphill for a period of 3 hours, up to 2,810 m / 9,219 ft. From here we will have an excellent view of the lost city of the Incas Machu Picchu. After a good rest, descend to Machu Picchu Hydroelectric located on the Urubamba River, from here hike to Aguas Calientes – Machu Picchu, spend the last night in a hostel.
| | |
| --- | --- |
| Service Includes: | Not Included: |
| | |
Day 08 Machu Picchu – Cusco

This day our breakfast will be earlier than normal (5:00 am) then take the bus that will take us to Machu Picchu for approximately 25 minutes, once in Machu Picchu. You will have a guided tour of 2 hours and a lot of time to take pictures, the climb to the mountain Huayna Picchu, Temple of the Moon or the Sun Gate, is optional. After visiting Machu Picchu you will return to Aguas Calientes for you to have your lunch at any restaurant chosen by their own. Return to Cusco subject to availability of train schedules.
| | |
| --- | --- |
| Service Includes: | Not Included: |
| | |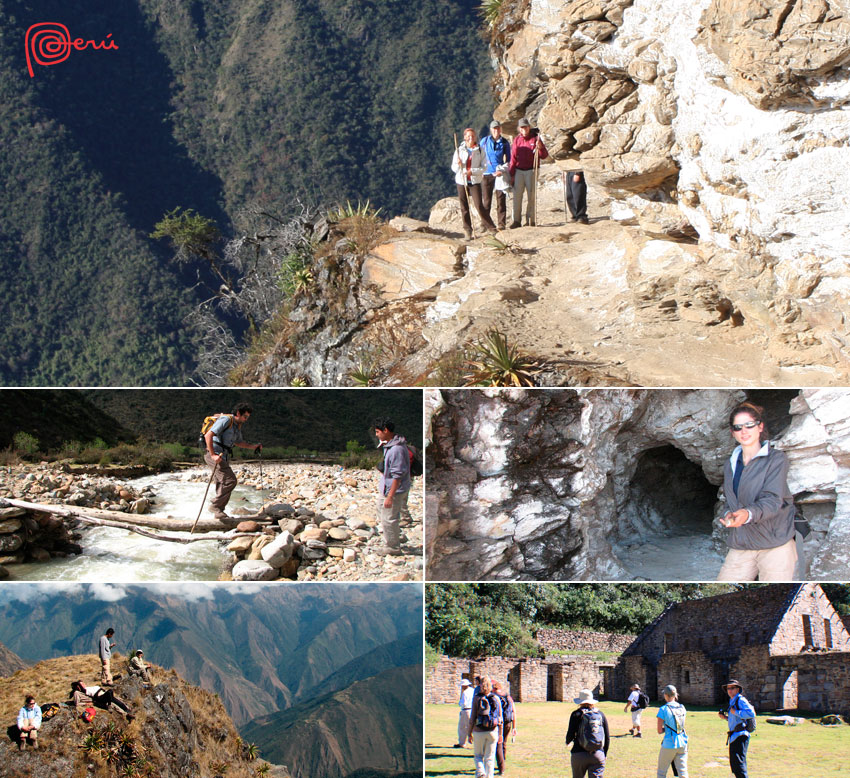 Include:
Briefing where our guide will explain about the walk and give us the maps.
Additional guidance for groups over 9 people.
Experienced cook in treks.
Assistant cook for groups over 9 people.
Horses that carry camping equipment and food.
Food along the way: 7x breakfast, 7x lunch, 7x dinner.

Vegetarian option is free, only inform us in advance, please.

First aid kit.
Oxygen bottle.
Camping equipment: tents and mattresses.
Kitchen equipment: kitchen tent, dining tent, kitchen utensils.
Basic accommodation in Aguas Calientes.
Entrance Ticket to Machu Picchu.
Guided Tour in Machu Picchu about 2 hours.
Train from Aguas Calientes to Ollantaytambo, Expedition Service, hours: 16:22 hrs. or 18:20 hrs. or 21:50 hrs., depending on availability.
Transfer from Ollantaytambo train station to Cusco.
Discounts Offered:
Discount of USD $ 25.00 to students with internacional card – ISIC Card (you must send a copy of the card when you book your tour).
Optional:
Ticket to Huayna Picchu: USD $ 65.00.
1 Extra horse (14 kg) for assintance with your personal luggage: USD $ 200.00. the extra porter can be shared by two people.
Rent an extra horse to ride when tired USD $ 200.00.
Additional mat: USD $ 45.00.
Additional tent: USD $ 35.00.
Sleeping bag: USD $ 45.00 per person.
Baton x 01: USD $ 15.00 per person.
Service Vistadome: USD $ 50.00. Return 13:37 hrs. – 15:48 hrs. – 17:23 hrs., subject to availability.
If you want to extend your stay in Aguas Calientes (the town just below Machu Picchu, contact us for hotel's prices, please).
Phone: + 51-84-207064

Cell Phone: + 51-944242767       + 51-998898999
Address: Av. Pachacutec 608, Wanchaq – Cusco – Perú
Mail: info@machupicchuterra.com