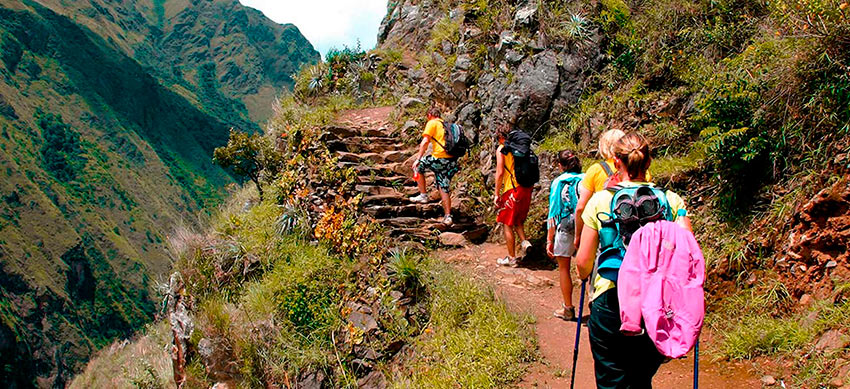 ---
Inca Jungle Trek Price – Machu Picchu per person:
Download Tour

USD $ 390     USD $ 350
---
Tour Summary
Inca Jungle to Machu Picchu or Adventure through the jungle to Machu Picchu is one of the best alternative routes of the Inca Trail , which will take you along a combined route, between mountain biking, walking and a few sections by car, in addition to optional adventures What; rafting, zip line or zip line, for 3 days until reaching Machu Picchu, definitely an unforgettable experience. You can also visit archaeological centers little known as Inkatambo and Huamanmarca along the way you can appreciate the ecological diversity that Machu Picchu has.
Altitude during the trip
Climate
Cusco

Capital: 3,350 m.s.n.m. (Cusco)
Minimum : 2,000 masl (Aguas Calientes)
Maximum : 4,230 masl (Abra Málaga)

Semi-tropical, hot and humid days and cold nights with constant rain throughout the year
Minimum : Between -5 ° C to 11 ° C Open Salkantay (June)
Maximum : Between 20 ° C to 26 ° C Playa Sahuayaco (June)
Rains : November to April


5.0 (+ 100). Testimonials of customers.
Recommendation:
Acclimatization is necessary in Cusco, one or two days before starting the tour. For a good acclimatization it is necessary to rest as much as possible, eat little, drink plenty of fluids; especially the coca tea that has known healing and digestive properties. Proper acclimatization prevents it from affecting the "soroche" or altitude sickness, which could cause numerous health problems.
---
---
Route options: Inca Jungle – Machu Picchu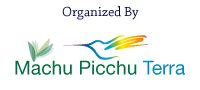 Inca Jungle – Machu Picchu 3 Days / 2 Nights
Difficulty
Acclimatization
1 – 2 Days in Cusco
Total distance
16 km / 9.9 miles
Itinerary
Day 01: Cusco – Santa Teresa

05:00 hrs. Pick up from the Hotel
05:15 hrs. Transfer by bus, Cusco – Abra Málaga
17:00 hrs. Start of the Bicycle Adventure to Santa Maria
16:30 hrs. Transfer by bus Santa Teresa (1 hour approx.)
18:00 hrs. Dinner

19:00 hrs. Overnight in Santa Teresa

Day 02: Santa Teresa – Aguas Calientes

05:30 hrs. Breakfast
08:00 hrs. Walk: Hydroelectric – Aguas Calientes (6 hrs. Approx.)
19:00 hrs. Overnight in Aguas Calientes

Day 03: Aguas Calientes – Machu Picchu – Cusco
04:00 hrs. Breakfast
04:30 hrs. Hike to Machu Picchu (1h 30 min. Approx.)
Optional: Transfer by bus, Aguas Calientes – Machu Picchu 30 min. approx.
07:00 hrs. Guided tour of 02 hours approx.
09:00 hrs.
Optional
free time : go up to Huayna Picchu, visit the Temple of the Moon, the Inca bridge 14:30 hrs. Hike: Machu Picchu – Aguas Calientes (1 h 30 min. Approx.)
Optional: Transfer by bus, Machu Picchu – Aguas Calientes 30 min. approx.
18:35 hrs. Return by train, Aguas Calientes – Ollantaytambo
20:30 hrs. Transfer by bus Ollantaytambo – Cusco
Detailed Itinerary
Day 01 Cusco (3,300 m) – Santa Teresa

Early in the morning we will pick you up at your hotel, to leave in our private mobility towards the sacred valley through the typical town of Chincheros and Ollantaytambo, immediately we will arrive at Abra Málaga located at 4,230 m / 13,877,953 ft, where we will begin the descent in bicycles for 4 hrs. approximately. Along the route we will be able to observe various archaeological centers such as; Inkatambo and Huamanmarca we can also observe small towns, fruit fields, rivers and streams; at the appropriate time we will enjoy our lunch outdoors after a short rest we will continue until we reach the town of Santa María located at 1,430 m / 4,691,601 ft, where the bike tour ends, from this point we will take a bus to Santa Teresa, in this place we will enjoy dinner and spend the night at the Lodge.
| | |
| --- | --- |
| Service Includes: | Does not include: |
| | |
Day 02 Santa Teresa – Aguas Calientes (2,160 m)

The day begins with a comforting breakfast, which will help us begin our walk of 15 km for about 6 hours, heading to Aguas Calientes, passing through the Aobamba Valley to the Intihuatana , from where you can appreciate the mountains of Machu Picchu and Huayna Picchu, and a wonderful jungle with great biodiversity until we reach Hidroeléctrica, where we will have our restorative lunch, later we will continue with the walk this time next to the railway line, until we reach the Town of Machu Picchu , better known as " Aguas Calientes ", The tour ends with a delicious dinner, then we will go to rest in a cozy accommodation.
| | |
| --- | --- |
| Service Includes: | Does not include: |
| | |
Day 03 Aguas Calientes – Machu Picchu (2,430 m) – Cusco

This day will only be dedicated to visiting the wonder of Machu Picchu (2,430 m / 7,972,441 ft) we will have a guided tour of approximately 2 hours and then enough time to explore on our own or visit Huayna Picchu (not included in the tour).
After your visit to Machu Picchu we go to the Town of Machu Picchu. In the town you will find many restaurants and you can choose to your liking, you will have to go to the train station and board it for approximately 2 hours to the Ollantaytambo station, there the transport will be waiting for you with your name and you will be transferred to the City of Cusco the trip lasts 1 hour and 30 minutes approximately.
| | |
| --- | --- |
| Service Includes: | Does not include: |
| | |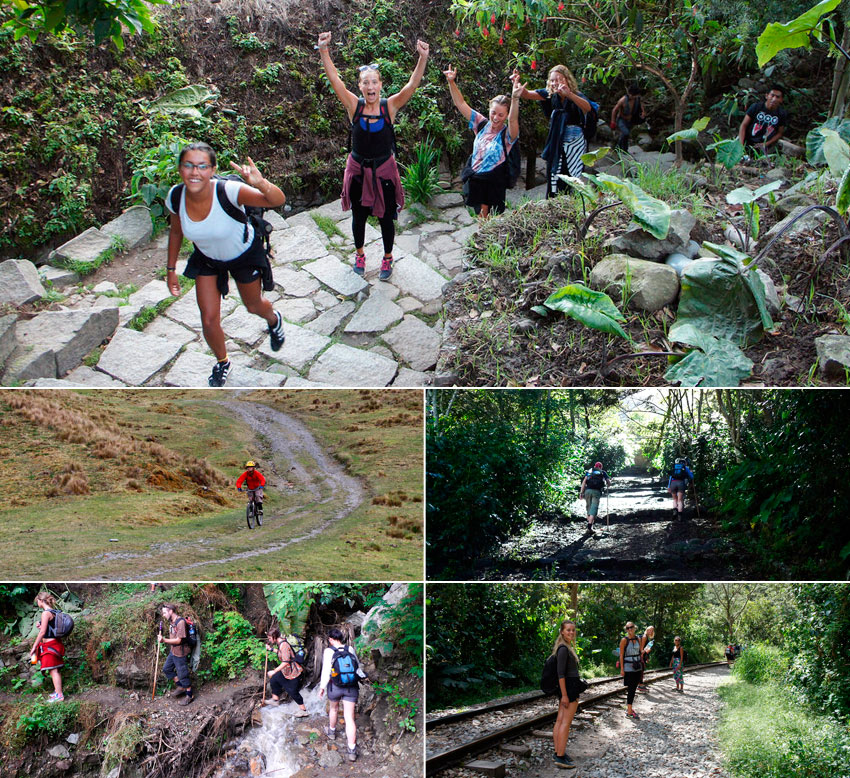 It includes:
Interview with the guide prior to the walk.
Map of the Inca Jungle trek.
Food along the way: 2x breakfast, 2x lunch, 2x dinner.

Vegetarian option is free; just inform us in advance, please.

First aid kit, oxygen bottle.
Discounts Offered:
Discount of USD $ 25.00 for students with an international card – ISIC Card (it is necessary to send a copy of the card when booking your tour).
Optional:
Entrance to Huayna Picchu of USD $ 10.00.
Vistadome Service: USD $ 50.00.
If you want to extend your stay in Aguas Calientes (the town just below Machu Picchu), please contact us for hotel prices.
Phone: + 51-84-207064

Cell Phone: + 51-944242767 + 51-998898999
Address: Av. Pachacutec 608, Wanchaq – Cusco – Peru
Email: info@machupicchuterra.com