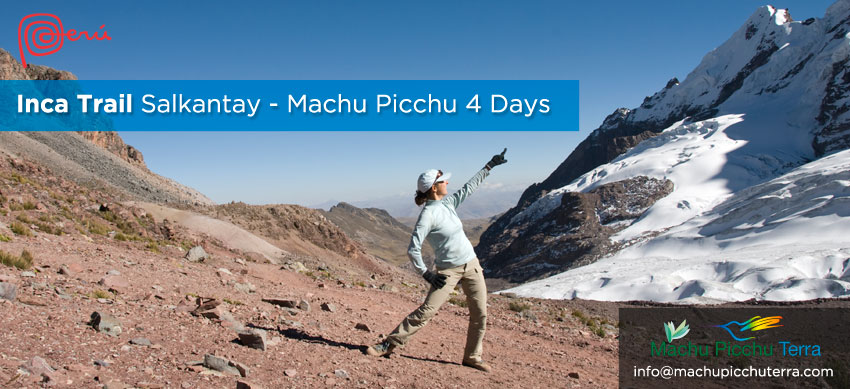 ---
Price Salkantay Trek + Machu Picchu per person:
Download Tour

            USD $ 540     USD $ 500
---
Tour Summary
It is an ancient and remote footpath alternative Inca Trail, it has much more spectacular views and with diverse ecological zones we will walk between lakes, breathtaking snow-capped as Salkantay and Humantay, crossing rivers and subtropical vegetation and abundant wildlife. This road is an excellent choice for those who wish to escape the more congested routes more quickly, or for those who are seeking an alternative because the traditional Inca Trail spaces are occupied.
This impressive tour passes under the magnificent Salkantay Mountain (6,710 m. / 20,569 ft.), one of the highest and most stunning in the Peruvian Andes. His first two days will be dominated by the impressive peaks of Salkantay and Humantay while walking by the high Andean landscape. The third day descend into the warm cloud forest, to reach Aguas Calientes on the fourth day. The impressive Sacred Inca citadel of Machu Picchu is visited on the last day of the program. This tour is an interesting option for those who have not found space in the path of the Inca Trail to Machu Picchu. The Salkantay tour, was recently named by National Geographic Adventure Travel in the top 25 tours worldwide.
Altitude during the travel
Climate
Cusco

Capital: 3,350 m.s.n.m. (Cusco)
Low: 2,000 m.s.n.m. (Aguas Calientes)
High: 4,650 m.s.n.m. (Abra Salkantay)

Semi-tropical, hot and humid days and cold nights with constant rain throughout the year
Low: Between -5 °C – 11 ºC Cusco (June)
High: Between 20 ºC – 26 °C Machu Picchu (June)
Rains: November to April


5.0 (+ 100). Testimonials of customers.
Recomendation:
It is necessary the acclimatization in Cusco, one or two days before starting the journey. For a good acclimatization is necessary to rest as much as possible, eat little, drink plenty of fluids; especially coca tea, that has healing and digestive properties. A proper acclimatization, avoid being affected by the "soroche" or altitude sickness, which can cause numerous health discomfort.
---
---
Difficulty
Acclimatization
1 – 2 Days in Cusco
Total Distance
65 km / 40,4 miles
Itinerary
Day 01: Cusco – Challacancha – Soraypampa
05:00 hrs. Pick up from Hotel
05:15 hrs. Transfer in bus, Cusco – Mollepata – Challacanca – Soraypampa
09:00 hrs. Hike: Challacancha – Soraypampa (3 hrs. / 7 km. approx.)
12:00 hrs. Lunch
14:00 hrs. Hike: Lago Umantay – Soraypampa (2 hrs. / 4 km. approx.)
17:00 hrs. Camp
17:30 hrs. Tea Time
18:30 hrs. Dinner and Overnight
Day 02: Soraypampa – Challway
05:30 hrs. Breakfast
06:00 hrs. Hike: Soraypampa – Huayracmachay (12 km. / 4 a 5 hrs. aprox. / ascent)
12:00 hrs. Lunch
13:00 hrs. Hike: Huayracmachay – Challway (9 km. / 3 hrs. aprox. / descent)
17:00 hrs. Camp
18:00 hrs. Tea Time
19:00 hrs. Dinner and Overnight
Day 03: Challway – Playa – Hidroeléctrica – Aguas Calientes
06:00 hrs. Breakfast
06:30 hrs. Hike to Playa Sahuayaco (15 km / 05 hrs. aprox. / andean flat)
12:00 hrs. Lunch
13:30 hrs. Local transport to Hydroelectric
15:00 hrs. Hike: Hydroelectric – Aguas Calientes (10 km. / 3 hrs.)
18:30 hrs. Lodging
19:30 hrs. Dinner and Overnight in Aguas Calientes
Day 04: Aguas Calientes – Machu Picchu – Cusco
04:00 hrs. Breakfast
04:30 hrs. Hike: Aguas Calientes – Machu Picchu (1h 30 min approx.)
Optional: Transfer in Bus, Aguas Calientes – Machu Picchu 30 min. approx.
07:00 hrs. Guided visit for 02 hours approx.
09:00 hrs. Free time
Optional: Climb to Huayna Picchu, visit the Temple of the Moon, the Inca Bridge
14:30 hrs. Hike: Machu Picchu – Aguas Calientes (1 hour 30 minutes approx.).
Optional: Transfer in Bus, Machu Picchu – Aguas Calientes 30 min. approx.
16:22 hrs. Return by train, Aguas Calientes – Ollantaytambo
18:05 hrs. Transfer by bus, Ollantaytambo – Cusco
Detailed Itinerary
Day 01 Cusco (3,300 m) – Mollepata (2,900 m) – Soraypampa (3,850 m)

We will pick her hotel at 05:00 to 05:15 hrs. with transport agency to travel for 2 hours and 30 minutes approximately, en route we will observe beautiful views of the mountains surrounding the valley of Cusco including Salkantay Mountain and several high Andean villages and large areas of growing potatoes and corn. At arrival to the village of Mollepata (2,900 m / 9,514 ft) in this town have the option to have breakfast if you did not also do last minute shopping (ponchos, batteries, sunscreen etc.).
We will take the transport again to travel by an hour to Challacancha (3,675 m / 12,057 ft) during this short tour you will see the stunning valleys of Mollepata. In Challacancha know our entire trek team (cook, porters, mules) will give us a warm welcome and then prepare for our adventure in the mountains have the option of putting the backpack on the horse, the guide will give a brief explanation before the walk, then we will walk for three hours during our walk we will observe the Nevado de Humantay (5,917 m / 19.412 ft) the place to walk is an andean flat to acclimatize better for the rest of the way.
Arriving at our camp Soraypampa (3,850 m / 12,631 ft) observe the impressive mountain of Salkantay, at camp our team will wait for us and then proceed to have an Andean novo lunch after enjoying lunch we will have a 30-minute nap and then begin our trek to the beautiful lagoon of Humantay 1 hour and a half in ascending to the lagoon Humantay then we will have a time to enjoy the beautiful scenery of the lake and glaciers in the mountains, then descend for 1 hour to camp, we will arrive at tea time so we talk with the group, then enjoy dinner and finally rest.
| | |
| --- | --- |
| Service Includes: | Not Included: |
| | |
Day 02 Soraypampa – Challway (2,920 m)

The day starts early at 05:00 am, then enjoy a good breakfast we will prepare to undertake the most difficult path, after order our luggage and start to walking for about 1 hour until the place called Salkantaypampa (4,100 m / 13,451 ft) here we will have a short break and continue walking in ascending by 1 hour to the place of Soyrococha (4,400 m / 14,435 ft), ideal to relax, rehydrate and enjoy the snack time. The road continues for 1 hour to the highest point of the trek, the Abra Salkantay (4,632 m / 15,196 ft) the highest point is located between two imposing mountains of Humantay (5,917 m / 19.412 ft) and Salkantay (6,271 m / 20.574 ft) – "the Wild Mountain" in the native Quechua language, on this site we will observe the snowy glaciers of Salkantay, we also appreciate the magnificent view of the entire mountain range and observe an original Inca Trail that the passing of the years it was collapsing. Then we descend for 1 hour and about 30 minutes to Wayracpampa where our team will be waiting for us with lunch. After enjoying lunch start descending by cloud forest and observe the change of climate and vegetation, then descent to Challway where is our camp, here we will have the tea time and dinner. And so ends the longest and toughest day of the trek.
| | |
| --- | --- |
| Service Includes: | Not Included: |
| | |
Day 03 Challway – La Playa (2,000 m) – Hydroelectric – Aguas Calientes (2,160 m)

We get up at 06:00 hrs. to have breakfast and start our walk, this day will be unforgettable because throughout the way we will see a lot of flora and fauna, the road is Andean flat, however we climb flights of no more 100 meters and the rest of the way is downhill from from the campsite we will walk for 40 minutes to the village of Collpa (2,850 m / 9,350 ft) from this place will see the beginning of the valley of Santa Teresa. Will visit the Valley of Totora, from where we will see the path we walked the day before and the mountain range, the walk is 2 hours to the village of Wiñaypoco during the walk we will have beautiful views of waterfalls, natural hot spring formations, orchids and strawberries. In Wiñaypoco people harvest fruit passionfruit a tropical fruit area that you can taste, after the break we will continue descending by the brow forest to the site of La Playa (2,200 m / 7,217 ft) where we will have lunch and then take the shuttle for 1 hour to Hydroelectric where we will begin to walk again 3 hours approx. until Machu Picchu Pueblo, the road is flat, the guide will accommodate you in a hostel and will coordinate for dinner. And finally rest.
| | |
| --- | --- |
| Service Includes: | Not Included: |
| | |
Day 04 Aguas Calientes – Machu Picchu (2,490 m) – Cusco

This day will be only dedicated to visit the wonder of Machu Picchu (2,490 m / 8,169,292 ft) we will have a guided tour of about 2 hours tour and then enough time to explore on our own or visit Huayna Picchu (not included in the tour).
After his visit to Machu Picchu we headed to the village of Machu Picchu. In the village you will find many restaurants and you can choose to your liking, will have to go to the train station and approach it for about 2 hours to Ollantaytambo station, transport there will be waiting with your name and you will transfer to the city of Cusco the trip takes 1 hour to about 30 minutes.
| | |
| --- | --- |
| Service Includes: | Not Included: |
| | |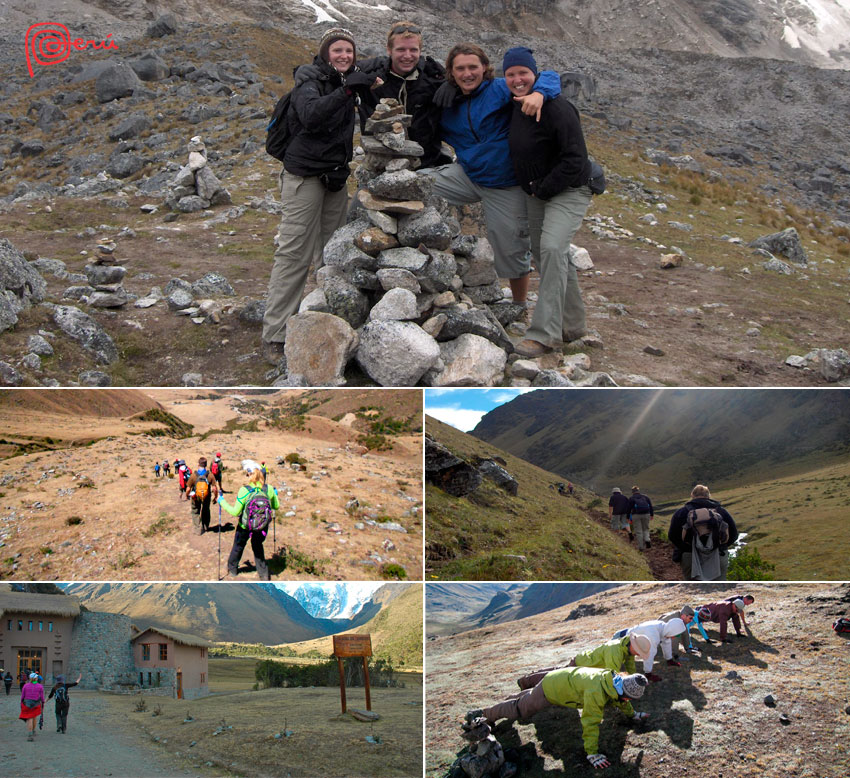 Include:
Briefing where our guide will explain about the walk and give us the maps.
Additional guidance for groups over 9 people.
Experienced cook in treks.
Assistant cook for groups over 9 people.
Horses that carry camping equipment and food.
Food along the way: 3x breakfast, 3x lunch, 3x dinner.

Vegetarian option is free, only inform us in advance, please.

First aid kit.
Oxygen bottle.
Camping equipment: tents and mattresses.
Kitchen equipment: kitchen tent, dining tent, kitchen utensils.
Basic accommodation in Aguas Calientes.
Entrance Ticket to Machu Picchu.
Guided Tour in Machu Picchu about 2 hours.
Train from Aguas Calientes to Ollantaytambo, Expedition Service, hours: 16:22 hrs. or 18:20 hrs. or 21:50 hrs., depending on availability.
Transfer from Ollantaytambo train station to Cusco.
Discounts Offered:
Discount of USD $ 25.00 to students with internacional card – ISIC Card (you must send a copy of the card when you book your tour).
Optional:
Ticket to Huayna Picchu: USD $ 10.00.
1 Extra horse (14 kg) for assintance with your personal luggage: USD $ 105.00. the extra porter can be shared by two people.
Rent an extra horse to ride when tired USD $ 105.00.
Additional mat: USD $ 15.00.
Additional tent: USD $ 25.00.
Sleeping bag: USD $ 18.00 per person.
Baton x 01: USD $ 8.00 per person.
Service Vistadome: USD $ 50.00. Return 13:37 hrs. – 15:48 hrs. – 17:23 hrs., subject to availability.
If you want to extend your stay in Aguas Calientes (the town just below Machu Picchu, contact us for hotel's prices, please).
Phone: + 51-84-207064

Cell Phone: + 51-944242767       + 51-998898999
Address: Av. Pachacutec 608, Wanchaq – Cusco – Perú
Mail: info@machupicchuterra.com