We are a Travel Agency and Tour Operator authorized to operate any type of walking, hiking or visit that you want to do in Peru.
We intend to serve you in the best way, taking care it is accomplished to detail in the service offered.
You can also see the official website of the Ministry of Culture – www.machupichu.gob.pe; here are the steps to follow:
Head to the tab "Query"
Then give click on "Agents" tab
Search with Social Reason – "Machu Picchu Terra"

Check the authorization directly from the website of the Ministry of Foreign Trade and Tourism.
Authorization Inca Trail
The National Service of Protected Natural Areas SERNANP gives us the permission to operate the Inca Trail Machu Picchu with code "CI1578".
It allows us to provide tourist services in the network of Inca Trails of the Historic Sanctuary of Machu Picchu.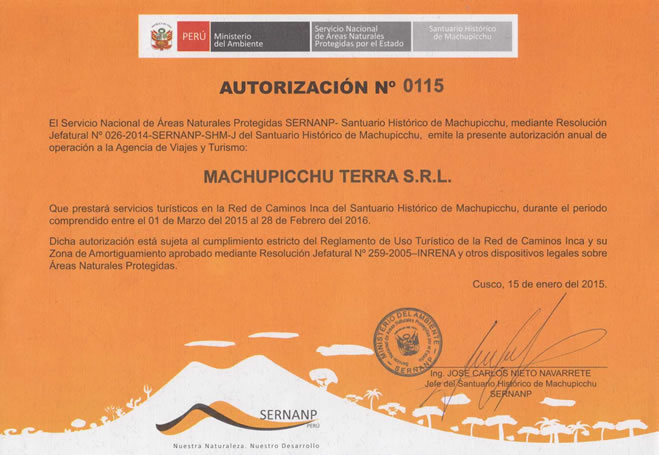 Certification Machupicchu Terra
We are a serious agency that meets all the regulations imposed by authorities regulators of proper operation of the travel agencies.
Machupicchu Terra has the appropriate permissions to tour operations and sale of tourist services. The operational license, which is given by Municipality of Cusco. And constancy of Travel Agency and Tour Operator issued by the Regional Directorate of Foreign Trade and Tourism aka DIRCETUR.