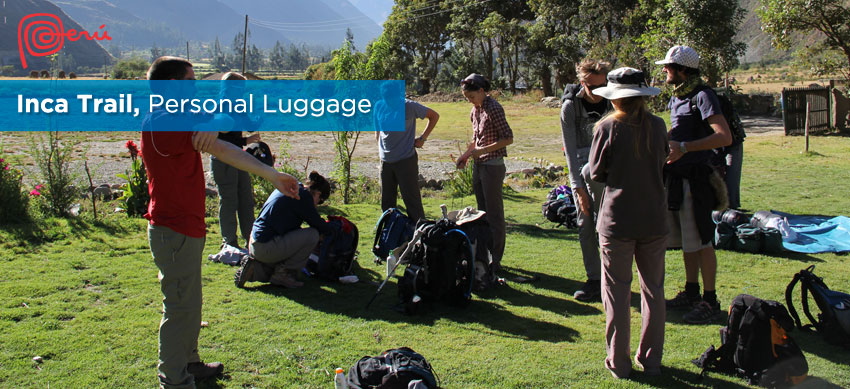 The Inca Trail travels 39 kilometers in 4 days until arriving at Machu Picchu. The tour already includes what is necessary to support the weight of the days of walking. However, the tourist must bring extra luggage that facilitates the weight of the route, such as personal items, batteries, rehydrating water, a sleeping bag, a camera and more.
---
What does the Inca Trail include?
The Inca Trail is a hiking route protected by the Peruvian State so it can only be done with a tour that includes:
Tourist transport to the starting point of the trek.
Tourist guide all the way.
Cooks (3 breakfasts, 3 lunches and 3 dinners).
Porters (people who carry camping utensils).
Camping equipment (tent and utensils).
Entrance to Machu Picchu.
Return by bus to Aguas Calientes.
Return by train to Cusco.
Emergency kit.
---
What is not included?
The Inca Trail, like any other hiking tour in Cusco, does not include the following:
Sleeping bags.
Walking sticks.
Snacks.
Rehydrating.
Personal articles.
---
How many kilos of luggage to carry?
If you take into account the difficulty of the route, the mountainous roads that it travels and the duration of it; We recommend luggage that does not exceed 5 kilos in weight .
Carrying more than 5 kilos of weight can make it difficult to perform the most difficult sections of the walk. Likewise, it can cause back pain.
This luggage must be contained in a backpack suitable for the walk (waterproof, spacious and that fits well on the back).
---
How to organize the travel backpack?
The backpack should hold at least 15-20 liters to hold enough water and spare clothes. It is recommended to have a raincoat to cover the backpack or use a bag inside. Check that the backpack meets the following characteristics:
Be comfortable to wear.
Have a chest strap and a waist strap, these will allow you to distribute the weight.
Have side pockets for small items.
Have ties and straps to store clothes or other items.
If you have additional luggage such as sleeping bags or tents, you can hire an extra porter. This implies an additional cost over the price of the tour and varies depending on the tourism agency you hire.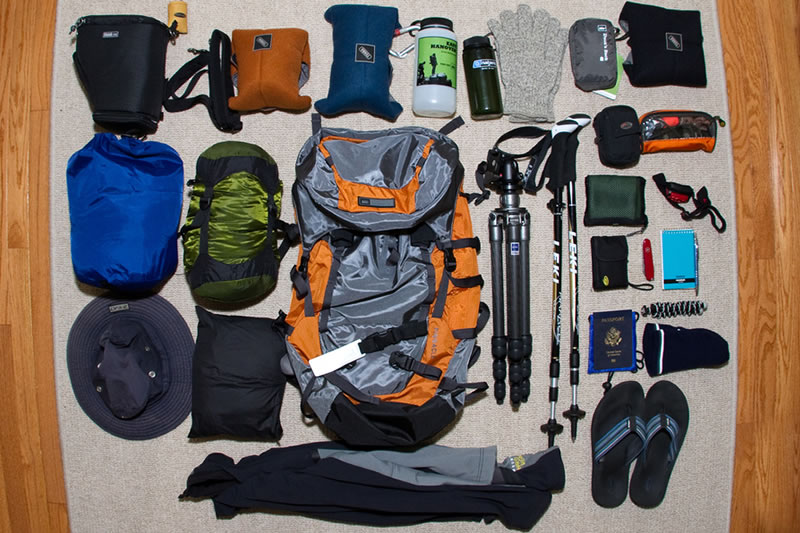 Travel backpack
---
What luggage to bring?
During the Inca Trail do not forget to bring with you:
Passport (or identity document).
Extra cash.
Walking stick.
Sleeping bag.
Cell phone batteries.
Hat.
Sunglasses.
Sunscreen.
Plastic bags (for storing garbage).
Mosquito repellent.
Poncho for rains.
Flashlight.
Photographic camera.
Clothing (polo shirts, sweaters, windbreakers, gloves, pants, socks, underwear, etc).
Snacks.
Fruit.
Rehydrating water.
Medicines (if you consider it necessary).
Personal hygiene items.
Be very careful packing and organizing everything – clear poly bags with zip-lock closures are good for keeping small things .
It is also important to have waterproof bags for important objects such as batteries or cameras. The rains on the Inca Trail are more frequent from November to March.
---
What clothes to wear?
It is important to consider that the temperature during the walk is cold at night and hot during the day. For this reason, it is recommended to wear the following clothing during the walk:
Loose and comfortable pants.
Leggings.
Polyester or cotton polo shirt.
Windbreaker jacket (1st layer).
Waterproof jacket (2nd layer).
Gloves.
Cotton socks.
Hat or cap.
Trek shoes.
Poncho (in case of rain).
---
Walking sticks?
Some tourism agencies include walking sticks but others do not. That is why some tourists decide to bring their own walking stick .
This is an element of great help for hiking on mountain trails. Especially in steep places where one can slip.
On the Inca Trail it is essential that these have a rubber tip. This is how it seeks to protect the historic roads built by the Incas.
The use of these poles improve balance and reduce stress and strain on the knees. For some people, using a pair of poles is better for efficient balance. For other people, it is best to have your hands free.
---
More information
The Inca Trail regulations do not allow the use of metal-tipped canes. Only rubber-tipped poles are allowed.
Tours to the Inca Trail offer optional entry (for an extra cost) to the Huayna Picchu mountain. They also allow better train service during the return.
On the penultimate day of the walk, the porters and cooks say goodbye to the group of tourists. Most offer a group tip to these workers. Therefore it is recommended to carry cash with you.
By Inca Trail Machu Picchu - Last updated, 30-09-2021
---
Interested in the Inca Trail? Know more about Information Inca Trail!
---