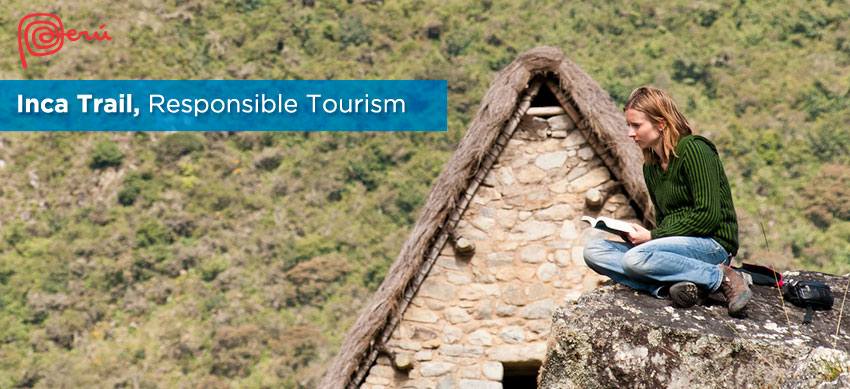 Take Care of Enviroment

Enjoy the hike, but please don't spoil it for others.
Don't relieve yourself in the ruins don't leave garbage anywhere.
Don't damage the stonework by building fires against the walls (it blackens and, worse still, cracks the rocks).
Use a stove for
cooking (the trail has been badly deforested
over the past decade).
Don't pick the orchids and other plants in this national park.
The SAE (South American Explorers Club) organized a trail cleanup in
1980 and collected 400kg of unburnable garbage. More recent clean-up campaigns have recorded similar figures. Please pack out what you pack in. You might even pack out garbage that others have left behind.
Learn More About People and Customs
Language
Language: Spanish is the main language. Most Andean people are bilingual in Quechua, their mother tongue, and Spanish , their second language. One to two million inhabitants of remote areas speak no Spanish. English, used in airline offices and the best hotels, is becoming more widespread. However, you need to learn a few phrases in Spanish and Quechua to have better communication with local people and have a memorable trip. Visit our reference section.
Respect cultural differences: Local customs, traditions and values may be different from our own. Take the time to learn what behavior is acceptable and what isn't.
Get informed: Take the time to learn about the country you are visiting. Learning about the customs and is appreciated by the local people. It also makes your interactions more meaningful and memorable.
Photography
In some places, being photographed or filmed can be consi­dered annoying or offensive locals. Refrain from taking photos or filming if you note that the subject is uncomfortable, or simply ask permission beforehand (good manners are often rewarded). Don't be surprised if your subjects ask for a tip after they are photographed or filmed. However, if it is obvious that the locals have dressed up in traditional clothes only to have their photos taken, negotiate a price first before taking a photo. In colourful markets such as Pisac in the Sacred Valley it may be more appropriate to buy something from the store-holder such as fruit or vegetables rather than paying for taking a photo.
Photography and filming are prohibited in the following areas: military bases or garrisons, fuel refineries, power plants, water treatment plants, police stations, airports, railway sta­tions, bridges, air bases and mines. If in doubt, ask permission before doing so.
Also flash photography can damage works of art, check if it's okay first or use a fast film.
---
Before embarking on the adventure by Caminos del Inca is necessary to know certain details needed to enjoy the walk correctly.
---