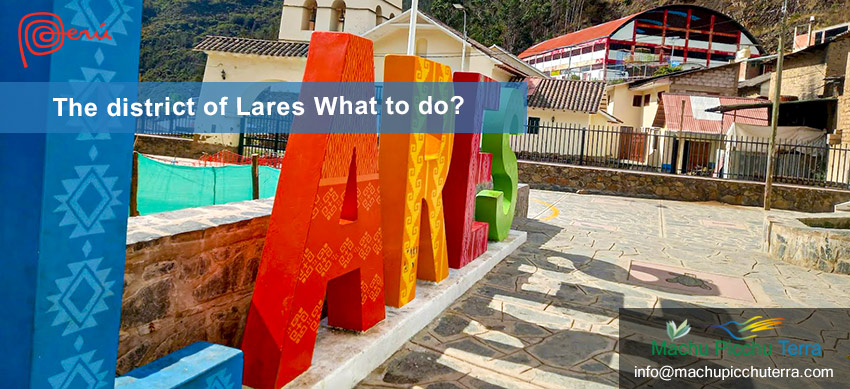 The Lares district gives its name to one of the most important hiking routes to Machu Picchu. This route is considered one of the cultural tours because you can learn about the local cultures that still harbor traditions and ways of life typical of the Tawantinsuyo population. An example of this is that they dedicate themselves to agriculture and do so respecting ancient traditions. Likewise, practices in the production of fabrics and their foods are maintained. Everyone who takes this tour will be able to learn about these activities and see beautiful landscapes. However, in this blog, we will dedicate ourselves to talking only about the Lares district, which seems to be transformed into a unique and special tourist destination.
---
Data about the Lares district
Lares belongs to the province of Calca near the Sacred Valley of the Incas. The entire territory of Lares also forms a valley but at a higher altitude of approximately 3,171 meters above sea level. In this sense, the climate is colder than what can be found in the Sacred Valley. However, it forms a patch of fertile land that helps residents generate income through agriculture.
The Lares district was part of the very important Qhapac Ñan or the Inca Trail. In this sense, it is quite likely that the hiking route to Machu Picchu will be carried out following the sections drawn by the same architects and urban planners of Tawantinsuyo. Therefore, it is one of the most beautiful routes that can be followed. Additionally, you can visit an archaeological site known as Choquecancha, which is a community of less than 200 people and is located very close to Lares. Later we will talk about this enigmatic place.
In Lares, you can also find tourist attractions that can be visited by all people. Especially for those looking to entertain themselves for just a weekend. These attractions are made up of thermal baths, which are made up of 5 wells or pools of different temperatures. Which can be visited any day of the week. Also, it is possible to find natural tourist attractions on the outskirts of the town, where very attractive waterfalls will stand out.
---
Getting to Lares is easy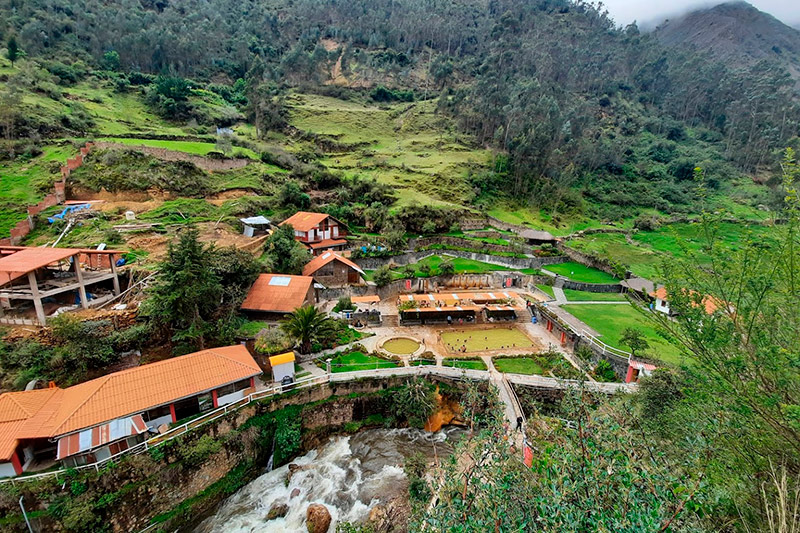 Panoramic view of the thermal baths and part of the Lares valley
Lares is located 98 kilometers from Cusco. This follows the road that connects Cusco with the Sacred Valley of the Incas and continues along the route to Calca. This is why the travel time to this district, starting from Cusco, can take 3 hours and 30 minutes on average. In this sense, travelers are recommended to make the trip early in the morning so that when they arrive they can have more hours in this district and do the activities without rushing.
If you want to leave from Calca, the trip will take 2 hours to reach Lares, also on a road route. As we see, Lares seems to be between a midpoint of Cusco and the capital of Lares. In this sense, to get there you cross the entire Sacred Valley and follow an ascending route since this district is located above 3000 meters above sea level. It is currently experiencing economic growth thanks to the presence of tourism.
---
Attractions near the Lares district
The most beautiful attractions closest to Lares are the following:
Choquecancha
It is a community that is located just 15 minutes from Lares. It is one of the Cusco communities in which the Quechua language is spoken almost entirely. Being a community it only houses a population of 200 people. UA main attraction of this place is that its small square has archaeological traces that have not yet been studied. These are trapezoidal niches. For its part, the population is dedicated exclusively to weaving ponchos or other textile items. They make it under the aesthetic conditions that they inherited from the time of the Incas.
As for the archaeological site, it is probably due to a dairy farm. It is large and covers an entire side of the square. It is estimated that part of the archaeological site remains to be discovered. As a way to strengthen their identity, the population of Choquecancha provides certain care and maintenance to the area that borders the square. Hopefully, this place will be recognized soon and more people will be able to get to know it. At the moment it is not a tourist destination, but it is highly recommended to visit.
Trekking Lares Ollantaytambo
This route has a lot in common with the Lares Trek that will connect with Machu Picchu through the Lares Valley to the Ollantaytambo district. If you only want to do the route to Ollantaytambo it will be possible, since you will finish in the same way on the third day in this district. In this sense, the adventure will be through the Andes of Huacahuasi where more is known about the Andean tradition. This community is reached by taking a hiking route.
Next, the walk is to the community of Yanahuara, which already belongs to the Urubamba Valley. This second day will be quite frigid because the route will take place at more than 4,000 meters above sea level. It will be possible to see the snow-capped mountains and a few lagoons of considerable size. In short, the landscape is incredible throughout the entire walk. After spending the night in Yanahuara, it is time to descend to the road, where a transport is waiting to get to Ollantaytambo.
Natural destinations
Lares, being located between mountains, has beautiful landscapes and natural destinations that will beautify any tour. Among these natural destinations, two waterfalls stand out, which you can easily reach. One of them is the Warmi Waterfall Gispana, the second of them, is a set of 7 waterfalls known as the Quishuarani Falls. Finally, when touring natural destinations, you can find the beautiful Raimondi puyas, plants that can reach a height of between 2 and 4 meters.
The thermal baths of Lares
This destination is recommended for those who suffer from certain muscle or joint discomfort. The thermal baths of Lares have different positive properties in the composition of their waters. These waters help relieve discomfort in the body. Likewise, it is efficient in relieving the body of the stress accumulated during life in the city.
To date, these baths have six pools or wells. One of them has cold waters while the others have variations in their temperatures so that visitors can visit or enter as they please. The temperature of these wells varies between 36°C and 44°C. Regarding dimensions, they range between 17 and 120 square meters. For safety reasons, the depth of these wells or pools does not exceed one and a half meters. People who don't know how to swim can enter with complete confidence.
An important recommendation is that you use sunscreen when entering. The wells or pools are located under the open sky. Sometimes the sun can be a nuisance or cause burns. Also during the tour or trip you take, make sure to use sunscreen and a hat or cap. Likewise, a day before making the trip you may need to acclimatize in Cusco to have a calm and hassle-free trip.
Huchuy Qosqo
In case you did not do any other activity in Lares and you are already back, a recommendation is that you visit the Lamay district and take the opportunity to take a tour of the archaeological site known as Huchuy Qosqo. It is said that it has the peculiarity of being very similar to the ancient capital of Tawantinsuyo, Cusco. Visiting this place is completely free and it won't take you long to do the tour.
---
Lares on the route to Machu Picchu
Lares became quite popular since the hiking route to Machu Picchu opened. That is why some accommodation services, restaurants, and especially the thermal baths began to be improved. These baths have long been visited by locals. In this brief section, we would like to talk about everything you can do in Lares before continuing or, rather, starting the walk to Machu Picchu.
The tours normally start in Cusco. In this sense, activities begin before 5:00 in the morning. This is to start the trip early and thus spend more time in Lares. The trip that is made is along the road that connects Calca and Cusco. Once we arrive in Lares, the travel group can choose whether or not to bathe in the thermal baths. It is best to relax your muscles before starting the walk.
The walk begins after lunch. Lunch will be made with local ingredients. Therefore, it is a good option to learn more about local products and their wide variety, consequently, it will also be possible to try the exquisite gastronomy of this country. After lunch and getting our belongings ready. The group begins with the hike to Wacahuasi or Huacahuasi, which is approximately a 4-hour walk away.
In this way, you leave Lares, after knowing more about this beautiful place. The Lares Trek tour to Machu Picchu is also known as a cultural tour. In both Lares and Huacahuasi, it is possible to learn more about local customs and traditions. These customs have been transmitted from generation to generation where agriculture and artisanal weaving are taught. These two tasks are the means to generate income for the majority of families in this area of Cusco.
---
Recommendations for visiting Lares
If you are thinking of making the trip only to Lares or doing the Lares Trek to Machu Picchu, you will need to keep in mind that most activities are carried out under the open sky. In addition, it is usually sunny, so you will always need to use sunscreen and a hat. It will also be very helpful if you carry a backpack to put your belongings or some other things such as drinks and snacks.
As for clothing, it will be necessary to bring a swimsuit, a towel, and clothes to change if you deem it appropriate. It is also advisable to bring cash in soles and the identification documents of both your own and those of your companions or travel group. Always remember to organize your activities well, especially if you are traveling alone or without an agency.
By Inca Trail Machu Picchu - Last updated, 16-11-2023
---
Interested in the Inca Trail? Know more about Lares Tour!
---