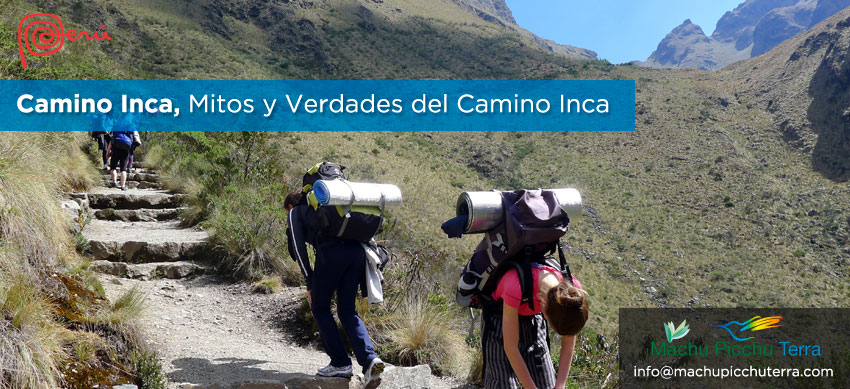 The Inca Trail is considered the best trek in Peru. Its fame also reaches international levels as there are many foreign tourists who want to do this 4-day route to Machu Picchu. However, there are many questions about this adventure. Here are ten myths and truths about this hiking route and its final goal: Machupicchu.
---
Note:
The Inca Trail to Machu Picchu is full of myths and truths. Perhaps the one that most tourists ask is: Is it necessary to buy a tour 6 or 7 months in advance? The answer is yes. Many tourists want to do this hiking route. Not many succeed as availability is limited. The Inca Trail can only be done with a tourism agency. To get availability, the tour must be purchased 6 or 7 months in advance.
Is the Inca Trail closed in February?
TRUTH: The Inca Trail remains closed all February due to heavy rains. In addition, in that month maintenance works are carried out on the roads. It is worth mentioning that Machu Picchu does not close in February.
---
Can I go up from Aguas Calientes to Machu Picchu on foot?
TRUTH: Most tourists visit Machu Picchu through a short (30 minute) bus ride from the town of Aguas Calientes. This section of almost 10 kilometers can also be done on foot. You just have to follow the Hiram Bingham road with a few short cuts by stone stairs. This hike is arduous and takes approximately 2 hours.
---
Did Hiram Bingham discover Machu Picchu?
MYTH: The American explorer Hiram Bingham arrived at Machu Picchu in 1911 and made its importance known to the world through National Geographic magazine. Some nine years earlier, in 1902, the Cusco resident Agustín Lizárraga arrived at Machupicchu along with other people, writing their names on one of the rocks of the Temple of the 3 Windows. Therefore, Hiram Bingham was not the discoverer, but the scientific promoter of the Inca city.
---
Is the Inca Trail the only route to Machu Picchu?
MYTH: The 4-day Inca Trail is the most adventurous route to Machu Picchu but it is not the only one . There is also the classic 4-hour train trip or the alternative route by Hidroeléctrica that takes 8 hours and includes a final walk of approximately 10 kilometers. Some trekking routes to Machupicchu, such as the Salkantay trek or the Inca Jungle, follow this last route on their way to the Inca city.
---
Is the Inca Trail easy?
MYTH: The Inca Trail is a route with a moderate difficulty. Travel 39 kilometers during 4 days and 3 nights of camping until you reach Machu Picchu. Although it is not the most difficult hike in Cusco, it is not the easiest either. It is recommended to be in good physical shape and enjoy this type of adventure.
---
Is it necessary a lot of preparation to do the Inca Trail?
MYTH: Although it is advisable to be in good physical condition to do the Inca Trail, this is not an essential requirement. The route is traveled by men and women of different ages, including children or older adults. The main requirement is the desire to want to reach the goal.
---
Does altitude sickness affect performance on the Inca Trail?
TRUTH: Altitude sickness, also called 'soroche' is a physical discomfort caused by low oxygen pressure in high altitude geographies like Cusco. All tourists from non-mountainous places suffer from it. Its symptoms are: fatigue, headache, nausea and difficulty in vigorous physical activity. In conclusion, all visitors who do the Inca Trail can suffer its symptoms, either with high intensity or low intensity . To reduce the symptoms, it is recommended to drink plenty of water and acclimatize to the geography of Cusco about 2 or 3 days before starting the walk.
---
Is there a local train to go to Machu Picchu cheap?
TRUTH: The Inca Trail is the preferred hiking route for tourists to reach Machu Picchu. However, the vast majority of visitors arrive through the classic train route from the town of Ollantaytambo. There are different types of train services. One of them, the cheapest (it costs only 10 Peruvian soles or 3 dollars per section), is the local train . This service is used by Peruvians and local people who need to take this route every day. Unfortunately it is not available for foreign tourists.
---
Is it mandatory to get vaccinated to do the Inca Trail?
MYTH: Vaccines against Covid 19 or another disease in Peru is not a requirement to do the Inca Trail to Machu Picchu. The only requirements to do this hiking route is to have a permit issued by a tourism agency. These permits are included in the tour that must be purchased online 6 or 7 months in advance.
---
Is the coca leaf a prohibited hallucinogen on the Inca Trail?
MYTH: The coca leaf is a native plant of South America widely consumed by native peoples. Unfortunately, man created cocaine using other ingredients and chemicals, using this leaf as a base. Currently, the coca leaf is not prohibited on the Inca Trail . What's more, it serves as a stimulant against physical wear and tear. Many tourists consume it during the walk. What is prohibited is cocaine and other types of drugs.
By Inca Trail Machu Picchu - Last updated, 30-09-2021
---
Interested in the Inca Trail? Know more about Information Inca Trail!
---