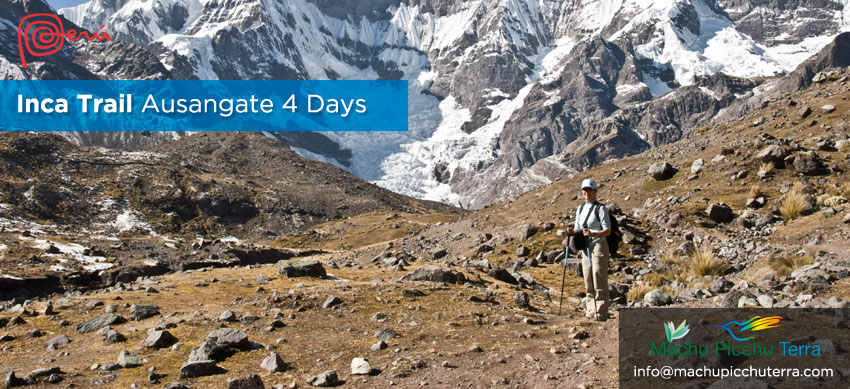 ---
Price Ausangate Trek per person:
Download Tour

            USD $     USD $
---
Tour Summary
The mountain nevada of Ausangate is one of the highest snow covered of Peru in the Cordillera Vilcanota located 130 kilometers from Cusco and reaches an altitude (6,372 m / 20,905,512 ft) has several gaps of a green / bright blue, presents a landscape beautiful natural.
In this chain of mountains covered with perpetual snow, different hikes are made, one of them is the fervent pilgrimage to the snowy Ocongate that takes place once a year, in this is the Lord Qoyllur Rit'i (Snowy shining) that attracts thousands pilgrims every year stands are made, however; The Ausangate can be visited by all those who love adventure and love to be in contact with pure nature.
Altitude during the travel
Climate
Cusco

Capital: 3,350 m.s.n.m. (Cusco)
Low: 3,500 m.s.n.m. (Ocongate)
High: 4,800 m.s.n.m. (Lagoon Azul Cocha)

Semi-tropical, hot and humid days and cold nights with constant rain throughout the year
Low: Between -5 °C – 5 ºC Cusco (June)
High: Between 20 ºC – 26 °C Machu Picchu (June)
Rains: November to April


5.0 (+ 100). Testimonials of customers.
Recomendation:
It is necessary the acclimatization in Cusco, one or two days before starting the journey. For a good acclimatization is necessary to rest as much as possible, eat little, drink plenty of fluids; especially coca tea, that has healing and digestive properties. A proper acclimatization, avoid being affected by the "soroche" or altitude sickness, which can cause numerous health discomfort.
---
---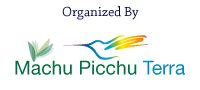 Inca Trail Ausangate 4 Days / 3 Nights
Difficulty
Acclimatization
1 – 2 Days in Cusco
Total Distance
45 km / 27 miles
Itinerary
Day 01: Cusco – Tinki – Upis
07:00 hrs. Pick up from Hotel
14:00 hrs. Lunch
18:00 hrs. Dinner and Overnight at Upis

Day 02: Upis – Azul Cocha
07:00 hrs. Breakfast
08:30 hrs. Hike to Lagoon Azul Cocha
13:00 hrs. Lunch
18:00 hrs. Dinner and Overnight at Azul Cocha

Day 03: Azul Cocha – Pachanta
07:30 hrs. Breakfast
08:30 hrs. Hike to Pachata, 3 hrs.
13:00 hrs. Lunch
18:00 hrs. Dinner and Overnight at Pachanta

Day 04: Pachanta – Tinki – Cusco
07:00 hrs. Breakfast
08:00 hrs. Hike: Pachanta to Tinki
12:00 hrs. Lunch and Return to Cusco
19:00 hrs. Arrival to Cusco
Detailed Itinerary
Day 01 Cusco – Upis

Early in the morning we will pick you up from your hotel, then move on our tour bus to the village of Tinki located at an altitude of (3,800 m / 12,467,192 ft) on our way, we will visit villages like Urcos and Ocongate, upon arriving at Tinki reach embark on our walk to the village of Upis where we will rest tonight in a camp.
| | |
| --- | --- |
| Service Includes: | Not Included: |
| | |
Day 02 Upis – Azul Cocha

After our breakfast, we leave Upis to start an ascent of about 3 hours walking, from where we have a splendid view of the mountains, in the course of our journey, we stop to take our food. On our way we can appreciate lakes surrounded by rock formations and the typical landscape of the highlands, we arrive at our second camp Azul Cocha, after about three hours of walking.
| | |
| --- | --- |
| Service Includes: | Not Included: |
| | |
Day 03 Azul Cocha – Palomani – Pinaya

After our breakfast we continue our trek this time down to the village of Pachanta, here we will have a delicious typical lunch, the pacchamanca (food cooked underground), you can also enjoy the thermal baths. In the afternoon there is a free time, then dinner. Overnight Camp.
| | |
| --- | --- |
| Service Includes: | Not Included: |
| | |
Day 04 Pachanta – Tinki – Cusco

After our breakfast, we headed to the town of Ocongate, where we take our transport towards the city of Cusco.
| | |
| --- | --- |
| Service Includes: | Not Included: |
| | |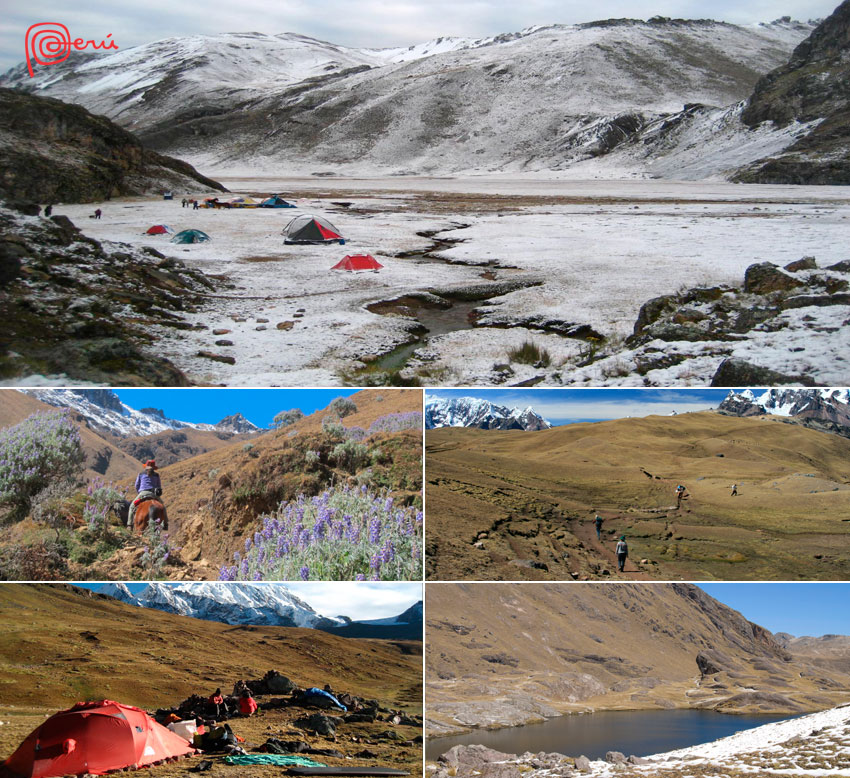 Include:
Briefing with the guide prior to the walk and will give us the maps.
Additional guidance for bigger groups of 9 people.
Chef, expert on treks.
Assistant cook for groups to 9 people.
Horses that carry camping equipment and food.
Food along the way: 3x breakfast, 3x lunch, 3x dinner.

Vegetarian option is free; only inform us in advance, please.

First aid kit.
Oxygen bottle.
Camping equipment: tents and mattresses.
Kitchen equipment: kitchen tent, dining tent, kitchen utensils.
Discounts Offered:
Discount of USD $ 25.00 to students with internacional card – ISIC Card (you must send a copy of the card when you book your tour).
Optional:
1 Extra Porter (14 kg) for assintance with your personal luggage: USD $ 200.00. the extra porter can be shared by 2 people.
Rent an extra horse to ride when tired USD $ 200.00.
Additional mats: USD $ 45.00.
Additional tent: USD $ 35.00.
Sleeping bag: USD $ 45.00 per person.
Baton x 01: USD $ 15.00 per person.
Phone: + 51-84-207064

Cell Phone: + 51-944242767       + 51-998898999
Address: Av. Pachacutec 608, Wanchaq – Cusco – Perú
Mail: info@machupicchuterra.com