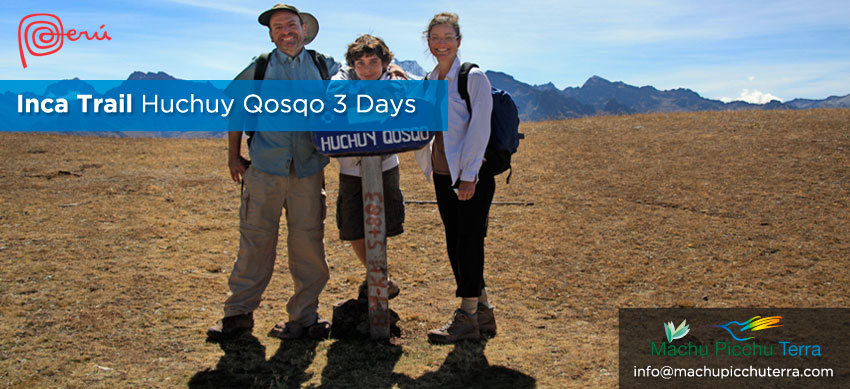 ---
Price Huchuy Qosqo Trek – Machu Picchu per person:
Download Tour

            USD $ 540     USD $ 490
---
Tour Summary
The trek to Machu Picchu by Route Huchuy Qosqo is one of the shorter you have in Cusco as it travels an average of 17 kilometers on foot, this route was designed for those who do not have much time but still want to do a walking tour before reaching the great Inca city of Machu Picchu, ideal for people who like to be in touch with nature, away from the bustling city.
During the walk we will have the opportunity to see vestiges of Inca constructions, some Inca stairs and small door decorations Incas up to Huchuy Qosqo, former royal Inca palace. Huchuy Qosqo is a Quechua word that means Small Cusco, this is located on the mountains of the Sacred Valley of the Incas, from this point we can appreciate the stunning panoramic view of the Vilcanota mountain range with its towering snow-capped peaks.
Altitude during the travel
Climate
Cusco

Capital: 3350 msnm (Cusco)
Low: 2000 msnm (Aguas Calientes)
High: 4393 msnm (Abra Pucajasa)

Semi-tropical, hot and humid days and cold nights with constant rain throughout the year
Low: Between 4 °C – 11 ºC Cusco (June)
High: Between 20 ºC – 26 °C Machu Picchu (June)
Rains: November to April


5.0 (+ 100). Testimonials of customers.
Recomendation:
It is necessary the acclimatization in Cusco, one or two days before starting the journey. For a good acclimatization is necessary to rest as much as possible, eat little, drink plenty of fluids; especially coca tea, that has healing and digestive properties. A proper acclimatization, avoid being affected by the "soroche" or altitude sickness, which can cause numerous health discomfort.
---
---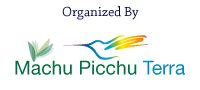 Inca Trail Huchuy Qosqo – Machu Picchu 3 Days / 2 Nights
Difficulty
Acclimatization
1 – 2 Días en Cusco
Total Distance
22 km / 13,1 miles
Itinerary
Day 1: Cusco – Tambomachay
06:00 hrs. Pick up from Hotel
06:15 hrs. Departure in a private bus: Cusco – Tambomachay
07:30 hrs. Arrival to Pumamarca
12:00 hrs. Lunch
13:00 hrs. Hike: Pumamarca – Leon Punku.
17:00 hrs. Arrival to Huchuy Qosqo
19:00 hrs. Dinner and Overnight

Day 2: Huchuy Qosqo – Ollantaytambo – Aguas Calientes
07:00 hrs. Breakfast
08:00 hrs. Guide tour to Huchuy Qosqo 2 hrs. aprox.
12:30 hrs. Lunch
13:30 hrs. Transfer by bus to Ollantaytambo.
15:30 hrs. Transfer by train, Ollantaytambo – Aguas Calientes
19:00 hrs. Dinner and Overnight

Day 3: Aguas Calientes – Machu Picchu – Cusco
04:30 hrs. Breakfast
05:30 hrs. Climb in bus, Aguas Calientes – Machu Picchu (30 min.)
07:00 hrs. Guided tour of 02 hours
09:00 hrs. Free time
Optional: Climb to Huayna Picchu, visit the Temple of the Moon, the Inca Bridge
14:30 hrs. Hike: Machu Picchu – Aguas Calientes (1 hour 30 minutes approx.).
Optional: Return by bus, Machu Picchu – Aguas Calientes 30 min.
16:22 hrs. Return by train, Aguas Calientes – Ollantaytambo
18:05 hrs. Transfer in bus, Ollantaytambo – Cusco
Detailed Itinerary
Day 01 Cusco – Tambomachay – Huchuy Qosqo

Early morning you will be picked up from your hotel, to be able to take our bus to the archaeological complex Tambomachay (3,700 m / 12,139 ft), where we will begin our trek. During our tour we will see beautiful landscapes, some Andean communities and Qoricocha Lagoon (Lagoon of gold). Then we reach the community Pumamarca (3,980 m / 13,057 ft), from here we can appreciate the impressive Sacred Valley of the Incas. We continue our trek upward to reach León Punku (Gate of leon) at this location can be appreciated mysterious rock formations. And finally arrive at the archaeological complex Huchuy Qosqo (3,450 m / 11,318ft), here we will spend the night in our camp.
| | |
| --- | --- |
| Service Includes: | Not Included: |
| | |
Day 02 Huchuy Qosqo – Ollantaytambo – Aguas Calientes

After our breakfast, we will have a guided by archaeological complex Huchuy Qosqo, immediately we will have free time to photograph the beautiful landscape and explore the place on our own. And then begin our trek that takes about 2 hours. After a short tour we will have our respective lunch and a brief rest. In the afternoon we expect our bus to take us to the train station in the village Ollantaytambo, where we board our train going to Aguas Calientes (Machu Picchu), for an average of two hours. Arriving to Aguas Calientes we go to the hotel to rest, the village offers all basic needs, such as restaurants, places to shop, ATM, located at the foot the mountain Machu Picchu.
| | |
| --- | --- |
| Service Includes: | Not Included: |
| | |
Day 03 Machu Picchu – Cusco

Very early in the morning depending on the weather, can be harnessed to see the sunrise without doubt the best moment to appreciate the splendor of Machu Picchu, we will take our bus for the ascent that will take us about 30 minutes to get to this marvel.
Here we will have a guided tour of the most important areas of this great Inca City, such as agricultural and urban areas, the main entrance to the Inca city, the magnificent Sun Temple, ceremonial places, sacred spring, the Intihuatana or sundial and terraces from which to contemplate the Inca domains.
Our guided by the City of Machu Picchu will last about two and a half hours, after this we will have free time to explore the rest of the city on our own and take the corresponding photos.
After this time descend again to the town of Aguas Calientes where we will have lunch and thus be able take the train back to Cusco.
| | |
| --- | --- |
| Service Includes: | Not Included: |
| | |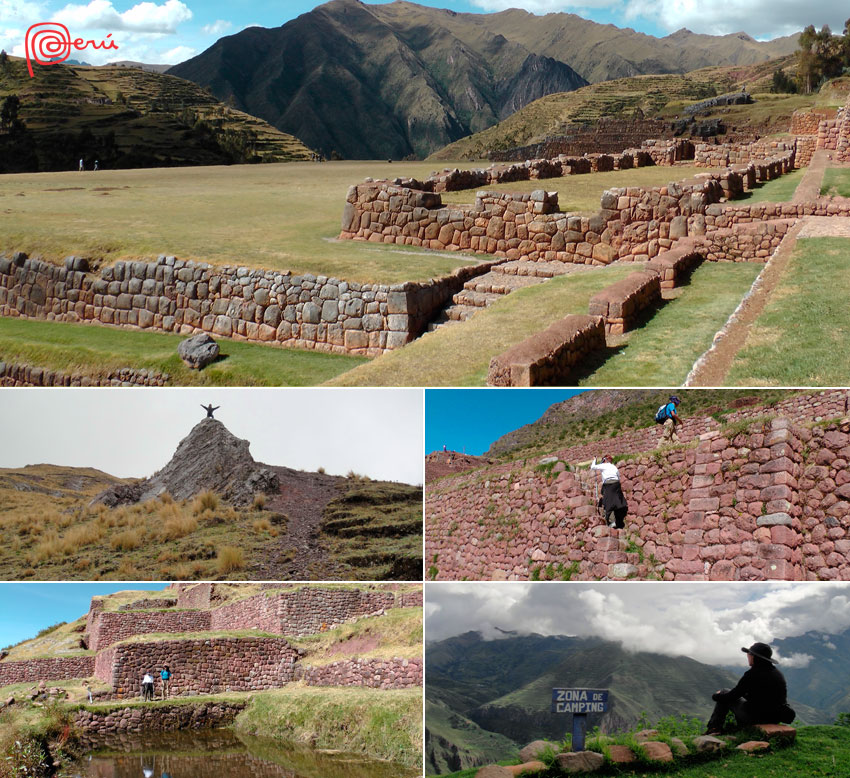 Include:
Briefing where our guide will explain about the walk and give us the maps.
Additional guidance for groups over 9 people.
Experienced cook in treks.
Assistant cook for groups over 9 people.
Horses that carry camping equipment and food.
Food along the way: 2x breakfast, 2x lunch, 2x dinner.

Vegetarian option is free, only inform us in advance, please.

First aid kit.
Oxygen bottle.
Camping equipment: tents and mattresses.
Kitchen equipment: kitchen tent, dining tent, kitchen utensils.
Basic accommodation in Aguas Calientes.
Entrance Ticket to Machu Picchu.
Guided Tour in Machu Picchu about 2 hours.
Train from Aguas Calientes to Ollantaytambo, Expedition Service, hours: 16:22 hrs. or 18:20 hrs. or 21:50 hrs., depending on availability.
Transfer from Ollantaytambo train station to Cusco.
Discounts Offered:
Discount of USD $ 25.00 to students with internacional card – ISIC Card (you must send a copy of the card when you book your tour).
Optional:
Ticket to Huayna Picchu: USD $ 10.00.
1 Extra horse (14 kg) for assintance with your personal luggage: USD $ 105.00. the extra porter can be shared by two people.
Rent an extra horse to ride when tired USD $ 105.00
Additional mat: USD $ 15.00.
Additional tent: USD $ 25.00.
Sleeping bag: USD $ 18.00 per person.
Baton x 01: USD $ 8.00 per person.
Service Vistadome: USD $ 50.00. Return 13:37 hrs. – 15:48 hrs. – 17:23 hrs., subject to availability.
If you want to extend your stay in Aguas Calientes (the town just below Machu Picchu, contact us for prices, please).
Phone: + 51-84-207064

Cell Phone: + 51-944242767       + 51-998898999
Address: Av. Pachacutec 608, Wanchaq – Cusco – Perú
Mail: info@machupicchuterra.com