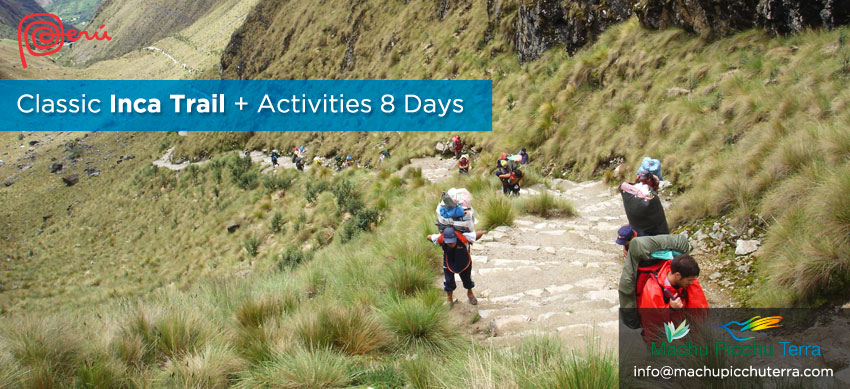 ---
Price Classic Inca Trail + Sacred Valley 8 days per person:
Download Tour

            USD $ 928     USD $ 914
---
The Inca Trail to Machu Picchu closed the month of February by disposition of the Ministry of Culture for conservation work, maintenance and cleaning. The Inca Trail is reopening on March 1.
Tour Summary
Arriving in Cusco will have a free day to learn a little of the city, the next day we will have a full day excursion to the Sacred Valley of the Incas, and finally do the tour of the Classic Inca Trail. Traditional Inca Trail is part of the road network developed by the Incas to unite the main administrative and religious centers throughout the Tawantinsuyu. If travelers who do not want to do this arduous trek, they have other alternatives to reach the archaeological site of Machu Picchu.
It is undoubtedly one of the most popular excursions for those seeking adventure when visiting Perú, spectacular landscapes of the Andes chain, showed a great mix of jungle and saw that you enjoy from beginning to end. Not available anywhere else on the planet a natural circuit that leads you to a natural world with constantly changing ecological floors adorned with imposing mountains, rivers and great wildlife. All these natural wonders are added Incas constructions that are worth visiting, the architectural art in perfect harmony with the natural environment.
The Incas built their strengths with a mindset that can see without being seen, from where they can attack without being attacked. The mysterious citadel of Machu Picchu, hidden on top of a mountain was a very difficult place to find.
After a free day in Cusco, will take your flight back to Lima.
Altitude during the travel
Climate
Cusco

Capital: 3350 msnm (Cusco)
Low: 2000 msnm (Aguas Calientes)
High: 4200 msnm (Abra Warmihuañusca)

Semi-tropical, hot and humid days and cold nights with constant rain throughout the year
Low: Between 4 °C – 11 ºC Cusco (June)
High: Between 20 ºC – 26 °C Machu Picchu (June)
Rains: November to April


5.0 (+ 100). Testimonials of customers.
Recomendation:
It is necessary the acclimatization in Cusco, one or two days before starting the journey. For a good acclimatization is necessary to rest as much as possible, eat little, drink plenty of fluids; especially coca tea, that has healing and digestive properties. A proper acclimatization, avoid being affected by the "soroche" or altitude sickness, which can cause numerous health discomfort.
---
---
Difficulty
Acclimatization
1 – 2 Días en Cusco
Total Distance
43 km / 26,72 millas
Itinerary
Day 01: Cusco
Pick up from airport
Free day in Cusco

Day 02: Valle Sagrado
07:30 hrs. Recojo del hotel
Tour al Valle Sagrado de los Incas (07:50 hrs. – 18:00 hrs.)

Day 03: Cusco – Huayllabamba
05:00 hrs. Pick up from hotel
05:30 hrs. Departure by bus from Cusco – Km 82
09:00 hrs. Trek 82 km – Huayllabamba 6hrs
13:00 hrs. Lunch at Tarayoc
18:00 hrs. Dinner and Overnight

Day 04: Huayllabamba – Pacaymayo
06:00 hrs. Breakfast
07:00 hrs. Trek to Warmihuañusca 7-8 hrs. aprox.
14:00 hrs. Lunch (Pacaymayu)
18:00 hrs. Dinner and Overnight

Day 05: Pacaymayo – Wiñayhuayna
06:00 hrs. Breakfast
07:00 hrs. Hike 7-8 hrs. aprox.
14:00 hrs. Lunch in Chaqui Cocha
18:00 hrs. Dinner and Overnight

Day 06: Wiñaywayna – Machu Picchu
04:00 hrs. Breakfast
04:30 hrs. Hike to Machu Picchu 3 hrs. aprox.
08:30 hrs. Guide tour to Machu Picchu 02 hrs
Optional: Free time to climb Huayna Picchu, visit the Temple of the Moon, the Inca Bridge
14:30 hrs. Time recommended to get off in bus to Aguas Calientes 25 minutes
16:22 hrs. Return by tren, Aguas Calientes – Ollantaytambo – Cusco
18:05 hrs. Transfer by bus, Ollantaytambo – Cusco
20:30 hrs. Arrival to Cusco

Day 07: Cusco
Breakfast at Hotel
Free day in Cusco

Day 08: Vuelo Cusco – Lima – Cusco
Transport, hotel – airport
Detailed Itinerary
Day 01 … / Cusco
Reception at the airport and transfer to Hotel in Cusco.
Rest of the day free to explore the city.
| | |
| --- | --- |
| Service Includes: | Not Included: |
| | |
Day 02 Tour Sacred Valley

Breakfast at the hotel.
At 07:30 hours in the morning we pick up you from your hotel and we'll go on a tourist bus to the Sacred Valley of the Incas.
This beautiful valley is composed by numerous rivers which descend through canyons. First we go to the archaelogical center of Pisaq, awesome building built in the boom period of the Inca empire, where the great work achieved by the Incas built is observed. Then visit the village of Pisac, where we find a craft market. For those who like to buy souvenirs, this place is definitely one of the best places to do so, as there is plenty of alpaca wool items, silver jewelry and gold, among others.
Continuing we headed to the town of Urubamba where will have a buffet lunch at one of the restaurants that offers you the best presentations of dishes from the region of Cusco. After lunch we head to the town of Ollantaytambo, where we will visit the beautiful fortress of the same name. After the guided tour culminated in Ollantaytambo we will go to last place is the village of Chinchero, we'll visit the archaeological site where stands the Inca agricultural terraces and then we will visit one of the craft stores and inca textoria. Return to Cusco.
| | |
| --- | --- |
| Service Includes: | Not Included: |
| | |
Day 03 Inca Trail 04 Days / 03 Nights
Cusco (3,300 m) – km. 82 (2,800 m) – Huayllabamba (3,000 m)

Early morning, we will pick your hotel and then go by bus to a private Piscacucho located at kilometer 82 (2,800 m / 9,186 ft), in the way we will pass through the Sacred Valley of the Incas, for populations Urubamba and Ollantaytambo, to make a short stop here for you to visit the local market and buy some groceries for the walk, then continue our journey to Piscacucho. Upon arrival at Km 82 Piscacucho pass the control to start the walk along the Urubamba River.
In this first section of the Inca Trail, visit the small community of Miskay (2,800 m. / 9,186 ft), later start ascending towards a small plateau, where we will enjoy a superb Andean landscape and Inca building known as Patallacta, located at 2,750 m / 9,022 ft, here we can see some agricultural terraces that served to feed different places travelers taking this route to get to Machu Picchu.
Then continue walking through a crowded area where vegetation is very likely seen the giant hummingbird, after walking for about 2 hours we arrive at our first camp in the area Huayllabamba 3,000 m / 9,842 ft Huayllabamba is a small town surrounded by fields of corn, potato crops and other products, here we will have our first camp.
Note:
This first day is usually hot during the dry season (May to September), therefore it is recommended to wear light clothing, as well as a good sunscreen and a good hat or cap.
| | |
| --- | --- |
| Service Includes: | Not Included: |
| | |
Day 04 Classic Inca Trail 04 Days / 03 Nights
Huayllabamba – Pacaymayu (3,600 m)

On this day we will have a great challenge, to ascend the pass of Warmihuañusca, for starters we have a refreshing breakfast then begin our trek toward the Valley Ayapata which took 1 hour to get to this area, this is known to possess a micro climate of high Andean valley. Then pass through a narrow path full of vegetation, through a small bridge that will take us through a cloud forest, with unsurpassed beauty until to climb up to the highest point of Warmihuañusca, name Quechua means "When the woman dies", this point has a height of 4,200 m / 13,779 ft, along the climb will appreciate how the vegetation changes however this place is one of the most beautiful and once you have conquered the summit, we will be offset by a beautiful view of the mountains and Andean scenery.
Then descend by a winding valley to reach a point where we stop for lunch. In this way it is possible to observe several types of birds. We follow the path until you reach the Valley of the River Pacaymayu (3,600 m / 11,811 ft), where we will have our second camp.
| | |
| --- | --- |
| Service Includes: | Not Included: |
| | |
Day 05 Classic Inca Trail 04 Days / 03 Nights
Pacaymayu – Wiñaywayna (2,700 m)

For many visitors, this is one of the longest days, but at the same time one of the most beautiful, because of the presence of Inca sites along the trail. After a nutritious breakfast, we will trek ascending a steep path. We will go through a second opening where the archaeological sites of Runkuracay (3,800 m / 12,467 ft) which is named for its unique shape of half circle. This semicircular shape allows protected from strong winds in the area. Then ascend towards Yanacocha (Black Lake) lagoon and then proceed to Sayaqmarca (3,600 m / 11, 811 ft), "The dominant people", where we interesting Inca ruins, and will have a panoramic view of the valley Acobamba, the only how to access these buildings is via a steep stone staircase. During the tour passes Conchamarka, a small recently discovered archaeological site.
After, we continue uphill and we'll get the first tunnel along the way, then continue climbing until you reach the third and final open, where we see the people of Phuyupatamarca (3,665 m / 12,024 ft), "Village above the clouds", which is undoubtedly one of the most original along the Inca Trail citadels. It is located on the edge of a ravine. Here we will find many cultivation terraces and ceremonial fountains.
After visiting this site, descend about 2,000 cobblestone stairs to the citadel of Wiñaywayna (2,700 m / 8,858 ft), which means "Forever Young", is located at an altitude of 2,490 m / 8,675 ft, and the name derived by the typical orchids that can be found throughout the year with flowers in red, yellow and purple. This is possibly the most attractive of all the palaces along the Inca Trail, and the last urban center before reaching Machu Picchu. It was built on the slopes of the mountains, is divided into four main parts: housing at the bottom, with over 20 buildings, the area holding the ritual sources, area of ​​cultivation terraces and the area of the tower .
After exploring every corner of Wiñaywayna, we head to our last camp, which is located a few meters away. This is the night when we say goodbye to our porters and staff of the tour, so at night a small party to thank everyone for sharing with the group this beautiful experience will take place.
| | |
| --- | --- |
| Service Includes: | Not Included: |
| | |
Day 06 Classic Inca Trail 04 Days / 03 Nights
Wiñaywayna – Machu Picchu (2,490 m) – Cusco

On this last day we get up early and then have breakfast and continue our walk, after three hours of walking, we reach the area Intipunku or Puerta del Sol (2,490 m / 8,169 ft). A small complex of small buildings that apparently seem to have been used as a control. It is an excellent opportunity to take panoramic pictures of the citadel of Machu Picchu. If the traveler has begun to walk early, arrive just before dawn, this is perhaps the best place and time to contemplate the majestic splendor of Machu Picchu, the Lost City of the Incas.
It was long thought that Machu Picchu was part of a legend, until 1911 that the American explorer Hiram Bingham discovered Machu Picchu rises to a height of 2,430 m / 7,980 ft. in the middle of a tropical forest, and an extraordinary location. It was definitely one of the most amazing urban creation in Inca heyday. Its massive walls, terraces and ramps seem to be continuously cut naturally in the rocky cliffs.
Then descend to walk the Inca Citadel of Machu Picchu, we will have a guided tour by our local guide about 2 hours, followed by free time for you to enjoy this wonder of the world regardless visit Wayna Picchu (not included in tour).
Then descend by bus to Aguas Calientes (2,160 m / 7,087 ft), where you can visit the hot springs of the people (10 Soles entrance is not included in the tour). Return to Cusco.
| | |
| --- | --- |
| Service Includes: | Not Included: |
| | |
Day 07 Free Day in Cusco

Breakfast in the hotel.
Rest of day free.
| | |
| --- | --- |
| Service Includes: | Not Included: |
| | |
Day 08 Cusco – Lima

Breakfast in the Hotel.
Transfer to the airport. Flight to the city of Lima. Arrival and waiting for your international flight.
| | |
| --- | --- |
| Service Includes: | Not Included: |
| | |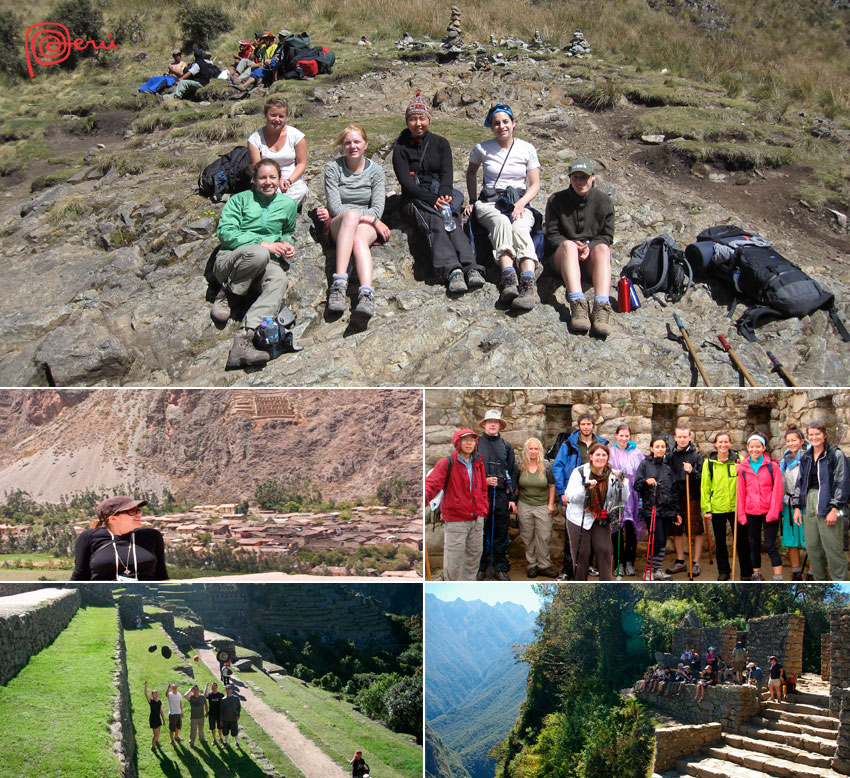 Include:
Accommodation:

04 Nights: Hotel in Cusco.
03 Nights: Camping during the Inca Trail.

Food:

07 x Breakfast.
05 x Lunch.

Services:

Cusco: Sacred Valley.
Cusco: Classic Inca Trail 04 Days / 03 Nights.

Tickets to all places to visit.
All pick-ups and transfers as indicated in the program.
Official Tourism Guide for all tours.
Personalized Service.
Classic Inca Trail 4D /3N Include:

Briefing where the guide will explain and give you more details about the trek and give us the maps.
Professional tourist guide.
Additional Guide for groups over 9 people.
Chef.
Kitchen Assistant for groups over 9 people.
Porters to carry the camping equipment (tents, thin mats) and food.
Food (03 Breakfasts / 03 Lunches / 03 Dinners).

Free vegetarian option, please inform in advancee.

First Aid Kit, oxygen bottle.
Camping Equipment (tents + matras).
Kitchen Equipment (Kitche tent, dining tent, utensils).
Transfer from hotel in Cusco to to Km 82.
Tickets for the Inca Trail and Machu Picchu.
Bus from Machu Picchu / Aguas Calientes.
Guided Tour in Machu Picchu about 2 hours.
Train from Aguas Calientes to Ollantaytambo (Expedition Service, regular schedule: 16:22 hrs.).
Transfer from Ollantaytambo train station to Cusco.
Discounts Offered:
Discount of USD $ 20.00 for students with international student card – ISIC Card (You must email us a copy of the Isic card valid at the moment you make the reservation).
Discount of USD $ 20.00 for people under 18, (You must submit a copy of the identity card or passport at the time of booking so that the age of the passenger will be certified).
| | | |
| --- | --- | --- |
| HOTEL CATEGORY | DOUBLE ROOM | INDIVIDUAL ROOM |
| 2 ★★ | USD $ 914 | USD $ 1029 |
| 3 ★★★ | USD $ 937 | USD $ 1075 |
| 4 ★★★★ | USD $ 1098 | USD $ 1397 |
| 5 ★★★★★ | USD $ 1949 | USD $ 3099 |
Hotels in Cusco:

Prices may vary depending on season, availability and client preferences. Certain transport costs may not be included. Please check our section of Hotels.
Optional:
Ticket to Huayna Picchu: USD $ 65.00.
1 Extra Porter (14 kg) for assistance with your personal luggage: USD $ 115.00. The extra porter can be shared by 2 people.
Additional mats x 01: USD $ 15.00.
Additional tent x 01: USD $ 25.00.
Sleeping bag x 01: USD $ 18.00 per person.
Baton x 01: USD $ 8.00 per person.
Service Vistadome: USD $ 30.00. Return 13:37 hrs. – 15:48 hrs. – 17:23 hrs., subject to availability.
Important:
Daily departures (except in the month of february, which makes maintenance of the route of Inca Trail).
At time of booking, all data must match with your passport.
It is required bring your original passport which you made the reservation during the Inca Trail.
For students, it is requirement bring the original ISIC Card together with ther passport during the Inca Trail.
If the Ministery of culture find fraudulent ISIC Cards, the admission to the Inca Trail will be denied without a claim or refund.
In case of find ISIC Card expired, the admission to the Inca Trail will be denied without a claim or refund.
The campsites may change according to availability.
The return train schedule may change according to availability.
The tip for guides, cooks and porters are not included in the tour price.
Phone: + 51-84-207064
Cell Phone: + 51-944242767       + 51-998898999
Address: St. Recoleta Angosta 604, Cusco – Perú
Mail: info@machupicchuterra.com