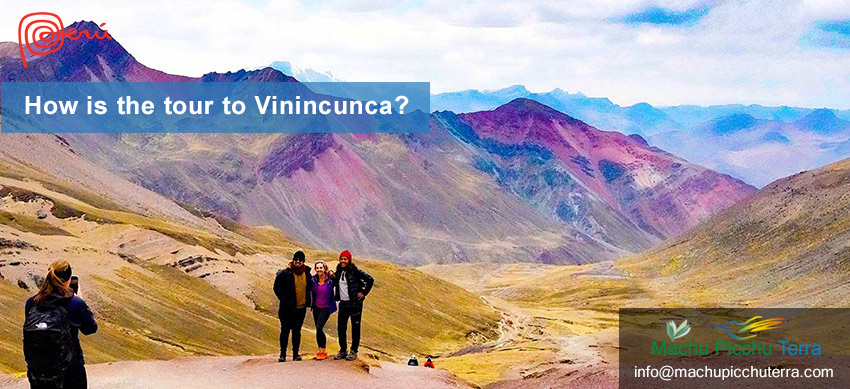 The Vinincunca mountain is one of the most visited destinations today by many tourists. For some, it is considered the second most outstanding destination, only after Machu Picchu. Next, we will explain some details so that a trip to the Colored Mountain is one of the best experiences you have. From now on we recommend that you can spend two or more days in Cusco acclimatizing, otherwise, you may suffer some dizziness or headache. If you want to have a spectacular trip, we recommend you read the article until the end.
---
How do I get the tour to Vinincunca?
At present and due to the abundant popularity that this destination has achieved, it is easier to get there. You can contact the local agencies of Cusco or do it on your own. The best thing to do is to go to one of the agencies that gives you the most confidence. You will find a variety of prices and itineraries, all of which should offer you transportation from your hotel and food as first services, which will be necessary during the journey.
A more interesting option is to access these services from the comfort of your home and make a reservation for this tour or others from our website. In this way, you can better organize your activities. Once you have purchased the reservation for the necessary services to arrive, you will have to sleep early the night before because, on the day of the trip, you have to get up early. The right tour starts activities at 4:00 in the morning. It will also be necessary to drink a lot of liquid since it will be of vital importance to reduce the discomfort of altitude sickness.
Depending on the service you have purchased, you will have to start the tour early so that the sun's rays, typical of dawn, accompany us on the walk and we have a lighter route. Once in Phulawasipata, you can decide depending on your state whether to take the services of the muleteers or hike for more than 2 hours. It will be an important decision because you could ruin your trip if you have not acclimatized correctly. Next, we explain how the correct way to acclimatize.
---
The proper way to acclimatize
The proper way to acclimatize is to consume plenty of liquid once we arrive in Cusco. Altitude sickness is suffered more intensely by people who come from geographical places of lower altitude or close to sea level. This disease affects anybody because there is a deficit of oxygen in the body, which causes a malfunction of the body. Hence the immediate symptoms are headache, dizziness, and even in some cases nausea accompanied by excessive fatigue.
It will always be advisable to be in Cusco for about two days, avoiding excessive exercise or agitation before going to visit Rainbow Mountain. Cusco is located at 3,399 meters above sea level, from this altitude it is already possible to feel some discomfort, even if it is slight. However, Vinincunca, or Rainbow Mountain is located at more than 5000 meters above sea level. This produces an almost extreme oxygen deficit. In this sense, it is important to be attentive to the changes that our travel companions or ourselves may suffer.
During your stay in Cusco, it will be necessary for you to consume a lot of water and also be able to chew or rest coca leaves in hot water and then drink them. Both the water and the coca leaves help to adapt the body to the scarcity of air, in this sense, the discomforts or symptoms of altitude sickness are reduced to the point of almost not feeling them. These two ways are the best alternatives to avoid altitude sickness. Another detail to take into account is that the consumption of alcohol or other drugs is preferably prohibited since the symptoms can be confused and a greater problem would be produced since it would not be possible to adequately assist those who suffer from this discomfort.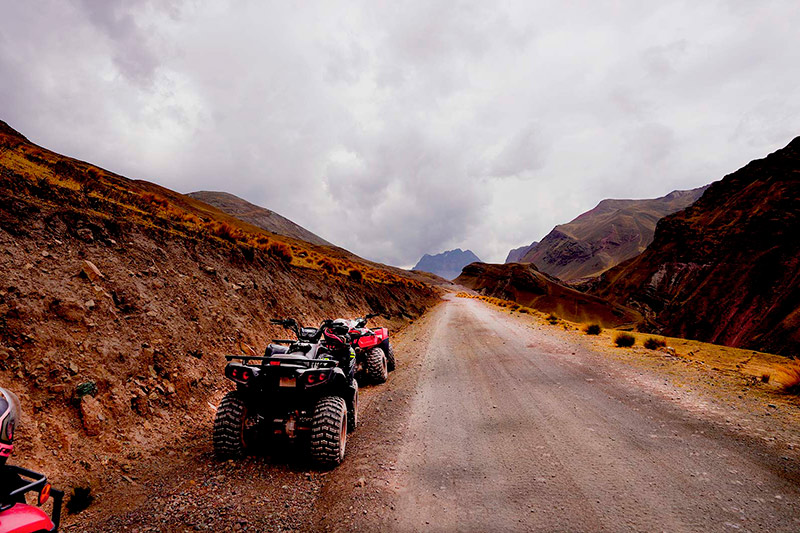 Part of the route and the landscape on the way to Vinincunca
---
What is the experience of doing the tour without tourist agencies like?
In case you decide to visit Vinincunca without a tourism agency, you will need to pay close attention to how the route is carried out. Because the fact that you do not have transportation at your disposal can cause the times to be prolonged and you return to Cusco very late. In case you have controlled the transport, you will also have to try to solve your breakfast and lunch. Although you can find some dining options in Cusipata, it will be important to choose your travel times wisely. If you arrive in Cusipata very early, likely, you will not find something for breakfast.
Once you find the right transportation to get to Phulawasipata from Cusipata, the rest will be easier. This is because, from Phulawasipata, it will be easier to get to the mountain, either walking or hiring a muleteer, who, together with his horse, can take care of taking you both on the outward leg and the return leg. In Vinincunca or the Mountain of Colors, it is recommended to spend a prudent time to avoid the lack of air begins to show itself as the symptom of altitude sickness.
---
Other ways to get there
Years ago, a route was opened that was left unused for a long time. At present, operations resumed along this road and it continues to be used. It is the route through Pitumarca, by this route, you can also reach Vinincunca, although the route is longer, the positive factor is that the walking distance is shorter. However, it is rarely used and it can be more difficult to find transportation along this route. Given this factor, some tour operators began to offer transport services by motorcycle and quad bike, which are also known as ATVs. By taking these services you arrive faster and also appreciate the entire mountain landscape differently. When the route is made by ATV, some breaks are made in natural viewpoints to appreciate the nature of the place.
---
More recommendations and details to take into account
Visiting Rainbow Mountain or Vinincunca is not as complicated as it may seem. Especially if we manage to acclimatize and make contacts with agencies or drivers who can take us in the best possible way to this magical place. However, it is always good to highlight some details that can improve the experience you have.
In the rainy season, snow or rain will likely fall without prior notice. The strongest rainy seasons occur in the months of January, February, and March.
It is not advisable to carry a large amount of weight in backpacks.
You can take snacks, chocolates, coca candies, and even hot drinks in a portable termite.
If you have not acclimatized enough, it is best to rent a horse.
Wear sneakers or sturdy shoes. The walk is long and it can rain or snow.
It will be necessary to bring a waterproof poncho.
In case you go on your own, make sure you have a good breakfast. On the route, you can only find snacks and if you are lucky, corn with cheese.
There are some establishments where you can stamp your passport.
For sale, you can find some bottled medicinal herbs ideal for altitude sickness.
It will be necessary to bring a sun hat, sunscreen, and even sunglasses and/or snow.
It is advisable to do this adventure in the early hours of the morning.
Try to drink plenty of water days before the trip.
Bathrooms or hygienic services, you will find them on the route.
Finally, don't rush your walk, take your time and get adequate rest before continuing.
By Inca Trail Machu Picchu - Last updated, 06-06-2023
---
Interested in the Inca Trail? Know more about Vinincunca!
---