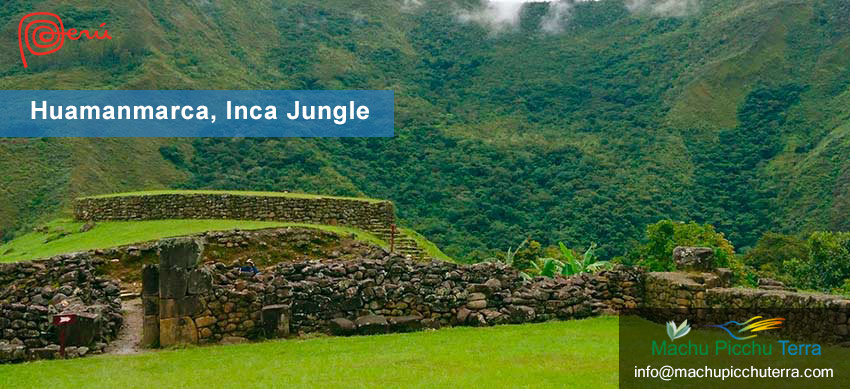 Huamanmarca or Wamanmarca is an archaeological site that can be visited during the Inca Jungle. It is located very close to the village of Santa María, where the first day of this tour ends right after the Abra Málaga bike tour. Huamanmarca is very close to the main road, where buses go to Quillabamba or Santa Teresa. It is understood that it was a main point for Tawantinsuyo because you can find traces of stones very similar to those in Cusco and Machu Picchu, which increases its importance.
---
Note:

One of the best ways to visit Huamanmarca is doing the Inca Jungle. This tourist package includes four days of activities. These activities are adventure sports, for example, before arriving at Huamanmarca, we ride a bicycle, and can also practice canoeing, ziplining and hiking routes until we reach Machu Picchu. The Inca Jungle is an adventure that will connect you with nature.
Where is the location of Huamanmarca?
Geographically it is located in the eyebrow of the Cusco jungle. It belongs territorially to the district of Huayopata, in the province of La Convención. It is very close to the highway of the highway that connects Cusco with Quillabamba, exactly 40 minutes from Quillabamba. It is possible to visit this place if you do the Inca Jungle. It will be one of the first archaeological sites we will see before getting off the bikes.
From Cusco, it takes a bus trip of approximately four hours. Since it is separated by 172 kilometers . If you have not purchased the Inca Jungle tour package, it is possible to visit this place, simply by taking a bus or other transportation service to Santa María, Santa Teresa, or Quillabamba.
---
How can we get there
As we mentioned above, the easiest way is to take a bus in the direction of Quillabamba. These buses leave continuously and have their terminal in the city of Cusco. This terminal is located on Av. Antonio Lorena in the Santiago district, near the Almudena cemetery. There you can find transportation to Santa María and Quillabamba at various times.
The other option is hiring the Inca Jungle tour package. The experience of arriving in this way is truly unforgettable. Keep in mind that you start the descent on a bicycle from a high Andean area and end the tour in the jungle. During the trip, you will see how you get closer to the vast vegetation. Remember that Huamanmarca is located before Santa María if we leave from Cusco.
---
¿What is his importance?
It was an important Inca site. Although currently, only a few remains remain, you can see finely carved stones very similar to those that can be found in Cusco if we visit the Coricancha. They also resemble the stones that were used to build the temples at Machu Picchu. This stone finish helps archaeologists understand the importance and dedication of this space for the Incas.
HHuamanmarca comes from two Quechua words, translated into Spanish they would mean "Lands of the Falcon". Within this enclosure, you can find an imposing ceremonial space coined with platforms. This gives another significant value to the entire enclosure since it is estimated that it could be a strategic point to undertake expansionist campaigns and territorial control throughout the La Convención valley or the Cusco jungle.
---
¿What will we see?
Remember to indicate to the driver your desire to reach Huamanmarca or Huayopata. Huamanmarca is a few meters from the road. What's more, you can see a wall indicating its direction to it. When you realize this path, you will have to follow the indicated route: dirt.
A cobbled path will form as we get closer. By following this path we will arrive at the Central Plaza, probably where religious ceremonies were held. The buildings that remained are mostly the bases rectangular buildings. Although you can also find circular and other underground buildings.
You can find double walls near the Central Plaza that form trapezoidal niches. It is in this place where you can find the best carving of stones very similar to those found in the temples of Cusco, Machu Picchu, and Písac. Other walls are stones joined with mud mortar. Based on the indications that can be found, it is estimated that the roofs of the buildings were double-dropped.
It is also possible to find the presence of platforms and some retaining walls that are connected by stands. One of the main attractions of this place is the circular ushno, which is located in an area raised by the retaining walls. Near this place, it is possible to find the remains of a colonial church.
---
Important data
During the colonial period it was known as Condormarca.
It was an important point for some vestiges of temples and ceremonial places.
Due to the constructions it had, its importance for the Tawantinsuyo cannot be denied.
Due to its location, it was a control and connection point between Cusco and the jungle.
It was discovered by María Rostorowski in 1961. She mentions that it was probably built for the Inca Yupanqui, as a palace during his government.
The entrance to Huamanmarca is free.
It can only be visited from 8:00 a.m. to 5:00 p.m.
---
Recommendations
Always carry your identity document.
Cash for an emergency.
Bring mosquito repellent and sunscreen.
Bring water in reusable bottles.
Have a waterproof clothes.
By Inca Trail Machu Picchu - Last updated, 10-04-2023
---
Interested in the Inca Trail? Know more about Archaeological sites!
---