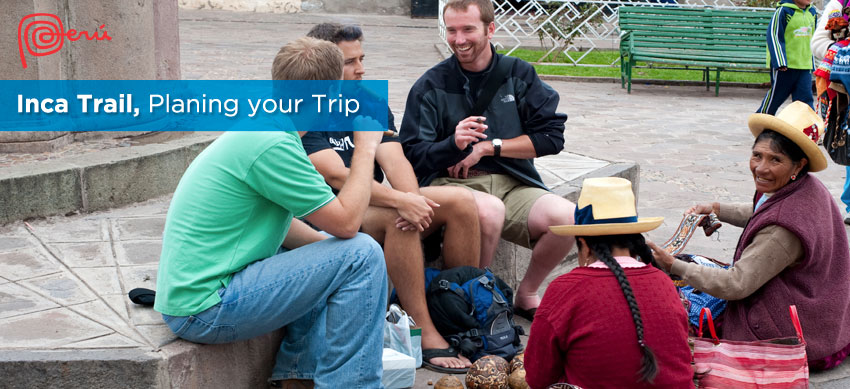 The Inca Trail is available to all those who want to enjoy the adventure of traveling the ancestral paths of the Incas; however, it is necessary to have knowledge of some useful information about the route.
The Inca Trail is one of the most spectacular hiking routes in the world, many people recommend it as "one of the adventures that will change your life."
It is aimed at all those people who are willing to walk 43 kilometers of path of jungle browbones, go through dense fogs, many stone steps, paths through different ecological levels.
Above all, know several Inca Archaeological Sites and after 4 days and 3 nights of walking, arrive through the Sacred Gate or Puerta del Sol "Inti Punku" and have from this point, control of the Inca City of Machu Picchu. The Inca Trail is aimed at those people who want to do something that will change their life.
The Inca Trail is one of the most visited treks in the world, the walk begins in the Sacred Valley and ends in Machu Picchu, one of the seven wonders of the world.
There are 2 excursion options:
Classic Inca Trail of 4 Days / 3 Nights that begins in Piscacucho – 2800 masl; the highest point is Warmiwañusca – Dead Woman Pass – 4200 meters above sea level. The first and third day you walk approximately 7 to 8 hours (includes lunch hours and stops). The last day you walk 2 hours until you reach Machu Picchu and finally visit the Inca City.
The other is Short Inca Trail of 2 Days / 1 Night starts in Chachabamba – 2250 masl; the highest point is Intipunku – 2720 masl, the walk will take approximately 8 hours, only the first day including lunch time and breaks. The second day will be exclusively to visit Machu Picchu.
---
Who can do the Inca Trail?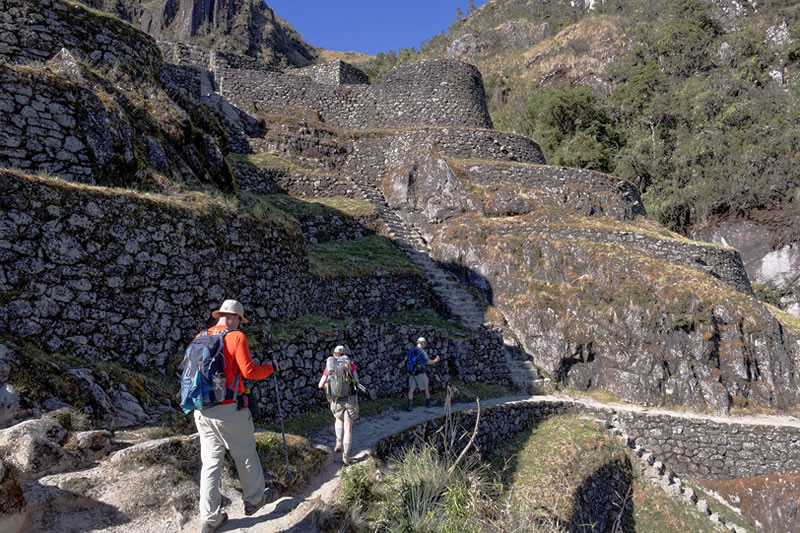 All those people, lovers of nature, who are in good physical condition and who are willing to walk for 4 days, from 2 to 8 hours a day, can do the walk, sleep in tents and live on the adventure during this time.
This walk has no age restriction, however, it is advisable to take into account the travel of children under 8 years of age, people of legal age and people with heart problems.
---
At what age is it appropriate to do the Inca Trail?
This walk has no age restriction, however it is recommended for Parents to take into account the travel of children under 8 years of age and also for people of legal age.
---
Physical Condition for the Inca Trail
For this type of hike it is recommended to be physically well and not necessarily be a person with experience in high mountain walks. During the walk you will go at a slow pace with stops, along the way and it is not necessary to walk fast (according to the guide's instructions).
Take into account that on this walk you will go up to 4,200 meters above sea level and it is not recommended for people who have respiratory, heart, circulatory problems or underage children. If you suffer from any health problem, it is advisable to visit your doctor who will tell you if you can do this walk. People who are medicated, do not forget their medications.
It should be noted that during the way, rest stops will be made, where you can rehydrate and rest your back, to continue the walk. It is recommended not to lower the backpack from the body and not stop for a long time because the body gets cold and it becomes difficult to restart the walk. The guide is in charge of indicating the approximate time of rest.
---
What should i bring?
First of all, it should be known that climate changes are abrupt, the sun can get suffocating and from one moment to another the clouds cover it and the temperature changes completely, the nights are very cold, so you have to provide clothes suitable for walking and very warm for the night.
You will have to have a good pair of non-slip hiking shoes that can withs tand 8 hours of walking. You will need rubber-tipped walking sticks, so as not to spoil the Archaeological Site, a good backpack; check our Inca Trail Travel Equipment section . And remember that it is not necessary to have a lot of weight, you must carry the necessary things, remember that it will be you who carries your own equipment and the porters will only carry the feeding equipment and travel equipment (tents, kitchen utensils and others).
However, on the Classic Inca Trail you have the option of requesting the service of porters, who will free you from the weight of your backpacks, which should not exceed 14 kg. This service involves an additional cost.
---
Do I have to have experience to do the Inca Trail?
It is not necessary to have experience in walking, just be in good physical condition and be healthy, in such a way that they allow you to walk a maximum of 8 hours per day.
Note: The guide of the walk will carry an oxygen bottle and a basic first-aid kit that can be used if necessary.
By Inca Trail Machu Picchu - Last updated, 30-09-2021
---
Interested in the Inca Trail? Know more about Information Inca Trail!
---