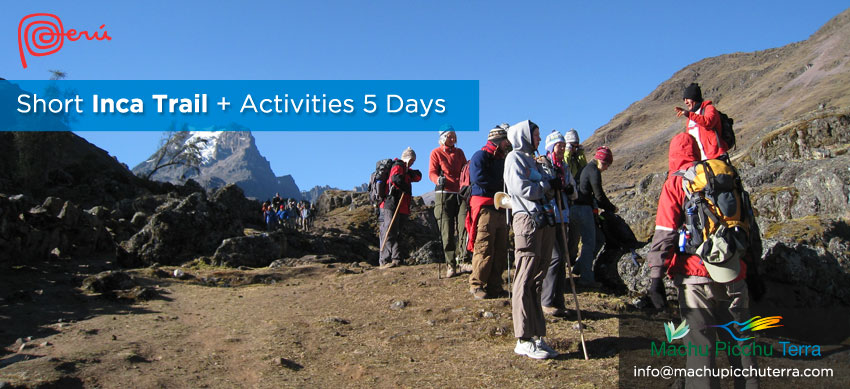 ---
Price Short Inca Trail + Sacred Valley 5 Days per person:
Download Tour

            USD $ 820     USD $ 799
---
The Inca Trail to Machu Picchu closed the month of February by disposition of the Ministry of Culture for conservation work, maintenance and cleaning. The Inca Trail is reopening on March 1.
Tour Summary
Upon arrival in Cusco will have a free day to learn a little of the city, will make a full day excursion to the Sacred Valley of the Incas, and finally made ​​the tour of the Short Inca Trail.
Short Inca Trail is part of the road network that the Incas developed to link the main administrative and religious centers throughout Tawantinsuyu. If travelers who do not want to do this arduous trek have other alternatives to reach Machu Picchu.
This is the short version of the famous and stunning Inca Trail, for those who have little time available, but that in no way want to miss this unique trek.
Short Inca Trail 2 Days 1 Night, goes from 104 km, located 2,100 meters above sea level. (starting by train from Ollantaytambo). It is a walk of 16 miles to Machu Picchu, where you will appreciate spectacular views of high Andean landscapes and jungle visiting Inca constructions on the route (Chachabamba, Choquesuysuy, etc). It is undoubtedly one of the most popular excursions for those seeking adventure when visiting Peru, has spectacular views of the chain of the Andes, a great mix of jungle and saw that you enjoy from beginning to end.
Altitude during the travel
Climate
Cusco

Capital: 3350 msnm (Cusco)
Low: 2000 msnm (Aguas Calientes)
High: 2720 msnm (Intipunku)

Semi-tropical, hot and humid days and cold nights with constant rain throughout the year
Low: Between 4 °C – 11 ºC Cusco (June)
High: Between 20 ºC – 26 °C Machu Picchu (June)
Rains: November to April


5.0 (+ 100). Testimonials of customers.
Recomendation:
It is necessary the acclimatization in Cusco, one or two days before starting the journey. For a good acclimatization is necessary to rest as much as possible, eat little, drink plenty of fluids; especially coca tea, that has healing and digestive properties. A proper acclimatization, avoid being affected by the "soroche" or altitude sickness, which can cause numerous health discomfort.
---
---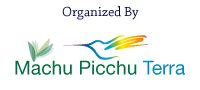 Short Inca Trail 2 Days / 1 Night + Activities
Difficulty
Acclimatization
1 – 2 Days in Cusco
Total Distance
13 km / 8,08 miles
Itinerary
Day 01: Cusco
Free day in Cusco

Day 02: Sacred Valley
07:30 hrs. Pick up from hotel
Tour to Sacred Valley of the Incas (07:50 hrs. – 18:00 hrs.)

Day 03: Wiñayhuayna – Aguas Calientes
04:00 hrs. Pick up from hotel
04:15 hrs. Departure by bus from Cusco – Train station (Ollantaytambo)
06:10 hrs. Travel by train to Km 104
08:00 hrs. Hike from km 104 to Wiñayhuayna
11:45 hrs. Rest
15:00 hrs. Trek to Machu Picchu
15:45 hrs. Get off in bus to Aguas Calientes 25 min.
18:00 hrs. Dinner and Overnight

Day 04: Visit to Machu Picchu
06:00 hrs. Breakfast
07:00 hrs. Climb on bus to Machu Picchu aprox.
08:00 hrs. Visit to Machu Picchu 2 hrs. aprox.
14:00 hrs. Return in bus to Aguas Calientes
16:22 hrs. Return in train to Ollantaytambo
18:05 hrs. Transfer by bus, Ollantaytambo – Cusco

Day 05: Flight Cusco – Lima
Breakfast at the hotel
Transfer from hotel to airport of Cusco
Detailed Itinerary
Day 01 … / Cusco

Reception at the airport and transfer to Hotel in Cusco. Rest of the day free to explore the city.
| | |
| --- | --- |
| Service Includes: | Not Included |
| | |
Day 02 Tour Sacred Valley

Breakfast at the hotel.
At 07:30 hours in the morning we pick up you from your hotel and we'll go on a tourist bus to the Sacred Valley of the Incas.
This beautiful valley is composed by numerous rivers which descend through canyons. First we go to the archaelogical center of Pisaq, awesome building built in the boom period of the Inca empire, where the great work achieved by the Incas built is observed. Then visit the village of Pisac, where we find a craft market. For those who like to buy souvenirs, this place is definitely one of the best places to do so, as there is plenty of alpaca wool items, silver jewelry and gold, among others.
Continuing we headed to the town of Urubamba where will have a buffet lunch at one of the restaurants that offers you the best presentations of dishes from the region of Cusco. After lunch we head to the town of Ollantaytambo, where we will visit the beautiful fortress of the same name. After the guided tour culminated in Ollantaytambo we will go to last place is the village of Chinchero, we'll visit the archaeological site where stands the Inca agricultural terraces and then we will visit one of the craft stores and inca textoria. Return to Cusco.
| | |
| --- | --- |
| Service Includes: | Not Included |
| | |
Day 03 Cusco (3,300 m) – Wiñaywayna (2,700 m) – Machu Picchu (2,490 m)

Early morning, we will pick you to your hotel, for transfer to the train station in Ollantaytambo for about 1 hour and 30 minutes, during the tour you can see the Sacred Valley, farmland, majestic snow; in Ollantaymtambo we will board the train that will take us to Km. 104 the journey takes about 1 hour. It is here at Km 104 (2,200 m / 7,217 ft) where we will begin the walk, we will pass the bridge that is over the Urubamba or Willkamayuc river which translated from Quechua means Sacred River, which was very important to them. Upon reaching the checkpoint must show identification documents either passport or foreign resident registration card or national identity document. A 15 minute walk is the archaeological center Chachabamba and Choquesuysuy that are hidden in the semi-tropical forest, after the visite we will begin the walk through stands in ascending up to the next place in the way we will observe the sacred valley and waterfalls of water and different types of orchids semi-tropical forest, after 4 hours of walking we reach Wiñaywayna (2,650 m / 8,694 ft) that shows a perfect example of what was farming at the time of the Incas, as along its slopes lie a number of circular terraces, where the Incas cultivated various agricultural products. The name Wiñaywayna comes from a beautiful orchid that abounds in the area and whose meaning in Spanish "Forever Young" and has over 20 buildings, one of them the Temple Rainbow also called Temple of Fertility, the visit will be 1 hour on average, then you will enjoy the box lunch to recover energies and continue until the control Wiñaywayna.
In this second part of the course will walk for two hours through an Andean plane, stone stairs and tambos ("resting places") until the Inti Punku – Puerta del Sol (2,720 m / 8,923 ft) in time of the Incas worked as a control input to the Citadel of Machu Picchu; from here you have a breathtaking panoramic view of Machu Picchu and all valley that surrounds, then we will descend for about 30 minutes until the world wonder, Machu Picchu (2,490 m / 8,169 ft) and finally take the bus to Aguas Calientes – Machu Picchu Pueblo (2,160 m / 7,086 ft) the trip takes 25 minutes, here we will spend the night in a basic accommodation. If you are not too tired, you have the option of visiting the termal baths that is 5 minutes from the village the cost is 10 soles. For those who like to dance and have a few drinks in a bar, we inform you that Aguas Calientes has a variety of bars and restaurants including an ATM, in case you wish to withdraw money from the bank.
| | |
| --- | --- |
| Service Includes: | Not Included: |
| | |
Day 04 Machu Picchu – Cusco

We started early with a hearty breakfast and then get ready to go to the Citadel of Machu Picchu; Here we have two choices: go up by bus or walking; we included a bus ticket (up or down). The trek to Machu Picchu is 1 hour and 30 minutes, the first 30 minutes flat walk until the Ruins bridge and then climb up the bleachers properly marked.
This mysterious and enigmatic city is explored for about 2 hours in the company of your guide who will provide information regarding this wonder, will visit the most amazing places as the Royal Mausoleum, the Temple of the 3 windows, the Main Temple, the Sacred Plaza, the famous Intihuatana where the Incas sages tied the sun on the winter solstice in June, stairways, plazas, fountains, etc. After the guided tour you will have free time to take pictures or visit Huayna Picchu or "Young Mountain" which has only 400 spaces, divided into two groups: the first group (07:00 hrs. – 08:00 hrs.), second group (10:00 hrs. – 11:00 hrs.). Then he will go down to Aguas Calientes either by bus or walking depending on your choice. In the evening take a train to Ollantaytambo where we expect our driver to take us back to Cusco.
| | |
| --- | --- |
| Service Includes: | Not Included: |
| | |
Day 05 Cusco – Lima

Breakfast in the Hotel.
Transfer to the airport. Flight to the city of Lima. Arrival and waiting for your international flight.
| | |
| --- | --- |
| Service Includes: | Not Included |
| | |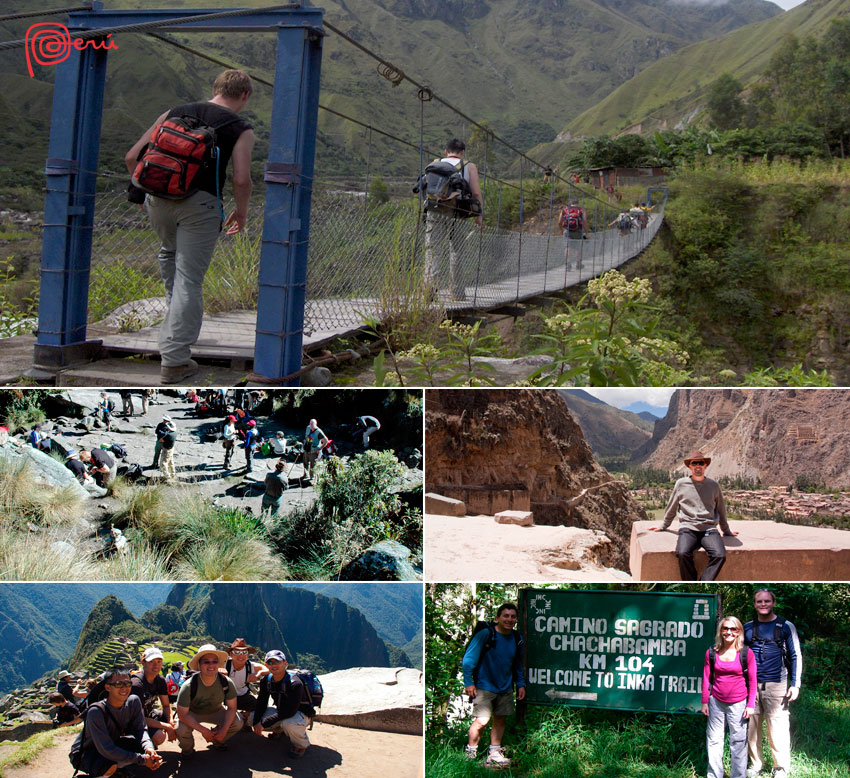 Include:
Accommodation:

03 Nights: Hotel in Cusco.
01 Night: Hotel in Aguas Calientes.

Food:

04 x Breakfast.
03 x Lunch.

Services:

Cusco: Sacred Valley c/n almuerzo buffet .
Cusco: Short Inca Trail 02 Days / 01 Night.

Tickets to all places to visit.
All pick-ups and transfers as indicated in the program.
Official Tourism Guide for all tours.
Personalized Service.
Short Inca Trail 2D /1N Include:

Briefing where the guide will explain and give you more details about the trek and give us the maps.
Professional tourist guide.
Additional Guide for groups over 9 people.
Food (01 Breakfasts / 01 Box Lunch / 01 Dinner).

Free vegetarian option, please inform in advancee.

First Aid Kit, oxygen bottle.
Transfer from hotel in Cusco to Ollantaytambo.
Transfer by train Ollantaytambo – Km 104.
Tickets for the Inca Trail and Machu Picchu.
Bus from Machu Picchu / Aguas Calientes.
Overnight at Aguas Calientes.
Guided Tour in Machu Picchu about 2 hours.
Train from Aguas Calientes to Ollantaytambo (Expedition Service, regular schedule: 16:22 hrs.).
Transfer from Ollantaytambo train station to Cusco.
Discounts Offered:
Discount of USD $ 20.00 for students with international student card – ISIC Card (You must email us a copy of the Isic card valid at the moment you make the reservation).
Discount of USD $ 20.00 for people under 18, (You must submit a copy of the identity card or passport at the time of booking so that the age of the passenger will be certified).
| | | |
| --- | --- | --- |
| HOTEL CATEGORY | DOUBLE ROOM | INDIVIDUAL ROOM |
| 2 ★★ | USD $ 799 | USD $ 914 |
| 3 ★★★ | USD $ 822 | USD $ 960 |
| 4 ★★★★ | USD $ 983 | USD $ 1282 |
| 5 ★★★★★ | USD $ 1834 | USD $ 2984 |
Hotels in Cusco:

Prices may vary depending on season, availability and client preferences. Certain transport costs may not be included. Please check our section of Hotels.
Optional:
Ticket to Huayna Picchu: USD $ 65.00.
1 Extra Porter (14 kg) for assistance with your personal luggage: USD $ 70.00.
Baton x 01: USD $ 8.00.
Service Vistadome: USD $ 50.00. Return 13:37 hrs. – 15:48 hrs. – 17:23 hrs., subject to availability.
Hotel 2 ** Superior USD $ 60.00 Single or Double.
Hotel 3 *** Superior USD $ 80.00 Single or Double.
Important:
Daily departures (except in the month of february, which makes maintenance of the route of Inca Trail).
At time of booking, all data must match with your passport.
It is required bring your original passport which you made the reservation during the Inca Trail.
For students, it is requirement bring the original ISIC Card together with ther passport during the Inca Trail.
If the Ministery of culture find fraudulent ISIC Cards, the admission to the Inca Trail will be denied without a claim or refund.
In case of find ISIC Card expired, the admission to the Inca Trail will be denied without a claim or refund.
The return train schedule may change according to availability.
The tip for guides, cooks and porters are not included in the tour price.
Phone: + 51-84-207064

Cell Phone: + 51-944242767       + 51-998898999
Address: Calle Recoleta Angosta 604, Cusco – Perú
Mail: info@machupicchuterra.com