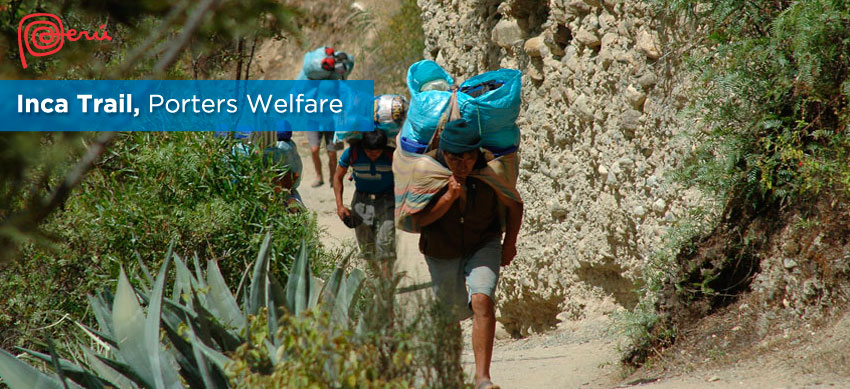 Inca Trail: Porter Welfare

Even though the Peruvian government has recently introduced regulations, stipulating that the Inca Trail porters must be paid a set minimum wage and only carry a set amount, abuses of staff by unscrupulous tour agencies still occur, especially on the alternative trails, where you may find your porters eating leftovers, carrying huge weights and sleeping without adequate cold-weather gear.
Avoid doing the Inca Trail for the cheapest price possible, and be prepared to pay more I by going with a reputable company that treats its staff well. When trekking, keep an eye on the working conditions of the porters, offer to share your snacks and water, ask the porters about how they are treated, and don't forget to tip them at the end of the trek (around US$20 per porter is fair; a bit more if you had a personal porter).
During the Trek of the alternative routes, is necesary use animals to carry the equipment, except on the Inca Trail where it is forbidden to bring animals in order to protect the original Inca paths. This is why you have to employ some teams of porters to carry your equipment.
You have to respect porter's rights and therefore to respect the weight limit set up by the Peruvian government. So you have to control at the start of each trek, the weight carried by each of them. This is why we ask your contribution by making sure that your duffle bag does not weight more than 6kgs.
Remember that the job of a baggage carrier, although a demanding occupation, is looked upon as a dignified form of work. The prices these people charge for their services are an important source of income for the entire community. Many carriers are excellent travel companions and incomparable storytellers.
Is better if they have the necessary equipment for better work conditions:
Jacket
T-shirts Backpacks
Walking shoes
Back protection
Rain poncho
Regarding their shoes, you will probably notice that the porters just wear some rubber sandals, called "ojotas", many of have been wearing ojatas since they were kids and choose to wear those instead of the walking shoes provided.
By Inca Trail Machu Picchu - Last updated, 30-09-2021
---
Interested in the Inca Trail? Know more about Inca Trail!
---