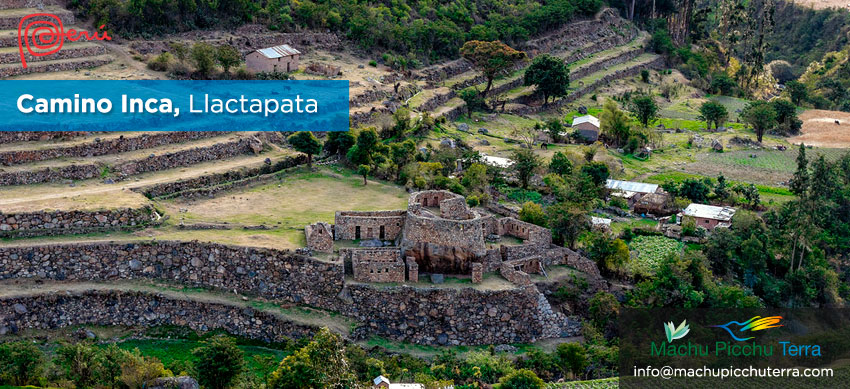 Llactapata is one of the most famous archaeological sites within the 4-day Inca Trail hiking route. To visit this place you must walk 5 kilometers from the starting point of the route. It is a citadel and control center within the immense network of 'qhapac'. Today it preserves part of its walls and set of platforms in good condition. Although they can be appreciated from a distance, the only way to see them up close is through the Inca Trail.
---
Note:
The Inca Trail to Machu Picchu is a hiking route that, in addition to the visit to Machu Picchu, offers visits to other Inca archaeological sites. The Inca Trail to Machu Picchu is a hiking route that, in addition to the visit to Machu Picchu, offers visits to other Inca archaeological sites. This place will be appreciated on the first day of hiking. It only takes 5 kilometers to get there (a route of approximately 3 hours). There, visitors will tour its buildings in the company of a tour guide since the Inca Trail can only be done with a tour that includes: transportation, entrance fees, cooks, porters and, of course, tour guides.
What is it?
Llactapata is the first archaeological site that tourists will appreciate during the 4-day Inca Trail to Machu Picchu. It is also known as Patallacta. This last name, according to various investigations, was the Inca name of Machu Picchu.
It was an urban center and checkpoint during the route of the Inca roads. Like the other Inca urban centers built on the site, it also served as an agricultural center where products such as potatoes, corn, quinoa and more were grown.
Its name comes from two Quechua words 'Llacta' and 'Pata' which together mean 'High town'. This is due to its location at the top of a group of mountains.
This archaeological site should not be confused with another place of the same name, located west of Machu Picchu. This last archaeological site can be visited during the famous 5-day Salkantay trek.
---
Where is it located?
Llactapata is located 2,840 meters above sea level (8,136 feet). It is located at the confluence of the Cusichaca and Urubamba rivers in the mountain called Patallaqta.
It belongs to the district of Machu Picchu, province of Urubamba, department of Cusco.
To get to Llactapata it is necessary to do a hiking route of approximately 5 kilometers. The walk begins at kilometer 82 of the railway that connects Ollantaytambo with Aguas Calientes. The only way to access this route is to buy the Inca Trail 4 days tour.
---
What to see there?
Llactapata amazes for its beautiful Andean landscapes. It also stands out for its immense system of terraces. Only visitors who arrive there with the Inca Trail have the opportunity to appreciate it up close.
Llactapata is made up of a set of platforms, stairways, squares, channels and smaller enclosures. In total, 112 rooms built with rustic and carved stones joined together with mud mortar have been registered.
In Llactapata the ceremonial group of Pulpituyoc stands out for religious ceremonies. At the center of the place there is a trapezoidal plaza. Its agricultural sector has a dimension of 600 and 150 meters divided into 25 levels.
Currently the archaeological site is in a good state of conservation. The Ministry of Culture and the Disconcerted Directorate of Culture Cusco are in charge of its maintenance and protection.
---
Weather
Llactapata has a temperate climate. Its temperature varies from 24ºC. at most up to at least 5ºC. The rainiest months run from November to April. Consequently, the driest months run from May to October. These months are the most recommended to do the Inca Trail. The route remains closed throughout February as it is the rainiest month of the year.
---
Tips and more information
Llactapata is not the only archaeological site that the tourist will be able to appreciate on the Inca Trail. Inca citadels stand out such as: Runkurakay, Sayacmarca, Phuyupatamarca and Wiñayhuayna.
Llactapata can also be seen from the train ride from Ollantaytambo to Aguas Calientes. From the train you can see part of the set of platforms that make up the archaeological site. The only way to walk this place is through the Inca Trail to Machu Picchu.
The Inca Trail to Machu Picchu lasts 4 days of hiking and 3 nights of camping. In total, 39 kilometers are covered on foot. The only way to do this hiking route is to buy a tour online 6 or 7 months in advance. Otherwise you will not find availability.
By Inca Trail Machu Picchu - Last updated, 15-12-2021
---
Interested in the Inca Trail? Know more about Archaeological sites!
---